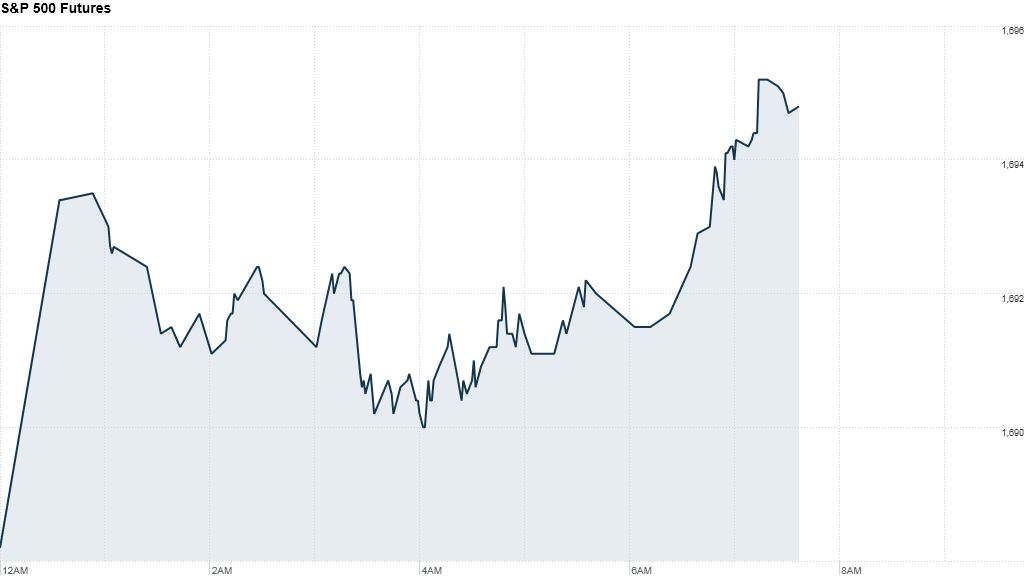 After three days of declines, U.S. stocks were headed for a modest bounce Thursday.
U.S. stock futures were roughly 0.4% higher ahead of the opening bell.
U.S. stocks declined Wednesday, partly on fears of the U.S. Federal Reserve cutting back on its massive quantitative easing campaign, which has flooded the markets with liquidity.
The Labor Department said Thursday morning that jobless claims rose by 5,000 last week to 333,000, slightly lower than expected.
T-Mobile (TMUS) topped revenue forecasts and said it had a net addition of 1.1 million customers during the quarter. Apollo Global Management (APO) swung to a quarterly profit and Priceline.com (PCLN) is up after the close.
Related: Fear & Greed Index, still idling in neutral
What's moving: Tesla (TSLA) shares surged 18% after the electric-car maker reported a surprise quarterly profit. Tesla Model S also got the top crash test rating from the government.
Solar City (SCTY), which is chaired by Tesla CEO Elon Musk, reported a wider loss than analysts had expected.
Groupon (GRPN) surged 23% after the daily deals site posted strong sales and announced a $300 million share-buyback program.
Green Mountain Coffee Roasters (GMCR) shares fell following quarterly sales figures that missed expectations.
Related: Tesla shares surge after surprise profit
On the international stage, European markets rose, lead by Germany's DAX.
A day earlier, a report on Germany's industrial strength signaled that Europe's economic stagnation could come to an end.
In Asia, Japanese stocks continued to push lower and the Nikkei lost 1.6% as the yen strengthened throughout the day.
The Shanghai Composite index edged up by 0.1% and Hong Kong's Hang Seng index was off by 0.3% as China reported stronger-than-expected July trade figures for imports and exports.