It was a choppy day on Wall Street, thanks to a lackluster August jobs report and more concerns about Syria.
The Dow Jones industrial average finished lower for the first time this week, while the S&P 500 and Nasdaq closed barely changed. But all three indexes swung between modest gains and sizable losses earlier in the day.
Despite the volatility, stocks ended the week modestly higher. The Dow gained 0.8%, the S&P 500 increased 1.4%, and the Nasdaq jumped nearly 2%.
Syria worries: After initially pushing stocks higher on the prospect that the Federal Reserve might delay its plans to taper in September, investors quickly shifted their attention to the G-20 meeting in St. Petersburg. Russian president Vladimir Putin spooked the markets with comments about his support for Syria. The indexes briefly tumbled after Putin told reporters that Russia would continue arms sales and provide aid to Syria if the nation were attacked.
Putin met with President Obama earlier Friday. The Russian president called their meeting "constructive," but added that "he doesn't agree with me, I don't agree with him."
Click here for more on stocks, bonds, currencies and commodities
Putin's comments come as Obama seeks international and domestic backing for military action against Syria in response to the Syrian's government's alleged use of chemical weapons against its own people last month.
"World leaders are divided on the matter, and this has left the markets fearful of the implications of what looks to be a very likely strike by the United States as early as next week," said ETX Capital market strategist Ishaq Siddiqi in a note to clients.
Siddiqi said traders are worried that a U.S. strike would be met with Russian retaliation, prompting allies China and Iran to also provide support for Syria. While the United Kingdom is standing down for now, the United States has the support of France and Israel.
As investors worried about stability in the Middle East, they pushed oil prices up 1.7% Friday, above $110 per barrel.
Related: Why Syria matters to oil markets
August jobs report may delay Fed tapering? The weak August jobs report led some investors to think that the Fed may hold off on plans to start trimming its bond buying program later this month.
Investors had been eagerly awaiting the jobs report, as it is the last major piece of economic data leading up to the Fed's next meeting in less than two weeks.
The economy added 169,000 jobs last month, fewer than the 185,000 economists surveyed by CNNMoney were forecasting. The unemployment rate ticked lower to 7.3%, as expected, but the drop was due to a falling labor force participation rate. Job gains for both June and July were also revised lower.
Bond prices rose and Treasury yields fell following the jobs report, with the 10-year yield dipping to 2.9% from nearly 3%. (Bond prices and yields move in opposite directions.) Investors may be betting that the Fed will continue to buy $85 billion in bonds a month as opposed to pulling back on these purchases.
Related: Greed & Fear Index wallows in fear
"If there is a silver lining for investors, the jobs data give the Fed something to consider carefully before their impending decision on whether or not to begin tapering their bond purchase program," said Jim Baird, chief investment officer at Plante Moran Financial Advisors. Baird added that the jobs data "certainly doesn't point to an economy that is firing on all cylinders."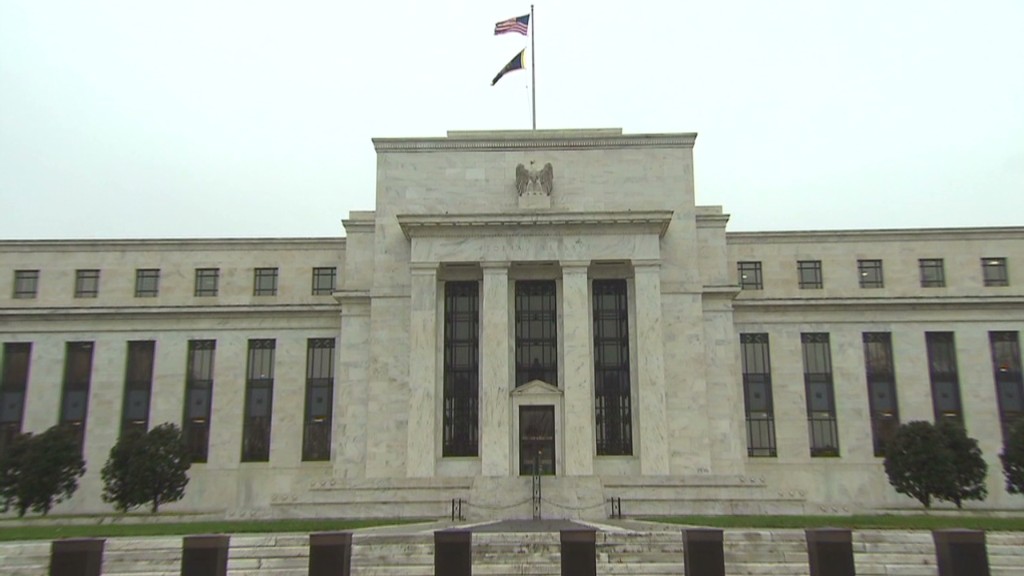 Still, the latest jobs numbers do not completely eliminate the possibility of Fed tapering this month, according to Kathy Lien, managing director at BK Asset Management.
"We know there is a high level of support inside the central bank to reduce asset purchases and the only question is timing," she said.
But even if the Fed does decide to taper this month, Lien expects only "an incremental reduction" in bond purchases as well as reassuring comments to prevent a sharp rebound in bond yields.
What's moving: Smith & Wesson (SWHC) shares tumbled after the gun maker reported a disappointing outlook for the current quarter.
Facebook (FB) shares rose 3%. The social network's stock hit a new 52-week high of $44.61 and is inching closer to its all-time high of $45. The rise made Facebook the most talked about stock among StockTwits traders. But investors were divided on whether Facebook's gains are warranted.
patrick_walther: $FB Explosive. Will probably see $50 later this year. Where are all those Facebook haters now? Bullish
tbmo: $FB ugh, I'm not even surprised people are dumb enough to give this company all their information, and now money as well.
Social networks LinkedIn (LNKD) and Yelp (YELP) were also moving sharply higher.
theoptiondon: Wherever $FB goes, $LNKD follows Bullish
vermut: $FB $LNKD $YELP making new highs today! Super strength. Stay with the leaders! Bullish
J.C. Penney (JCP) shares got a small lift after billionaire media mogul and Dallas Mavericks owner Mark Cuban told CNBC he has purchased 1 million shares of the struggling Plano, Texas-based retailer.
Smithfield Foods (SFD) shares edged lower after the meat processor posted a drop in earnings due to weak exports to Japan, China and Russia. The company announced an agreement earlier this year to be acquired by China's Shuanghui International, a deal now awaiting approval from the U.S. government.