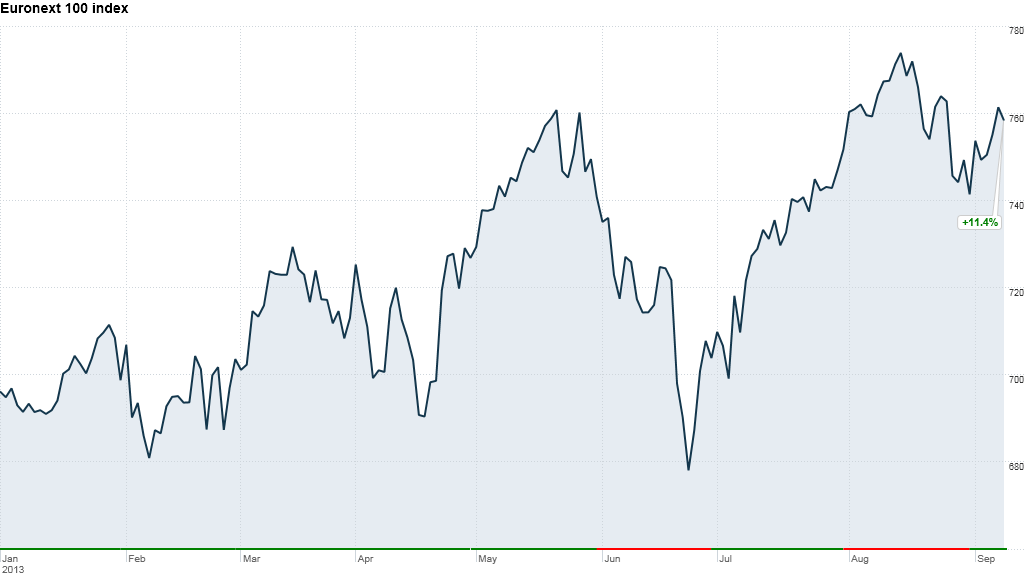 European stocks are back in vogue.
New data from Goldman Sachs (GS) shows American investors pushed more than $65 billion into the European stock markets in the first six months of 2013, the most for a first half of the year since 1977.
The capital flowed in just as the eurozone clawed out of a recession and the outlook for the region improved. But it comes after many years when investors wouldn't touch Europe with a proverbial 10-foot pole, as the eurozone stumbled through debt crises, insanely high unemployment levels and various bailouts.
But even as investors showed their renewed enthusiasm for European stocks, the Goldman Sachs portfolio strategy team said U.S. investors still didn't have enough exposure to Europe. The team forecast that more American money would flow into Europe in the months ahead, and recommended that long-term investors consider London's FTSE 100 index, since that market looked relatively undervalued.
So far this year, the FTSE 100 and France's CAC 40 index have rallied by roughly 11%. Germany's Dax 30 index has climbed by 6.5%. This performance is impressive, but not nearly as strong as the main U.S. indexes. The S&P 500, for example, is up nearly 17% in 2013.
Related: A global recovery is no sure thing
Other experts think European markets look like a bargain too. Strategists at HSBC (HBC) said investors have been undervaluing European stocks by roughly 15%.
Investors currently have "very conservative assumptions about future cash flow and returns," said Peter Sullivan, a strategist at HSBC Bank.
Sullivan said he was particularly excited about banks and energy companies.
"There are lots of banks trading below tangible book value that are improving and repairing themselves," he said. "Energy stands out too. It's been in the doldrums for some years now and valuations are close to 20-year lows."
Last week, the Organisation for Economic Co-operation and Development hiked its growth forecasts for developed economies such as France, Germany and the United Kingdom, but warned that struggling emerging markets could derail a global economic recovery.