The September rally is losing some steam after recent gains pushed major stock indexes close to record levels.
The Dow Jones industrial average, the S&P 500 and the Nasdaq finished slightly lower Thursday.
Prior to Thursday's dip, the S&P 500 had enjoyed a seven-day rally that had lifted the broad index within 1.2% of its all-time high. Though the Dow slipped, it remains just 2% from its record high, while the Nasdaq continues to trade near 13-year highs.
But investors are finding little reason to make any big bets as they look ahead to next week's Federal Reserve meeting. The Fed may decide to cut back on its quantitative easing program at that meeting. The Fed has previously indicated that it was considering scaling back its liquidity-boosting program, which has supported a big rally in stock markets around the world. It is expected to ease off the gas sometime before the year is over.
Click her for more on stocks, bonds, currencies and commodities
Investors have been keeping close tabs on recent economic data lately to better anticipate the Fed's next move, but they have provided little clarity.
Despite that, investors dumped gold Thursday, sending prices down 2.4%, on bets that the Fed may scale back sooner rather than later. Over the years, the Fed's stimulus has boosted demand for gold as a hedge against inflation.
Gold investors were basing those trades on a report that first-time claims for unemployment benefits dropped sharply to 292,000 -- their lowest level since early 2006. But that report was likely distorted: The Labor Department noted that two states did not report complete data last week, which skewed the total figure.
Easing tension in Syria amid growing likelihood that a diplomatic resolution may be found also pressured gold prices.
Related: Fear & Greed Index idling in neutral
What's moving: Yoga-wear producer lululemon (LULU) announced a jump in quarterly sales and profit, but shares slumped as the company lowered its guidance for the year. The dip was a popular topic among StockTwits traders.
TraceyRyniec: $LULU WAS about the guidance today. It's not a good sign that it can't get the pants into the stores for the fall season.
T1ST: $LULU seems to me biggest problem they face is they cant build the product fast enough for the growing demand, ouch, cant make enough
Shares in Men's Wearhouse (MW) sank after the company reported disappointing quarterly earnings on Wednesday.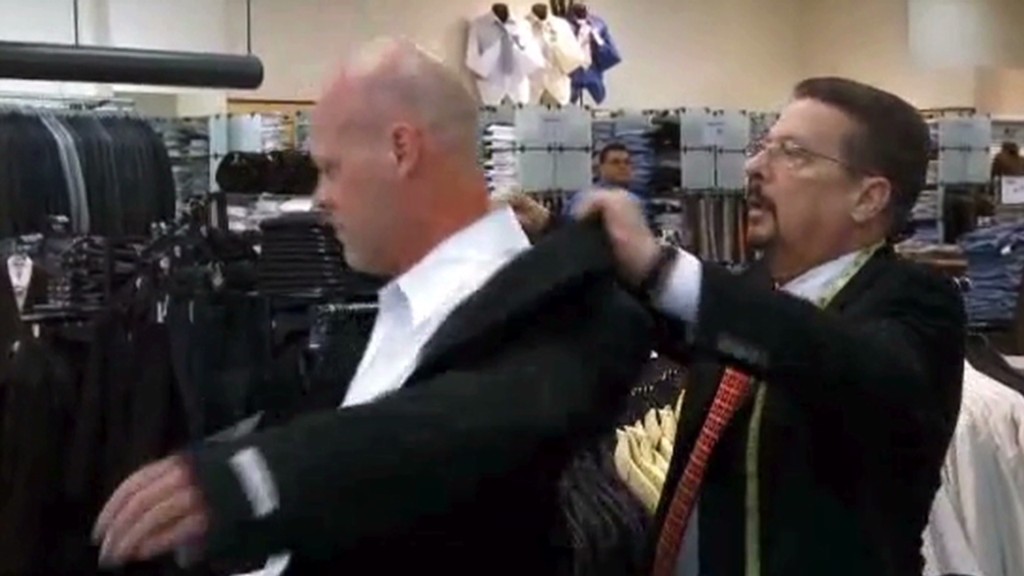 On the bright side, shares of grocery chain Kroger (KR) moved higher on rising earnings and better-than-expected sales.
Disney (DIS) shares moved higher after the company's CEO Jay Rasulo announced that the media giant will buy back between $6 billion and $8 billion worth of stock in fiscal 2014. That's up from its typical $4 billion annual buyback in recent years.
Pandora's (P) stock jumped after the online radio company named former aQuantive chief and Microsoft (MSFT) executive Brian McAndrews as its new CEO. Investors seemed to be hopeful about the new chief, and traders were eager to weigh in.
LDrogen: Not sure who the new $P CEO is, but he's got to be an upgrade from that guy who always whined about having to pay the musicians.
win2betmore: $P New CEO doesn't warrant a rise like this, we all know what happened with Microsoft Bearish
BCapital: $P is fools gold. $AAPL will soon take market share...
Related: Facebook shares finally top $45
Facebook (FB) shares touched a fresh all-time high Thursday before slipping into the red. A day earlier, Facebook topped $45 for the first time since its first day of turbulent trading on May 18, 2012. Speaking at the TechCrunch Disrupt Wednesday evening, CEO Mark Zuckerberg said the company is better off for having gone through its rocky IPO.
Shares of Apple (AAPL) rose a day after billionaire investor Carl Icahn said he boosted his stake in the company. Apple's shares had tumbled more than 5% Wednesday after the tech giant introduced two new iPhones.
Yahoo (YHOO) shares moved higher, rising above $30 per share, a day after Yahoo CEO Marissa Mayer touted that the company just passed 800 million monthly users. That's a traffic increase of 20% since she took the helm in July 2012.
But it wasn't all good news for tech stocks. Netflix (NFLX) shares sank after analysts at Morgan Stanley and BTIG downgraded the stock amid worries about the company's valuation. Shares of Netflix have rallied more than 200% in 2013, and are trading at more than 90 times 2014 earnings forecasts.