The biggest threat to the 2013 rally may be Washington, D.C.
Investors are weighing the possibility that the U.S. government might shut down on October 1st. But even if a shutdown is avoided, the bigger concern is whether Congress will raise the debt ceiling before the drop-dead deadline of October 18. If that doesn't happen, the government risks defaulting on its debt. Another credit rating downgrade could be in the cards too.
Click here for more on stocks, bonds, currencies and commodities
The Dow Jones Industrial Average and S&P 500 closed slightly lower. Both indexes have now suffered four straight days of losses. The Nasdaq ended in positive territory ... but just barely.
Housing continues to rebound: There were more positive signs from the housing market. Home prices continued to climb in July, according to S&P/Case-Shiller data.
Homebuilder Lennar (LEN) reported a boost in quarterly earnings and revenue compared to the year-earlier quarter, with a significant increase in new-home orders. KB Home (KBH) also beat expectations for its earnings.
Related: 'Made in America' revival gains pace
Facebook on fire: Facebook (FB) shares rose nearly 3% and hit a new all-time high. The stock, which only recently topped its previous record of $45 from its IPO day, is now flirting with $50 a share. An analyst at Citigroup upgraded the stock to a "buy." There are also reports that China may soon loosen some of its Internet restrictions, which could pave the way for Facebook to enter the world's most populous market.
There's still lots of skepticism about the social media giant's future. "$FB is valued @$120B and $AMZN @$144B. Amazon has assests and Facebook has office n chairs. Go figure." StockTwits trader mecka wrote.
But another trader sees only upside from here: "$FB wait for it.. Wait for it... It's going to go much higher." wrote duke2duke.
Online travel site Priceline (PCLN) continues to hit new highs, after recently topping $1,000. Priceline is the first stock in the S&P 500 with a price in the four digits.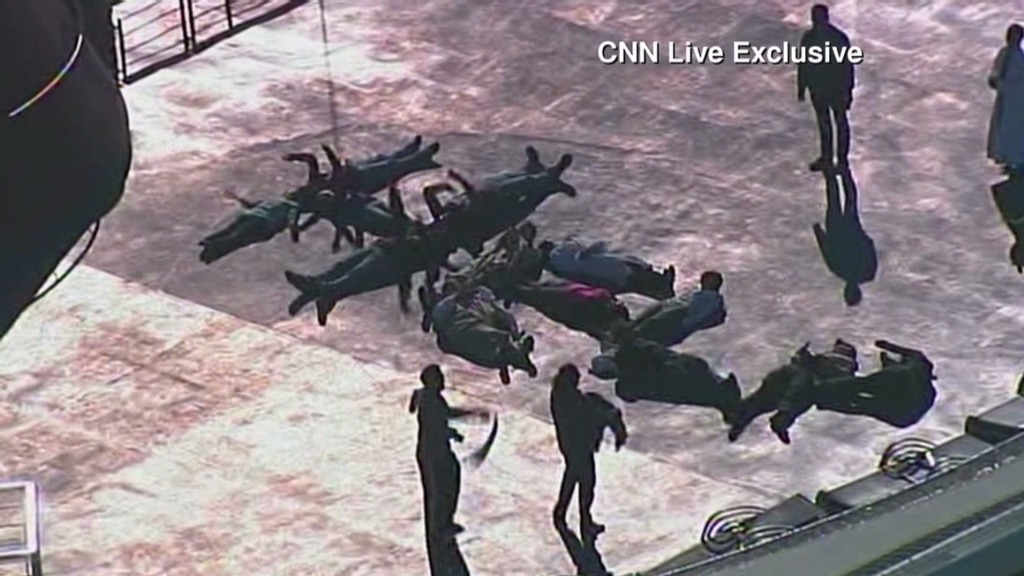 Carnival's (CCL) stock plunged after the cruise operator reported a drop in profits.
Beleaguered retailer J.C. Penney (JCP) hit a new 52-week low Tuesday, as investors fear a slower-than-expected back to school season and worry about whether the company needs more cash.
"JCP stock is still ugly says @alyssaoursler. Here's why you should stay away. $JCP http://stks.co/imRO Bearish," wrote InvestorPlace.
Another trader made light of the free haircuts for kids that former CEO Ron Johnson launched in the store.
"if they just turned the business into a full blown hair salon I think we would see a recovery $JCP," joked mytfine.
Related: Fear & Greed Index is back in neutral
Chip equipment maker Applied Materials (AMAT) announced a $29 billion merger with Tokyo Electron Limited "to create a global innovator in semiconductor and display manufacturing technology." Shares of Applied Materials rose 9% on the news.
Shares of Red Hat (RHT), a business software maker, fell due to concerns about sales growth for the rest of the year.
BlackBerry's patents could spark a bidding war
BlackBerry (BBRY) announced late Monday that its largest shareholder, Fairfax Financial, was leading a group to acquire the troubled company for $9 a share. Blackberry shares edged down more than 3% Tuesday and remain below the $9 mark.
European markets closed higher. The latest German business sentiment data shows confidence continued to improve in September. Asian markets ended the day with small losses.