Investors don't want to wait and see if lawmakers can reach a deal to avoid a government shutdown at midnight. They just sold.
The Dow Jones Industrial Average dropped more than 128 points, or nearly 1%, on Monday. The S&P 500 and the Nasdaq closed the day with losses as well.
October sell-off coming? Despite Monday's slide, the three major indexes are still up between 15% and 24% for the year. The Dow and S&P 500 are up between 2% and 3% in September alone, and hit record highs just two weeks ago. All three indexes are up for the quarter, led by the Nasdaq, which has risen 11%.
But some strategists are predicting that stocks could fall further if the government closes up shop -- even if it's only a brief shutdown.
Related: 8 things you need to know about the debt ceiling
Citigroup analyst Tobias Levkovich said that the "rancorous debate in Washington" coupled with slowing economic growth could push the S&P 500 down to 1600, a drop of more than 5% from its current level.
Levkovich and several other analysts also expect companies to cut their 2014 profit forecasts when they report third quarter earnings over the next few weeks. That could be another wake up call for investors, who had been bullish all year despite some big risks.
Related: Fear & Greed Index shows investors are becoming increasingly fearful
The shutdown isn't the only thing in Washington that investors are worried about. Stocks have pulled back recently as the U.S. gets closer to hitting the debt ceiling. If Congress fails to increase the debt limit, the U.S. government won't be able to pay all of its bills later this month.
Fear and volatility spike: The Chicago Board Options Exchange's Volatility Index (VIX), a key gauge of market volatility more commonly known as the VIX, has risen nearly 10% in each of the past two trading sessions. But it's still a relatively low 17 -- far below the mid-40s range it traded at when Standard & Poor's downgraded the U.S.'s credit rating in 2011.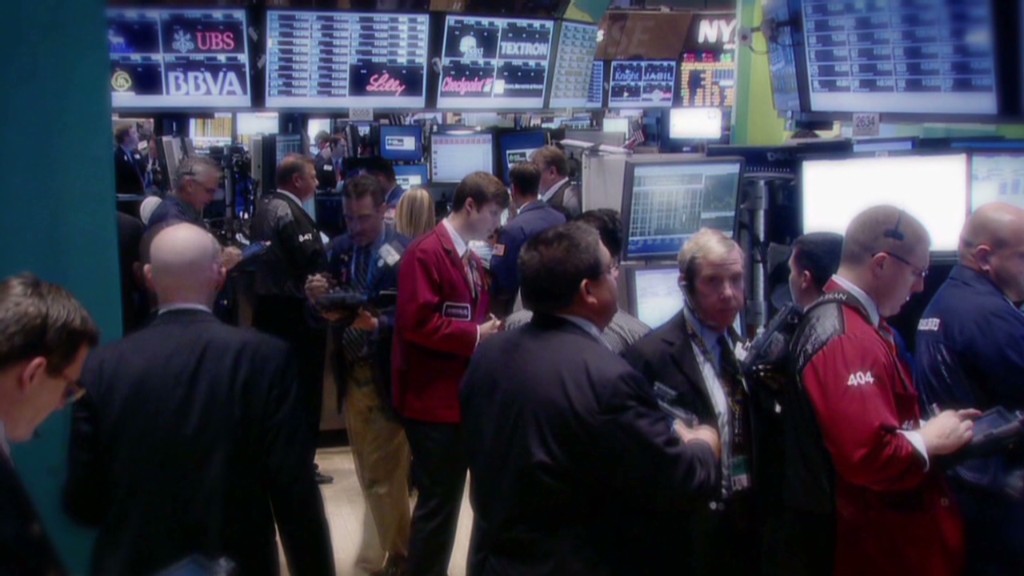 But investors do seem more nervous lately. CNNMoney's Fear & Greed Index has moved deeper into Fear mode and is getting close to Extreme Fear levels. The index was Neutral just a week ago.
Related: Obamacare and biotech boost health care stocks
What's moving: Shares of Apple (AAPL) dropped more than 1% as investors waited for details about CEO Tim Cook's reported lunch meeting with activist investor Carl Icahn. Traders weren't holding out hope for any good news though.
"$AAPL..if the traders" in the know" really thought there would be fireworks at their lunch meeting, many more calls would be trading," wrote StockTwits commenter christopherbrecher.
Investors also weren't wowed by news that Apple was named the "best global brand" by Interbrands.
J.C. Penney (JCP) dipped nearly 3%. The retailer, which has been hemorrhaging money, announced last Friday that it had raised roughly $810 million through a public offering. Shares are trading near lows not hit since late 2000. Traders still have a bleak outlook for the company.
"$JCP imho if this Q4 is not good at all, $JCP would be def done. Even if Q4 were good, they would still be struggling for a long time," StockFan123 wrote.
Shares of Chipotle Mexican Grill (CMG) rose more than 2% following an analyst upgrade.
Noted short seller David Einhorn has said he's betting against the stock, and some traders continue to agree with Einhorn -- despite Chipotle's rally.
"$CMG at a multiple of 40 times earnings, this burrito maker is due for a substantial pullback," commented contrarianspeculator. "Waiting for Einhorn to pounce on this one again."
"$CMG there is more hedge $$ that sees this as an epic short than even a luke warm long...don't kid yourself," traderiver added.
Related: How the government will shut down
Government shutdown fears hit world markets too: European markets and most Asian markets closed with losses, though the Shanghai Composite moved higher. China launched a free trade zone in Shanghai on Sunday, an experiment in promoting trade and expanding foreign investments in China.