The S&P 500 hit a new record high Thursday, one day after lawmakers voted to reopen the government and ended a fiscal showdown that put the nation at risk of default. But a batch of lackluster corporate earnings weighed on the Dow.
The S&P 500 rose 0.7% to just above 1,733, surpassing the previous all-time high from last month. The Nasdaq also gained ground, but remains far from its record highs from 2000.
The Dow Jones industrial average ended the day flat as weakness in IBM (IBM), Goldman Sachs (GS) and UnitedHealth (UNH) was balanced by strength in American Express (AXP) and Verizon (VZ).
IBM and Goldman are the second and third highest weighted components in the Dow, which is weighted by stock price as opposed to market value like the S&P 500. This means moves in these higher-priced stocks have an outsized impact on the Dow.
"IBM takes a huge bite since it's the highest priced Dow stock," said Hank Smith, chief investment officer at Haverford Trust.
Stocks surged more than 1% Wednesday following news that Congress had reached a deal to reopen the federal government and avert a potentially catastrophic default. But investors are still wondering what happens when the government bumps up against the debt ceiling again in February.
"While there's great relief that a deal was inked before the so-called deadline, the reality is that these new deadlines aren't too far away in terms of passing a budget and the next debt ceiling issue in early February," said Smith.
He added that investors should brace for more volatility as lawmakers continue to butt heads over spending. But he said there could be "more upside" for stocks if Congress can pass a budget before the end of the year.
The dollar was weaker against other major world currencies, sinking as much as 1% against the euro and the pound. European stocks were lower while Asian markets finished mixed.
Related: CNNMoney Fear & Greed Index shifts into neutral
Investors were also concerned about the economic toll of the impasse, which shut down large parts of the government for 16 days. The shutdown comes with a $24 billion price tag, according to Standard & Poor's.
About 70,000 federal workers filed for unemployment benefits during the first week of October, the Labor Department reported Thursday. The shutdown, which started Oct. 1, put thousands of federal employees temporarily out of work and without a paycheck.
But some investors are betting the gridlock in Washington means the Federal Reserve will maintain the pace and size of its bond buying program for longer than previously expected.
"We expect the damage will prompt the Federal Reserve to continue its full monthly dosage of quantitative easing at least into the first quarter of next year," said Jack Ablin, chief market strategist at BMO Private Bank.
Related: What did GOP win on Obamacare? Not much
Google shines, IBM tanks: After the market closed, Google (GOOG) reported earnings and sales that topped analysts' expectations. That news sent shares above their all-time highs in extended trading.
IBM shares sank 7% after the tech giant reported quarterly sales that fell well short of expectations. Shares of eBay (EBAY) fell 4% after the company offered weak guidance.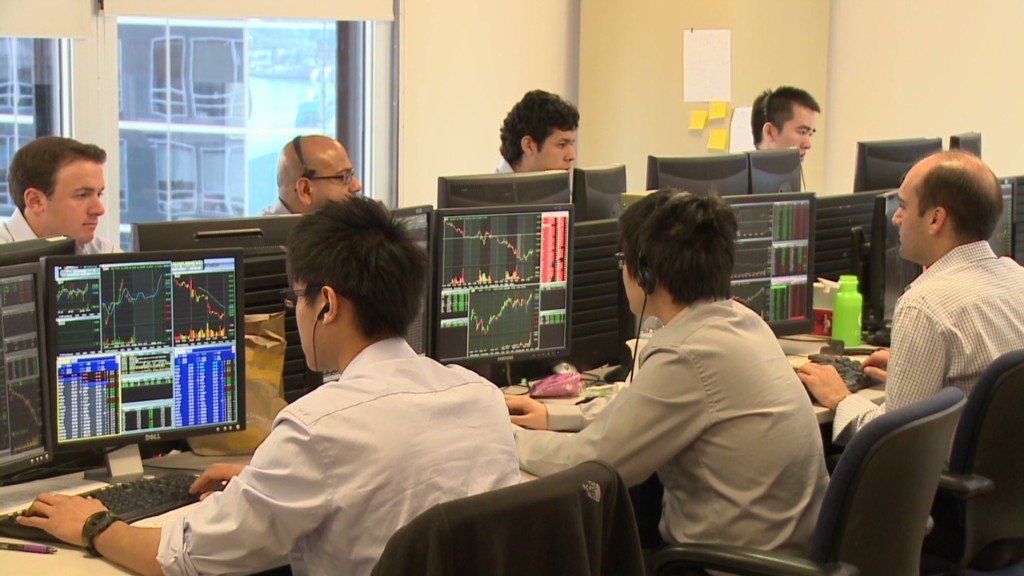 Shares of Goldman Sachs fell after the firm reported a year-over-year revenue decline. At the same time, Goldman's earnings per share topped forecasts and the company hiked its dividend by a nickel to 55 cents. UnitedHealth was down nearly 4% following its results.
"Today we see the problem of a price weighted index $GS $IBM," wrote StockTwits user BrianNichols.
Shares of UnitedHealth fell after the company trimmed its outlook for earnings growth this year.
"$UNH doesn't look healthy :)," quipped Partridge.
AMR Corp. (AAMRQ), the parent of American Airlines that's now in bankruptcy, reported a record third-quarter operating profit. The company was also upgraded by analysts at JPMorgan, sending shares up nearly 10%. But at least one trader wasn't sure the gains would hold.
"$AAMRQ how much upside is really left here?" asked longhorn312.
Dow component Verizon (VZ) jumped after the company reported a double-digit profit increase for the quarter thanks to strong gains in wireless subscribers. Verizon also said it wasn't able to meet customer demand for new iPhones because of supply constraints. Apple (AAPL)shares edged higher after topping $500 a share earlier this week.
"$AAPL I think we bulls have Stockholm Syndrome. It's up 0.5% after debt ceiling resolution and good news from VZ, and we're so thankful," wrote packyM.