Investors didn't seem to care that the Federal Reserve decided to continue its $85 billion a month bond buying program.
Stocks, which are hovering near all-time highs, fell after the Fed announced no major changes to its stimulus program, commonly known on Wall Street as quantitative easing or QE. Investors expect the program to last at least until the end of this year.
The Dow Jones industrial average, the S&P 500 and the Nasdaq closed with modest losses after starting the day with small gains.
Both the Dow and S&P 500 closed at record highs Tuesday, and both hit new intra-day highs on Wednesday.
Related: Fear & Greed Index shows investors are greedy
The rally has been a global one. European markets climbed to their highest levels in five years Wednesday, and Asian markets ended with sizable gains.
Signs of a market that's too hot to handle? Investors have become increasingly concerned that the market might be overheated. CNNMoney's Fear & Greed Index, which measures market volatility and six other gauges of investor sentiment, has been in Greed territory for the past week.
There has been a remarkable shift in the market's mood this month. The index was showing signs of Extreme Fear earlier in October as investors worried about the government shutdown and a potential debt default by the United States.
PIMCO's Bill Gross. who runs the largest bond mutual fund, is one of a number of big fund managers who think that stocks have gotten ahead of themselves. Gross wrote on Twitter late Tuesday that "all risk asset prices artificially high."
Related: Why the Fed should worry about deflation
Allianz Global Investor's U.S. investment strategist Kristina Hooper says that the market is once again focusing on when the Fed will pull back on its bond purchases.
"We're back to an environment where bad economic news is good," said Hooper. "Bad news suggests we will be on Fedicare for longer."
Weak hiring: Investors got another weak data point on Wednesday. Private sector employers added just 130,000 jobs in October -- their lowest level of job growth since April, according to a report by payroll processor ADP.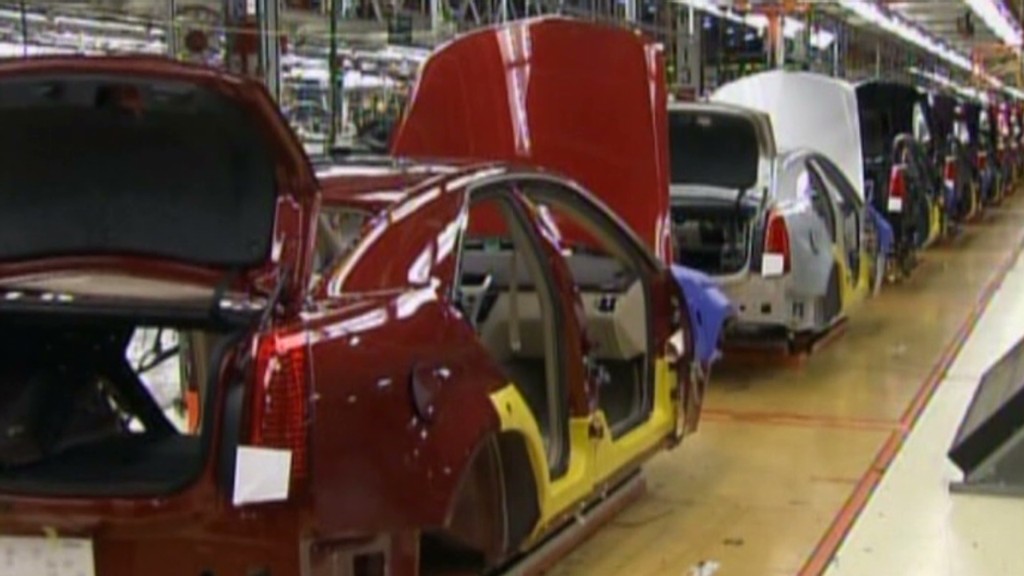 Earnings season continues in full swing: General Motors (GM) soared as it reported narrower losses in Europe and improving profit margins in North America. Chrysler reported double-digit gains in profit and sales for the quarter. The automaker is not publicly traded, but has announced plans for an initial public offering.
Shares of Facebook (FB), which reported earnings after the market closed that blew away forecasts, surged 15% in extended trading. StockTwits user Jcola44 is a bull who was expecting a good quarter. "$FB Will prove tonight it is the mobile leader," he wrote before the earnings were released.
But other social media stocks stumbled on Wednesday. LinkedIn (LNKD) spooked investors with lackluster guidance. Shares of the social media company fell 9%.
Yelp (YELP) shares closed down 3% after the review site reported a wider-than-expected quarterly loss and announced plans to sell more stock.
Both stocks have been on a tear this year with LinkedIn's stock doubling. Yelp shares are up more than 240%.
Related: LinkedIn, Yelp sink on growth fears
Many investors on StockTwits thought the dip in Yelp and LinkedIn offered a buying opportunity. "$YELP can't be kept down. Bad miss + secondary means nothing," wrote TopstepTrader.
Harmonicreasoning agreed, "If $YELP is still red, go sell something and buy some."
HookEM thinks it's time to buy more LinkedIn: "$LNKD 2 qtrs in a row they beat top/bottom line but down due to poor guidance. if this is a repeat of last qtr, this red dip will get bought."
Baidu (BIDU) shares rallied after China's largest search engine posted strong earnings and sales, and said earnings in the current quarter would easily top forecasts.
Related: Amazon is one of the most overvalued stocks
Sprint (S) reported a quarterly profit and shares rose almost 4% on the news. Cable giant Comcast (CMCSA) reported declines in quarterly sales and profit, but earnings topped expectations. Comcast's stock was modestly lower.
Shares of Electronic Arts (EA) jumped about 8% after the video game maker's quarterly earnings beat expectations. But shares of rival gaming company Take-Two Interactive, which is most well-known for its Grand Theft Auto franchise, fell even though the company reported sales and profits that easily topped forecasts.