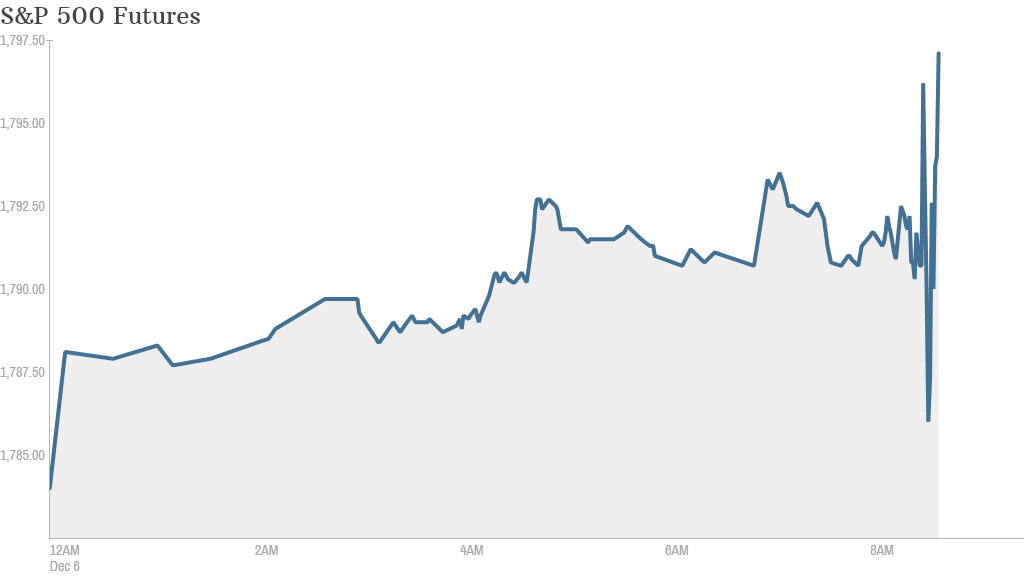 U.S. stock futures were pointing significantly higher Friday as investors cheered a better-than expected November jobs report.
The Labor Department said the economy added 203,000 jobs in November, higher than the 183,000 estimated by economists surveyed by CNNMoney.com
The unemployment rate dropped to 7.0% from 7.3%. It was expected to fall to 7.2%.
Investors are examining the data to determine when the Federal Reserve will scale back, or taper, its $85 billion per month stimulus program.
The bond market seems to be betting that the Fed may taper sooner rather than later. The yield on the 10-year Treasury note rose Friday to 2.9%, and is closing in on its 2013 high of near 3%. Bond yields rise when prices fall. So investors may be selling bonds because they expect the Fed to start slowing down its monthly Treasury purchases.
Related: Fear & Greed Index continues to show greed
U.S. stocks fell Thursday after good news on the health of the economy had investors worrying about when the Fed will begin dialing down its massive-bond buying program.
European markets were firmer in morning trading. Frankfurt's DAX index led the way with a gain of 0.5% after Germany's central bank raised its forecast for the country's GDP growth in 2014 to 1.7% from 1.5%.
Trading on the Johannesburg Stock Exchange was halted for five minutes at 4 a.m. ET to mark the death late Thursday of former South African President Nelson Mandela.
Asian markets ended mixed. The Nikkei rose 0.8%, supported by Japanese government plans for more economic stimulus, but the Shanghai Composite slipped 0.4%. Hong Kong's Hang Seng eked out a gain of 0.1%.