Good news may finally be good news. The Dow Jones Industrial Average surged nearly 200 points Friday, as investors cheered a better-than expected November jobs report.
The S&P 500 and the Nasdaq also finished the day markedly higher.
Despite snapping a five day losing streak, the Dow and S&P 500 weren't able to edge out wins for the week. The blue chip indexes had gained the previous eight weeks.
And given how much stocks are up so far in 2013, it's still far from certain whether the market will experience a so-called "Santa Claus rally," a trend in which the market rises at the end of the year.
On Friday, the Labor Department said the economy added 203,000 jobs in November, higher than the 183,000 estimated by economists surveyed by CNNMoney.com. The unemployment rate dropped to 7.0% from 7.3%. It was expected to fall to 7.2%.
For months, investors have been sweating the Federal Reserve, trying to calculate when it will scale back, or taper, its massive $85 billion per month stimulus program. The Fed has said that improvement in the job market was one of the main things it was looking for before it would start trimming its bond purchases.
Earlier Friday, the bond market seemed to be betting that the Fed may taper sooner rather than later. The yield on the 10-year Treasury note spiked as high as 2.93% before pulling back to 2.86%. The 10-year yield peaked earlier this year at 2.98% when investors were last worried that tapering could be imminent.
Bond yields rise when prices fall. So investors may have been selling bonds immediately following the jobs report on expectations that the Fed is closer to slowing down its monthly Treasury purchases.
Related: Fear & Greed Index continues to show greed
But there's no consensus for when the taper will come to fruition.
"US Jobs Stronger than Expected, but not Enough for Fed to Taper," was the title of a morning note from Brown Brothers Harriman.
"US payrolls strength boosts QE3 taper chances" was another from Capital Economics.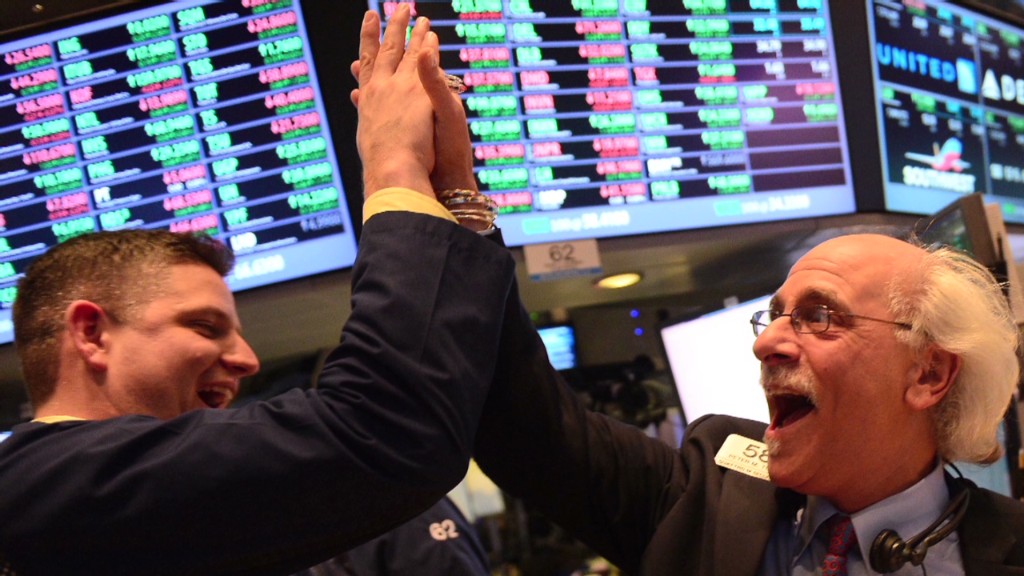 The Fed's next policy meeting wraps up on December 18. It is the second-to-last meeting that will be led by Fed chair Ben Bernanke. He will likely be replaced by current vice chair Janet Yellen, who has been nominated by President Obama to be the next Fed chair and is merely awaiting approval from the Senate.
Many economic experts and investment strategists believe that Bernanke would prefer to have Yellen be in charge of the Fed's tapering as opposed to him starting it just before his term expires.
What's moving: Struggling retail giant J.C. Penney (JCP) plunged more than 8% after it disclosed Thursday that the Securities and Exchange Commission has an inquiry about its finances.
Shares tumbled 8% Thursday after hedge fund manager Kyle Bass told Bloomberg that his firm no longer owns the stock. J.C. Penney's stock had been rallying lately due to purchases from Bass and other hedge funds.
"$JCP great buying opp. love it" said StockTwits trader investinthebest, who's still bullish despite Friday's sell off.
Shares of Ulta Salon (ULTA), the cosmetics superstore, tanked 20% after the company posted weaker than expected results and lowed its fourth quarter outlook.
"$ULTA shoosh, there it goes," quipped StockTwits user skipjackrick.
But another StockTwits trader is looking for a buying opportunity.
"$ULTA I'm just about ready to jump in," said NMGold.
Big Lots (BIG) fell more than 12% after its earnings came in below analyst expectations.
Related: When will Facebook be added to the S&P 500?
Drug store chain Rite Aid got a 2% bump, and one trader felt the momentum was justified.
"$RAD This is a real stock this company is going to grow and shares are going to grow with it," said Digger1.
Sears Holdings (SHLD) shares dropped almost 4% after the retailer officially said Friday it plans to spin off its Lands' End clothing brand.
Shares of Intel (INTC)and career networking site Linkedin (LNKD) bounced after receiving upgrades from analysts.
European markets finished higher in afternoon trading on the heels of the U.S. jobs report while Asian markets, which closed before the jobs report was released, ended mixed.