So much for a two-day winning streak. Stocks finished Wednesday mixed, as investors mulled over the minutes from last month's Federal Reserve meeting and waited for Friday's all-important December jobs report.
The Dow lost almost 70 points, while the Nasdaq was a bit higher and the S&P 500 finished flat. The muted trading came a day after the S&P 500 and Nasdaq logged their first gains of 2014 and the Dow had its first triple-digit point rise of the year.
CNNMoney's new Tech 30 index was flat. BlackBerry (BBRY) shares rose once again, after surging the past two trading days. The stock is up more than 14% this year, making it the top performer in the index. Chinese tech companies Baidu (BIDU) and Sina (SINA) also were big gainers in the index.
Investors and traders were eager to look over the latest Fed minutes, since they covered the meeting when the central bank decided to start cutting its massive economic stimulus program. Many Wall Street experts expect the stimulus program will be wrapped up by the end of 2014.
The Fed minutes did not reveal anything shocking though. The main takeaway was that the central bank wants to move "cautiously" with its plans to taper its bond buying.
Meanwhile, investors were also on hold ahead of the December jobs report due on Friday. Data from payroll processor ADP (ADP) showed that private sector hiring gained momentum in December, an encouraging sign ahead of the Labor Department's closely-watched report.
The yield on the 10-year Treasury note crossed the 3% mark Wednesday before pulling back, possibly in anticipation that strong jobs data will lead the Fed to speed up its scaling back of stimulus.
Related: Check out CNNMoney's new Tech 30 index
In corporate news, shares of Bed Bath and Beyond (BBBY)tumbled 9% in after-hours trading after the home goods giant reported earnings that were below analyst estimates.
J.C. Penney (JCP) shares plunged after the troubled retailer released a short and vague statement about its sales performance during the key holiday season. J.C. Penney said it was "pleased" with its sales, but failed to release specific figures. The lack of details caused concern among the retailer's investors, who have been betting on progress in the company's turnaround efforts.
"$JCP If the company is not even going to publish its numbers for the holiday season... what do you think the future holds?" asked StockTwits trader ur_realityCheck.
But StockTwits user shavitmi thought the stock's 8% slide was an "over reaction!!!! $JCP."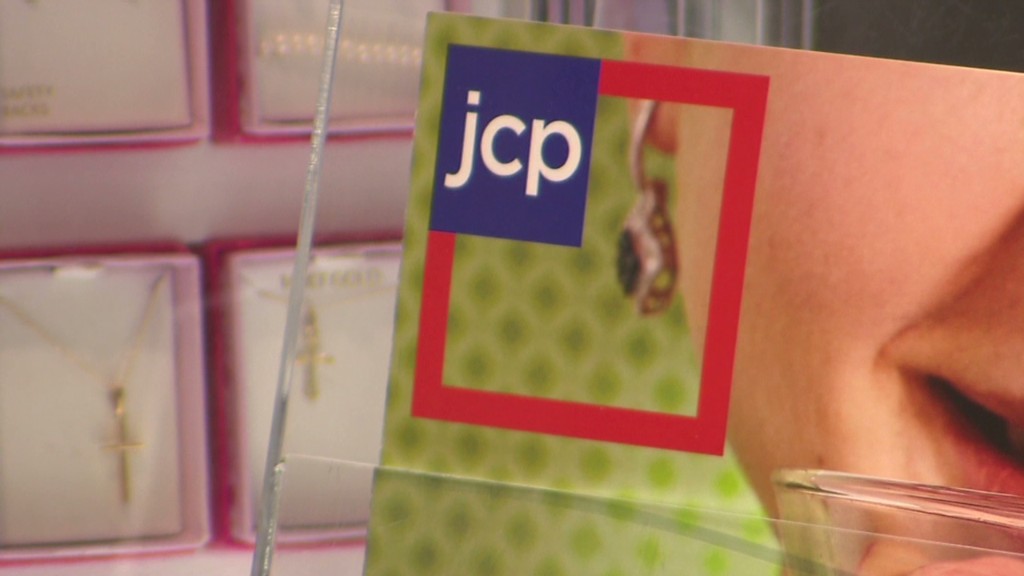 Yelp (YELP) was also a hot topic on StockTwits, as shares of the online review company soared over 8% to new all-time highs. But following Yelp's 266% run-up in 2013, some traders wondered if the stock has come too far too fast.
"$YELP Restaurant Review site up 9% all time high...," noted Lach14, "No Bubble Here right? All fundamentals."
Some traders noted that part of the climb may be due to a phenomenon called a short squeeze. Shares of Yelp are heavily shorted, meaning that buyers have borrowed the stock on a bet that its price will fall. If the stock keeps going up, the short seller have to rush to buy it back in order to avoid huge losses.
"I could see $YELP closing in the 80s today," said UselessRubbish. "Its held its gains all day so far and there are still more shorts to cover."
"$YELP 2014 continues the 2013 year of the #SUPERSQUEEZE," said ms101.
Related: CNNMoney's Fear & Greed index holds in greed
Shares of Ford (F) rose after the automaker said late Tuesday that CEO Alan Mulally is not leaving the company for Microsoft (MSFT). Shares of Microsoft were lower.
Constellation Brands (STZ) surged after the wine, beer and spirits company reported strong earnings for its most recent quarter and boosted its outlook for the year.
Agrochemical giant Monsanto (MON) shares were also higher following better-than-expected quarterly earnings and sales.
Revenue figures were disappointing from The Container Store (TCS), sending shares of the retailer sharply lower.
Micron Technology (MU) shares surged following quarterly earnings that beat expectations.
Related: Marissa Mayer reveals Yahoo's big plans for 2014
Yahoo (YHOO) rose to a multi-year high, a day after CEO Marissa Mayer touted some of the company's new products at the Consumer Electronics Show in Las Vegas.
Pot stocks were one again in focus following their big rally on Tuesday as the business of legal marijuana begins booming in states like Colorado. Shares of Hemp. Inc. (HEMP) and GreenGro (GRNH) were up sharply for a second day. But Medbox (MDBX), which surged more than 80% Tuesday, had an extremely volatile day Wednesday. Shares tumbled over 28% in afternoon trading after starting the day up more than 25%.