Stocks were in a holding pattern Thursday as investors digested the latest economic data and awaited the government's key jobs report Friday.
The Dow Jones Industrial Average and Nasdaq dipped slightly, while the S&P 500 was flat. CNNMoney's new Tech 30 index was off more than 1%, dragged down by an 8% drop in wireless chip company ARM Holdings (ARMH) after Goldman Sachs downgraded the stock.
The Labor Department said Thursday that the number of people filing jobless claims for the first time last week fell to 330,000, a drop of 15,000 compared to the previous week and better than what economists were predicting.
On Friday, the government will release its all-important December jobs report.
Hopes for another strong month of job growth were raised Wednesday when payroll processor ADP reported that private-sector businesses added 238,000 workers in the month.
Economists surveyed by CNNMoney predict the report will show 193,000 jobs were added in December, consistent with the solid hiring during the last four months of 2013. The unemployment rate is expected to remain at 7%.
On Wednesday, the Federal Reserve released minutes from its December meeting saying it would proceed cautiously in scaling back its support of the economy.
The Fed has maintained that it will let economic data dictate the pace of its slowdown in bond purchases, so investors are trying to read the tea leaves in any economic reports.
Related: Fear & Greed Index still in Greed mode
On the corporate front, Macy's shares surged over 7% after the department store operator revealed cost-cutting plans late Wednesday that included laying off of 2,500 workers and closing five stores. The retailer maintained its financial forecasts. One trader on StockTwits noted the irony of a stock surging on layoff news.
"$M Nothing like job cuts to make analysts drool," quipped xtremezz.
Bed Bath & Beyond (BBBY) tumbled more than 12% after the retailer reported quarterly earnings that missed estimates and was downgraded by an analyst at Credit Suisse.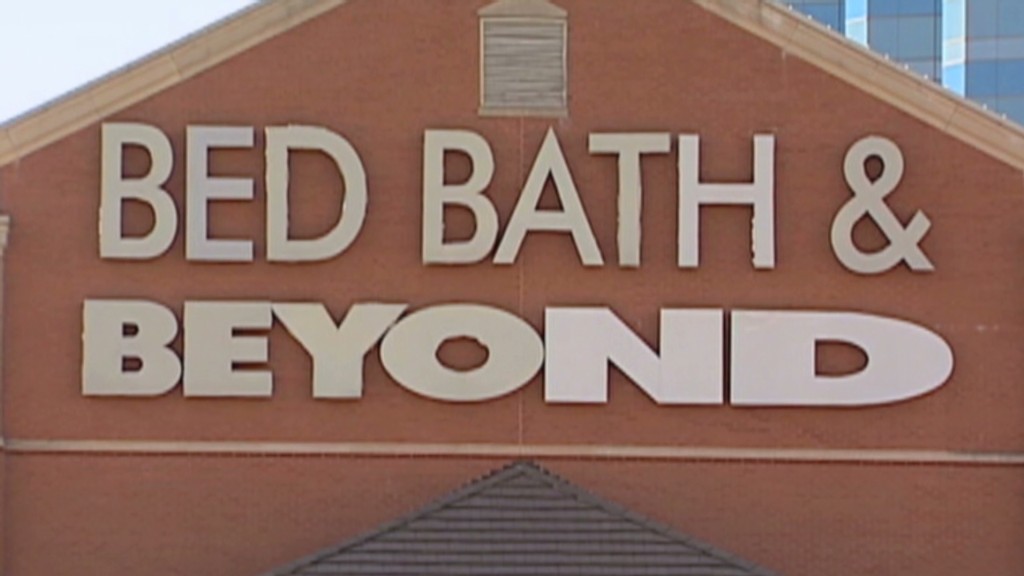 But one trader saw the stock's drop as a glass half-full.
"Bad quarter from $BBBY but I wonder if this presents an opportunity," said TopGunFP. "Great operator and stock is cheap."
Family Dollar (FDO) shares plunged after the budget-oriented retailer missed estimates for revenue and profits, reported a drop in same-store sales and lowered its guidance for the year.
"Another ugly show from Family Dollar," said StockTwits trader retail_guru. "Consistently over-estimating sales is $FDO hallmark."
Airline stocks took off, with United Continental Holdings (UAL) soaring almost 7% after reporting an increase in a key revenue metric for December.
Delta (DAL) rose over 4% and hit an all-time high.
One StockTwits user felt the momentum was justified.
"$DAL the weather is clearing up and blue skies ahead," said Weston.
Shares rose for Costco (COST) after it reported an increase in same-store sales.
Twitter (TWTR), the second-worst performer in CNNMoney's Tech 30 index this year, dropped 4% after a bearish analyst report from Cowen & Co. Twitter's stock has fallen recently due to concerns about its valuation.
Aluminum producer Alcoa (AA) finished the day lower after reaching a $384 agreement with the Securities and Exchange Commission relating to allegations that it bribed officials in Bahrain in its business dealings there. The stock fell further in after-hours trading after reporting earnings that came in slightly below estimates.
Related: Investors bet big on big banks
Most major European and Asian markets posted losses Thursday.