Investors moved to the sidelines Monday as they wait for a slew of corporate earnings reports later this week.
The Dow Jones industrial average fell 179 points, the worst one-day point drop in more than three months. The S&P 500 and the Nasdaq were both down more than 1%. CNNMoney's Tech 30 index also fell, despite gains in Twitter (TWTR), Hewlett-Packard (HPQ) and Netflix (NFLX).
In other Tech 30 news, Google (GOOG) announced after the closing bell that it planned to buy Nest Labs, which makes home automation technology, for $3.2 billion.
Investors are still digesting Friday's jobs report, which showed a big slowdown in job creation in the final month of 2013. Despite the lousy jobs news, stocks managed to end higher Friday as investors generally believe the economy will continue to improve in 2014.
The slowdown in hiring raised questions about the Federal Reserve's plan to cut back on, or taper, its bond buying program. The Fed has announced plans to trim its purchases by $10 billion to $75 billion beginning this month.
Stocks were lower all day but extended their declines after Atlanta Fed President Dennis Lockhart said he would support further tapering this year, assuming the economy continues to improve. However, Lockhart is not a voting member of the Fed's policy committee and his comments were similar to previous statements.
Economists say the Fed will probably wait to see if the December payroll report was an anomaly before making any major changes to monetary policy.
Related: Wolves of Wall Street to report earnings
Now investors are looking ahead to the first big round of fourth quarter earnings coming later in the week.
JPMorgan Chase (JPM) and Wells Fargo (WFC) are scheduled to report Tuesday morning, while other big banks Bank of America (BAC), Citigroup (C), Goldman Sachs (GS) and Morgan Stanley (MS) are also on tap to report their results.
The financial sector is expected to post the biggest profit growth in the quarter, according to FactSet. But some investors worry that banks' revenue could be hurt by a slowdown in trading activity, particularly in the bond market.
Dow components General Electric (GE) and Intel (INTC) are up later in the week too.
Overall, FactSet expects earnings for the companies in the S&P 500 to be up 6.1% in the quarter.
Yet there has been an unusually high number of companies warning in advance that earnings will be below expectations. As of Friday, 88 companies in the S&P 500 had issued negative earnings guidance. That trend continued Monday with two more companies issuing profit warnings.
Related: Fear & Greed Index remains in Greed mode
What's moving: Yoga apparel retailer Lululemon (LULU) cut its fourth quarter earnings guidance, saying that traffic and sales have declined since the beginning of January. The stock tanked on the news, and at least one trader said Lululemon's products are simply too expensive for most consumers.
"$LULU Guys, I'm looking for a $120 stretch pants that I can only wear when I work out. Oh wait, I'm not crazy," said StockTwits user Sane.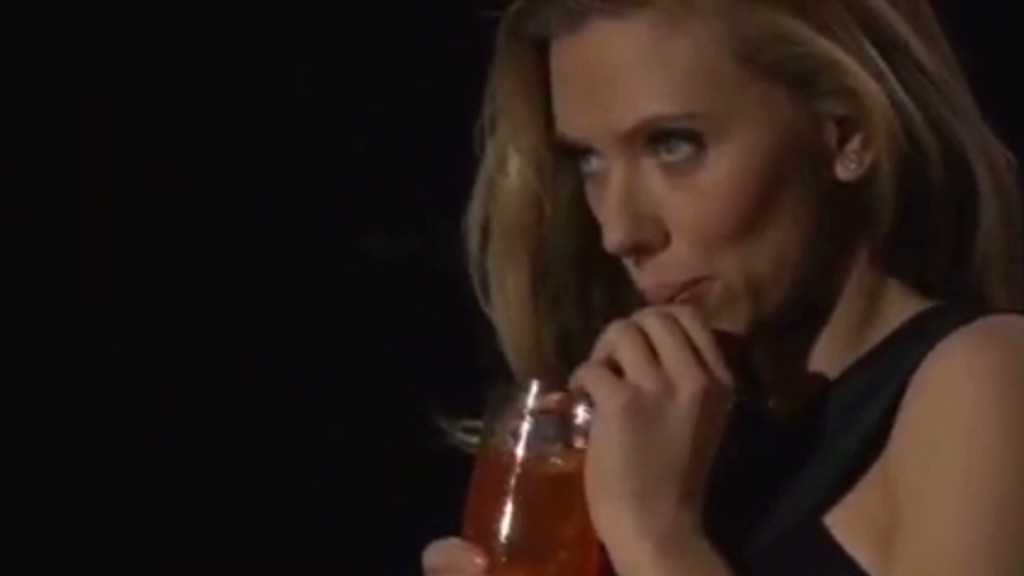 SodaStream (SODA) shares plunged after the company said profits for 2013 will fall short of expectations, due in part to weak holiday sales in the United States. The sell-off revived talk that SodaStream is a takeover target.
"$SODA Market cap now under a billion. Lunch money take over for big names," said deedeebee2313.
Shares of Beam (BEAM) shot up after the spirits maker announced it was being acquired by Japan's Suntory for $16 billion. Beam, most well-known for its Jim Beam brand of bourbon, said the transaction was expected to close in the second quarter of 2014. Suntory is agreeing to pay $83.50 per share -- a 25% premium over Beam's closing price on Friday.
Twitter shares rose after analysts at Goldman Sachs praised the stock in a research report. Following a strong rally late last year, Twitter has been volatile in recent weeks amid concerns the stock is overvalued.
"$TWTR Price goes up and down now not because of value but because everyone is trying to determine it's value. take your position and trade," said Copernicus.
SeaWorld Entertainment (SEAS) reported record revenue of $1.46 billion for 2013, driven by strong attendance at the company's amusement parks during the fourth quarter, according to preliminary results. The stock rose more than 2%.
SeaWorld was the subject of a documentary that aired on CNN last year called Blackfish, which focuses on the dangers of keeping killer wales in captivity. Shares fell 14% in 2013.
Netflix shares jumped although there was no company specific news to explain it. One trader speculated that the Golden Globe victory for Robin Wright, star of the Netflix series House of Cards, could be a catalyst
"Looks like the Golden Globes wins really helped $NFLX this morning," said TheDayTradette.
Related: Ford unveils all-new F-150 in Detroit
Shares of General Motors (GM) and Ford (F) were little changed Monday as Detroit hosts the North American International Auto show. Major automakers use the event to showcase their newest vehicles and innovations.
European markets edged higher. Asian markets ended with mixed results.