Bad news from Corporate America weighed on the market Thursday.
Stocks closed mostly lower, with the S&P 500 pulling back from the record highs reached Wednesday and the Dow also declining. The Nasdaq closed with a slight gain. CNNMoney's Tech 30 index also managed to finish higher, with an 11% jump in shares of AOL (AOL) and 7% pop in LinkedIn (LNKD) leading the way.
Best Buy (BBY) was the biggest loser in the S&P 500, with shares tumbling almost 30%. Investors were disappointed after the retailer reported a drop in holiday sales.
Best Buy shares more than tripled in 2013, as investors bet on a turnaround at the company. Some traders on StockTwits wondered what the poor results could mean for Best Buy's future, given that the holiday shopping season is typically the strongest period all year for retailers.
But abebut pointed out that a pullback may be healthy for Best Buy's stock, following its massive run-up, adding that Apple (AAPL) and Tesla (TSLA) shares have done the same.
"$BBY was a bubble and it simply returned to the fair price," he said. "Same happened with $AAPL & $TSLA before. Bubble popping is good and healthy."
Related: Click here for more on stocks, bond, currencies and commodities
Also in the retail world, shares of J.C. Penney (JCP) declined after the troubled department store owner announced plans to eliminate 2,000 jobs and close 33 stores.
StockTwits trader SDtrade said closing stores is typically part of a struggling company's turnaround process, so the announcement shouldn't be a surprise.
"$JCP Just part of their turnaround, who wasn't expecting they close bad stores?" he asked.
Investors were also wading through a number of quarterly results Thursday, including reports from banks Goldman Sachs (GS) and Citigroup (C).
Citigroup's earnings were the first from the big six banks to disappoint investors. Shares declined more than 4% after reporting earnings and revenue that fell short of expectations.
Goldman Sachs' earnings were better than analysts' forecasts, but shares were also lower as the bank's profit in the last three months of 2013 fell 19% from a year earlier.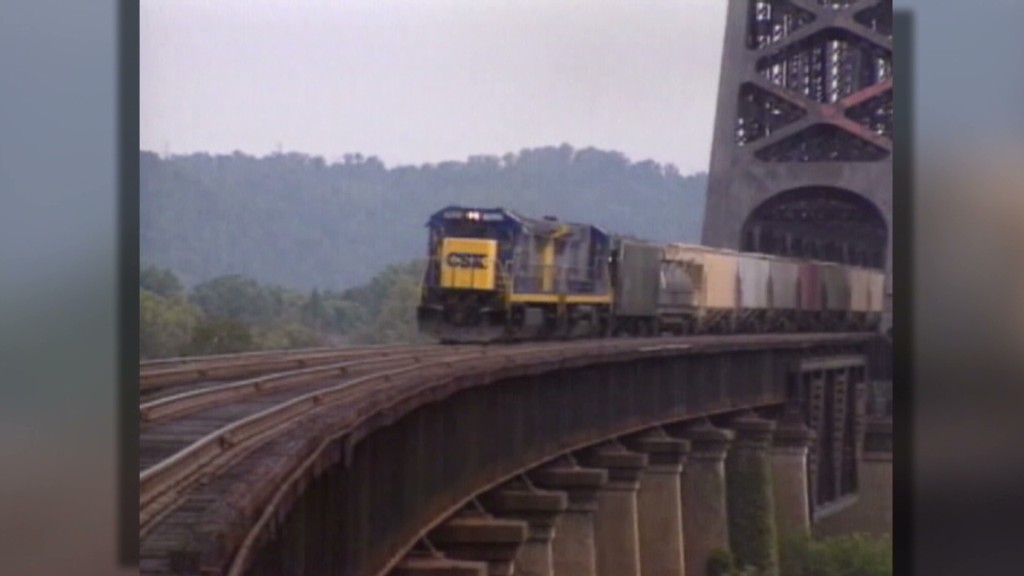 Shares of railroad CSX (CSX) fell sharply after the company said its profit declined during the fourth quarter due to weak coal demand. Shares of rival railroads Norfolk Southern (NSC) and Union Pacific (UNP), which report results next week, were also down.
Dow components Intel (INTC) and American Express (AXP) both reported earnings that missed expectations following the closing bell Thursday. Shares of each company declined in after-hours trading.
In other corporate news, shares of Nu Skin (NUS) tanked following reports that the Chinese government has begun investigating the company following allegations from newspaper the People's Daily that the U.S. multi-level marketing skincare company is running a pyramid scheme in China.
Nu Skin said the People's Daily article "contains inaccuracies and exaggerations that are not representative of Nu Skin's business in China" and claimed the "reporters did not attempt to verify any information with Nu Skin."
But traders had mixed reactions, with some seeming unconvinced by Nu Skin's response and others dismissing the investigations.
"$NUS No matter how much anyone defend this, it's very clear there is definitely something wrong here," said Championinvestor. "Chinese gov investigation is serious thing! Bearish."
But stocktrader911 predicted Nu Skin shares would bounce back.
"Nothing to worry," he said. "It's just a game that is normal practice in China. Need to buy."
Shares of Herbalife (HLF), a multi-level marketing nutrition company, also fell. Activist investor Bill Ackman has been accusing Herbalife of being a pyramid scheme since December 2012. But the company has defended itself. And many investors, including billionaire Carl Icahn, have placed bets on the company despite Ackman's bearish position.
Related: Follow CNNMoney's Tech 30
Shares of Hewlett-Packard (HPQ) moved higher as investors grew optimistic about the firm's plans to sell some new tablets in the Indian market. It was another big winner in the Tech 30 index.
CEC Entertainment, (CEC) the owner of Chuck E. Cheese, announced that private equity firm Apollo Global Management (APO) was buying it for $1.3 billion.
Related: Fear & Greed Index continues to show Greed
On the economic front, filings for initial jobless claims fell last week. A reading on consumer prices for December showed that inflation remains tame.
European and Asian markets posted mixed results.