A flurry of political maneuvering on the global stage couldn't stop stocks from reaching a new record Thursday.
The S&P 500 ended the day at an all-time closing high. The Dow Jones industrial average closed higher as well, but the Nasdaq posted a small loss.
The gains came despite a tense political standoff between Russia and Western powers over Ukraine. Russian troops moved into Ukraine's Crimea Peninsula over the weekend, effectively taking control of the strategically important territory.
For now, investors are confident that the conflict will not escalate into a full-blown war. But the crisis could have unpredictable political ramifications.
Political leaders in Crimea have called for a referendum this month on whether to remain part of Ukraine or join the Russian Federation. Meanwhile, U.S. and European officials unveiled new sanctions aimed at pressuring the Russians and Ukrainians deemed responsible for the crisis.
Despite the geopolitical drama, investors are optimistic about the outlook for stocks this year. The latest reading from the CNNMoney Fear & Greed index shows extreme greed is definitely driving the markets.
Stocks are approaching the five year anniversary of the starting point of the current bull market. And while some investors worry that stocks are overdue for a pullback, bulls say there's more room to run.
Related: Fear & Greed Index shows extreme greed
In economic news, the government said first-time claims for unemployment benefits fell last week. All eyes will be on the jobs report for February tomorrow. Economists surveyed by CNNMoney expect that 150,000 jobs were added last month and that the unemployment rate remained steady at 6.6%.
On the corporate front, Staples (SPLS) shares plunged after the office supplier reported a slump in last year's sales and announced that 225 stores will be closed by the middle of 2015.
The news suggests Staple's days as an independent company might be numbered, according to one trader on StockTwits.
"$SPLS this company is going out of business or going to be bought," said jackmac420.
Another trader said the talk about Staples going under is overblown.
"$SPLS typical panic/overreacting. If online is the future, where does that put spls since it's #2 online retailer behind amzn?" said ashlarry.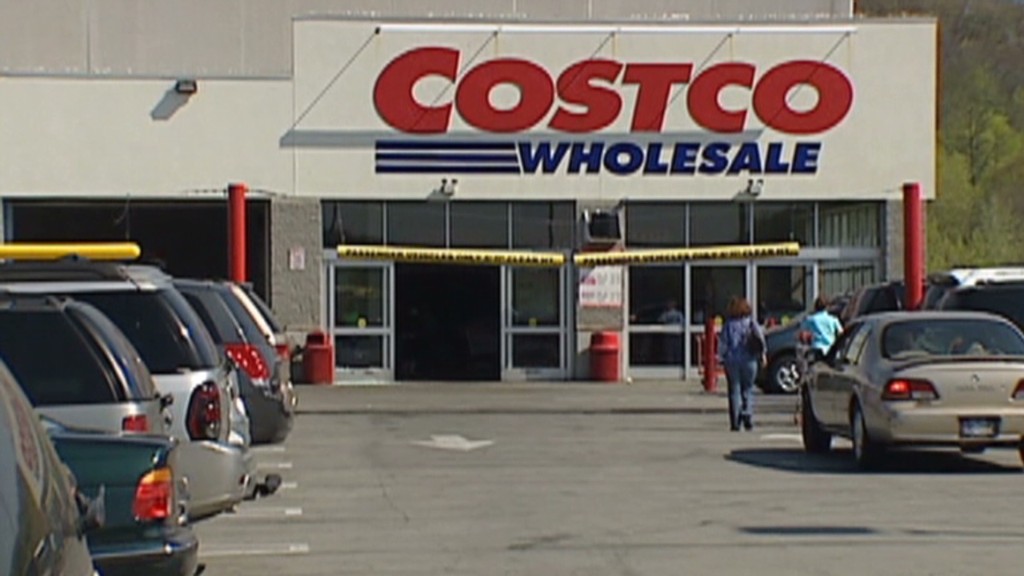 Costco (COST) fell after the warehouse retailer reported sales and profits that missed forecasts. Still, one trader was relieved that Costco didn't blame bad weather for its lousy results, unlike a host of other retailers.
"Costco didn't blame the weather at least. Weakness was from holiday promotions and weaker gross margins in fresh foods. $COST," said TraceyRyniec.
Pandora (P) shares sank nearly 6% after the online radio service said listener hours fell to 1.51 billion in February from 1.58 billion in January. It also decided to stop issuing monthly reports on user growth. The pullback comes after Pandora shares hit an all-time high earlier this week. Even with Thursday's decline, the stock is still up nearly 40% this year.
One trader was surprised the stock wasn't down further.
"$P i don't understand who would buy this here after seeing those numbers..." said luckymox.
Chinese Internet company Sina (SINA) surged 9% on more speculation that the company may soon file for an initial public offering for its Weibo unit, a microblogging tool similar to Twitter (TWTR). Sina was the biggest gainer in CNNMoney's Tech 30 index Thursday ... but is still the second-worst performer this year. Interestingly, only Twitter has fared worse.
European markets ended higher after the European Central Bank voted to leave interest rates unchanged at its latest policy meeting. Asian markets all closed with gains.