On an otherwise quiet trading day in which investors continued to ignore geopolitical risk in Ukraine, a few companies experienced some big stock swings.
The Dow, S&P 500 and Nasdaq all ended the day in the red.
The tense situation in Ukraine caused some sharp moves in markets early last week, but market volatility, as measured by the VIX, (VIX) has declined sharply in recent days.
"With the threat of violence [in Ukraine] out of the way for now, it could take a long time before [the Ukraine-Russia standoff] reaches a definitive conclusion," said Kathleen Brooks, a research director at FOREX.com. "The market tends to shrug off on-going geopolitical issues."
In fact, CNNMoney's Fear and Greed Index, which tracks the VIX and six other indicators or market sentiment, has been showing signs of "Extreme Greed" for the past few days.
There was little economic data on tap Tuesday, but several companies were making news.
J.C. Penney (JCP) may finally be seeing the light at the end of the tunnel. Shares of the struggling retailer jumped Tuesday after an Citigroup analyst upgraded the company's stock to a "buy."
The stock started the year on a rough note, and was one of the worst performers in the S&P 500 last year. But J.C. Penney shares have jumped in recent weeks as investors have begun to get on board with its much-hyped turnaround strategy. With Tuesday's gains, the stock is closing in on the breakeven line for the year.
But one trader on StockTwits was complaining that he's been on the losing side of the J.C. Penney trade.
"$JCP I resolved to letting it go, take my losses, very painful,, and now, it's back up double from my exit. Very very frustrating," said krafty101.
Another StockTwits user said he's been bullish the stock for some time, and that Citigroup is late to the party.
"$JCP NEVER listen to analysts!! They are only good at looking in their rear-view mirrors," said flyboy.
Related: J.C. Penney cutting 2,000 jobs, closing 33 stores
Plug Power (PLUG) tanked over 40% Tuesday, along with rival fuel cell stocks Ballard Power Systems (BLDP) and FuelCell Energy (FCEL). The companies are considered highly speculative and have enjoyed a massive run as of late. Even with Tuesday's huge loss, Plug is up 300% so far this year.
Shares of Tesla (TSLA) dropped after the electric carmaker lashed out at New Jersey Governor Chris Christie for backing a proposal that would force the automaker to sell its electric cars through dealers in the state, instead of directly to the consumer. Tesla has been selling directly to shoppers in New Jersey for about a year, having sold 500 cars.
Freddie Mac (FMCC) and Fannie Mae (FNMA) each plunged about 30%, respectively due to reports that the Senate Banking Committee reached a deal to scale down the mortgage giants. Both companies were bailed out by the government during the 2008 financial crisis.
Herbalife (HLF) shares fell slightly after hedge fund manager Bill Ackman unveiled information alleging violations by the nutritional products distributor in China.
Ackman has publicly called the company a pyramid scheme and said he is betting on the company's demise. But so far Ackman's Pershing Square Capital has taken a bath on that wager, as Herbalife shares have soared since Ackman disclosed his trade.
Related: Is Herbalife a pyramid scheme? Inside look - from the bottom
StockTwits trader LockYourGains predicted Herbalife would bounce unless Ackman presented some compelling new details about the company.
"$HLF Unless ackman convinces that what he has shown today is not just more of the same but actually meritorious, he gets bull slapped," he said.
StockTwits trader thor202 noted that despite mounting losses, Ackman has been relentless in his crusade against Herbalife.
"On $HLF. I think the number 1 rule in trading is to be ruthless about cutting losses. Did Ackman miss that lesson? It's personal for him now," he said.
Shares of Dick's Sporting Goods (DKS) rose after the sporting retailer reported earnings and revenue roughly in line with forecasts.
Urban Outfitters (URBN), which owns the retail brands Anthropologie and Free People, declined after reporting quarterly revenue that fell short of analysts' expectations.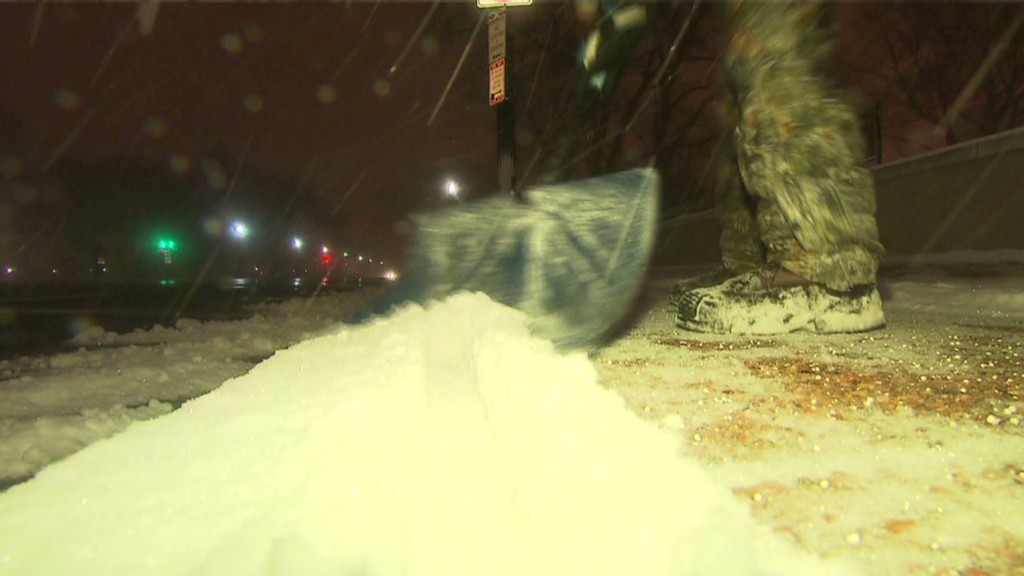 And while some firms have spent the beginning of 2014 blaming unusually cold winter for weak earnings, one company is actually cheering the country's winter woes. Snow plow maker Douglas Dynamics (PLOW), which trades under the ticker PLOW, rose after reporting strong earnings and solid guidance thanks to this year's wintry mix.
European markets edged higher Tuesday. The majority of Asian markets ended with small gains.