The markets played their own version of Candy Crush today with an emphasis on the crush part. All the major US indices ended lower Wednesday, with shares of big technology companies and other momentum stocks bearing the brunt.
Is it good to be the king? The king of the day was supposed to be the maker of online video game Candy Crush, which rang the opening bell at the New York Stock Exchange in honor of its debut, but the stock immediately traded down over 10%.
King Digital Entertainment (KING) priced its shares late Tuesday at $22.50 a share in a deal that raised $500 million for the Irish company. But the stock was ended its first day of trading below $20 a share amid concerns about the company's ability to build on the success of its one blockbuster game.
The reaction on social media was harsh. "$KING is garbage. One-hit wonder, way overvalued," read a post by StockTwits user TappyTibbs.
Some traders were already looking for ways to bet against King's shares, which they say are being spared further losses by the deal's underwriters, including JPMorgan (JPM).
"$KING You can't short an IPO right?," said damnmaxims.
King's lackluster debut weighed on shares of other video game makers, such as Zynga (ZNGA) and Electronic Arts. (EA)
Virtual reality check. Facebook (FB) shares came under pressure after the company announced a $2 billion acquisition of virtual reality firm Oculus VR late Tuesday. Oculus makes a headset for "immersive gaming" that Facebook plans to develop in to a communications and education platform. But an early rally in Facebook shares faded later in the day and the stock closed down nearly 7%.
The acquisition comes about a month after Facebook bought messaging app WhatsApp for $19 billion, and one trader suggested some big investors are worried that CEO Mark Zuckerberg is spending too much money.
"$FB Zuck latest shopping spree given a vote of no confidence by institutions this time it looks like... #Dump," said JFinDallas.
Ocular illusion. In what appears to be a case of mistaken identity, investors drove up shares of companies that have similar names to Oculus VR, but are in no way related to the privately-held company that Facebook bought.
Shares of drug maker Oculus Innovative Sciences (OCLS) was up more than 2% after giving back some of the morning's strong gains. The even more aptly named Oculus VisionTech (OVTZ), which specializes in digital watermarking, also appears to be benefiting from its name. It's normally a thinly-traded over the counter stock, but it surged more than 80% before trading was halted (it has since resumed).
Some traders said automated trading programs were to blame for the mix-up.
"The bump in $OCLS is proof that machine trading algorithms seek indiscriminately. Not the least bit related to $FB Oculus," said dataguy808.
Related: Candy Crush maker to begin trading
Another losing game. In other tech news, International Game Technology (IGT) didn't have the luckiest day. Shares fell after the company, which makes casino games such as slot machines, said it is planning to cut 7% of its staff and lowered its earnings guidance for the year. The stock has lost 18% so far this year.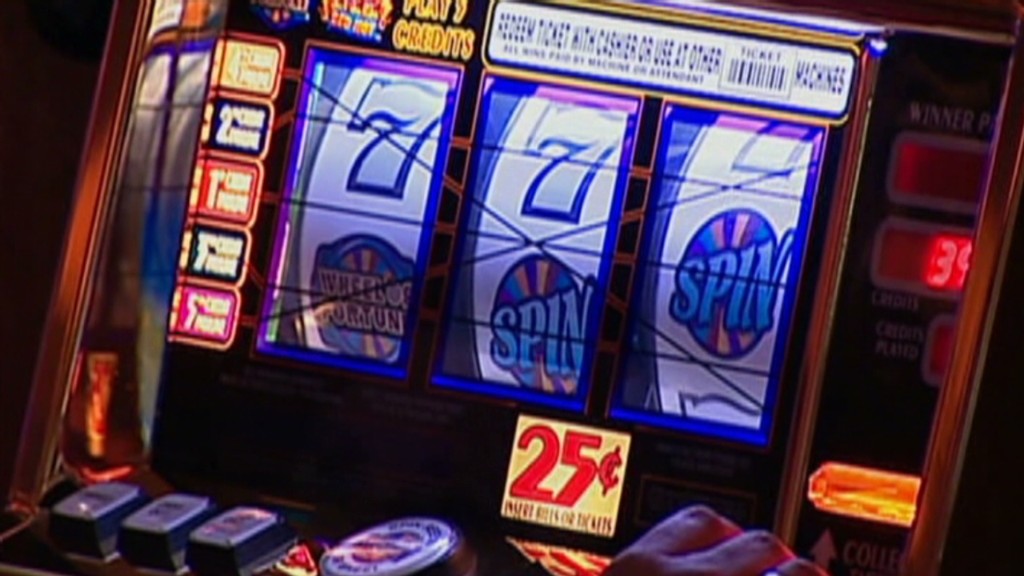 Overall markets move lower. Meanwhile, the Dow Jones industrial average, the S&P 500 and the Nasdaq all moved lower in afternoon trading, reversing earlier gains. It looks like a return of the tepid sentiment that caused markets to cool on Friday and Monday. CNNMoney's Fear & Greed Index tipped slightly toward greed. It had been a neutral recently.
Shares of biotechnology companies and other high-flying momentum stocks were among the hardest hit. The iShares Nasdaq Biotechnology ETF (IBB), which tracks a basket of companies in the sector, was down 1.4%.
If there was a bright spot today, it was in the entertainment sector. Shares of Dish Network (DISH) and DirecTV (DTV) soared following a report the satellite television companies are considering a merger.
Bank stress tests. After the market closed, the Federal Reserve approved the capital plans of 25 of the nation's 30 largest banks as part of the final leg of its annual required stress tests. Citigroup (C) was among the five banks that had their capital plans rejected, meaning the bank will not be allowed to boost its dividend payment. Shares of Citigroup were down in extended trading.
European markets gained ground, likely tied to comments from European Central Bank officials that the bank is prepared to take more aggressive action if the Eurozone economy weakens. Most Asian markets also were up on Wednesday.