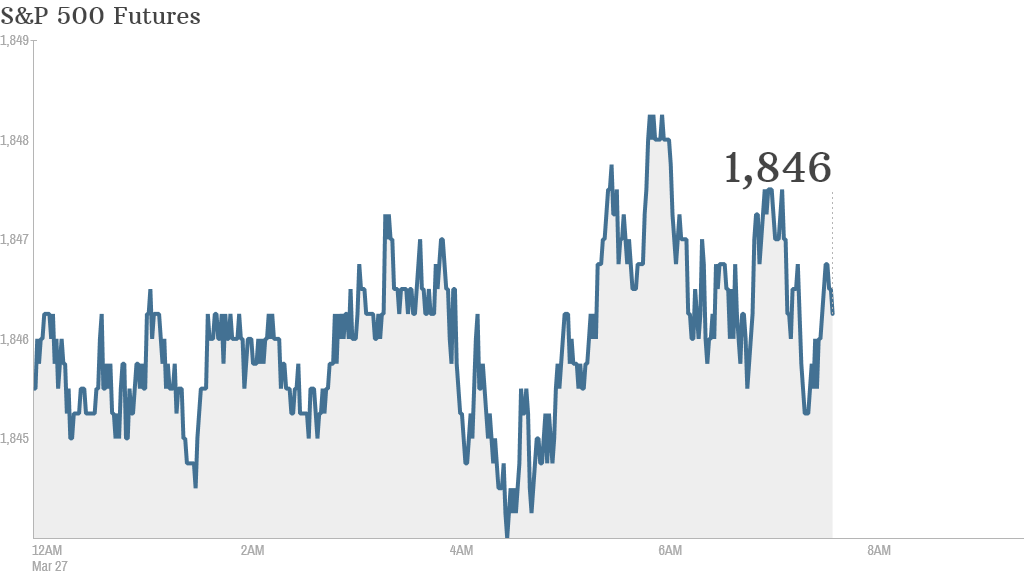 The banking sector could be one of the main market movers Thursday, with Citigroup shares set for a tumble after the Federal Reserve expressed dissatisfaction with its funding plans.
Aside from the banks, and despite a sorry market performance the day before, U.S. stock futures were slightly higher ahead of the opening bell.
The Federal Reserve rejected Citigroup's (C) capital plan Wednesday, saying it was troubled by the bank's inability to predict how much it could lose in a severe economic downturn. It banned the bank from any dividend hikes or share repurchases for the next year.
Citi was among 30 large banks required to submit capital plans for an annual stress tests. The Fed approved 25 plans. Citi and four other banks faced rejections.
The Fed also slammed the U.S. units of European banks like Royal Bank of Scotland (RBS), HSBC (HSBC) and Santander. (SOVPRC)
"The bottom line is that these [five] banks will have to improve internal controls," said Joseph Dickerson, European banking analyst with Jefferies.
Related: Fear & Greed Index backslides into fear
Trading volume could also be higher than normal in Bank of America (BAC) shares after it announced that first-quarter results would take a hit due to a $9.5 billion settlement with the Federal Housing Finance Agency. The deal settles all litigation between Bank of America and the agency over mortgage-backed securities.
Investors are waiting on the U.S. government to report initial jobless claims at 8:30 a.m. ET. The final estimate of fourth quarter GDP will be released at the same time.
On the earnings front, Gamestop (GME) will report earnings before the opening bell.
Accenture (ACN)shares rose in premarket trading despite the decline in quarterly net income reported by the technology services company, which was recently hired to work on the Obamacare website.
Lululemon (LULU) edged down after the yogawear maker reported quarterly increases in revenue and net income, but also a slide in same-store sales.
"Lululemon's same-store sales go negative for 4Q13, a once unthinkable development," wrote Brian Sozzi, chief equities strategist for Belus Capital Advisors.
Investors will also be watching King Digital Entertainment (KING). Shares of the maker of online game Candy Crush Saga took a beating after going public Wednesday.
U.S. stocks ended lower Wednesday. The Nasdaq fell more than 1% and the Dow Jones industrial average and S&P 500 also finished in the red.
European markets were lower in Thursday midday trading.
The International Monetary Fund said it was throwing Ukraine an $18 billion lifeline.
Asian markets ended with mixed results.
Shares in tech company Tencent (TCEHY) in Hong Kong fell by nearly 6%, leading Asian Internet companies lower. Investors and traders have been growing concerned that valuations have become too rich in the Asian tech, media and telecommunications sector.