Markets were in comeback mode Wednesday as first quarter earnings season kicked into gear and the Fed sounded a dovish tone.
The Dow jumped over 180 points, while the Nasdaq gained 1.7% and the S&P 500 moved higher by more than 1%.
It was the second straight win for stocks after a three day losing streak.
Today's bounce put the Nasdaq into positive territory for the year. The S&P 500 is also in the green for the year, but the Dow is still in the red.
While stocks started off with some spring in their step, investors really rallied after the release of the Federal Reserve's March meeting minutes at 2p.m ET.
The minutes indicated that Fed members were almost all united in getting rid of the 6.5% unemployment target as a gauge for timing interest rate increases. Investors took that as a sign that rates would remain low for some time.
At the press conference following that meeting last month, Fed Chief Janet Yellen briefly spooked investors when she stated that the U.S. central bank's stimulus program would most likely be finished by the fall and that a rate hike could come as soon as early 2015.
Auto stocks were under pressure today after Toyota announced a massive global recall. General Motors, grappling with the continuing fallout of its boched ignition switch recall, also fell.
In other corporate news, Comcast and Time Warner Cable representatives appeared before the Senate Judiciary Committee to plead their case for merging the companies. Shares of both companies rose Wednesday.
Related: Fear & Greed Index still gripped by fear
Earnings will most likely be the main catalyst for the markets in the weeks ahead. The first quarter was hampered by severe winter weather, which may have had an impact on companies' bottom lines.
The earnings season unofficially commenced yesterday afternoon when Alcoa (AA) reported earnings that topped expectations. Shares of the aluminum producer advanced Wednesday. The next big reports will be from J.P. Morgan (JPM) and Wells Fargo (WFC) on Friday.
Related: Brace yourself for ugly corporate earnings
Corporate executives at Constellation Brands (STZ) should have been toasting after the alcoholic beverages company posted quarterly profits that beat estimates, thanks to a bump in its beer shipments business. Instead, shares fell Wednesday after an initial jump.
StockTwits trader SR5Group seemed to think the price drop was unwarranted.
"nonsense sell-off created opportunity $STZ," he said.
Facebook (FB)surged more than 7% after an analyst report claimed that Instagram is now is the top social network amongst teens. Facebook bought Instagram in 2012 for $1 billion.
"$FB buy of Instagram for 1B looking like the deal of the century," said NaviAvatar on StockTwits.
The analyst report was significant because Facebook had previously noted concerns about teenage usage.
"$FB is the rolodex of this generation. It aint going anywhere!," said StockTwits trader tihmstaysgreen.
But Facebook is what many would call a momentum stock, and such shares have pulled back recently on valuation concerns.
Related: Investors aren't bringing sexy back
"$FB That which goes up must come down, just be prepared," said Scarredtradernocry on StockTwits.
Shares of medical robotics company Intuitive Surgical (ISRG) plunged after the company said it expects first quarter revenue to come in 24% lower than the same quarter last year. The dreary forecast comes just weeks after the stock soared following F.D.A. approval for a new surgical robot device.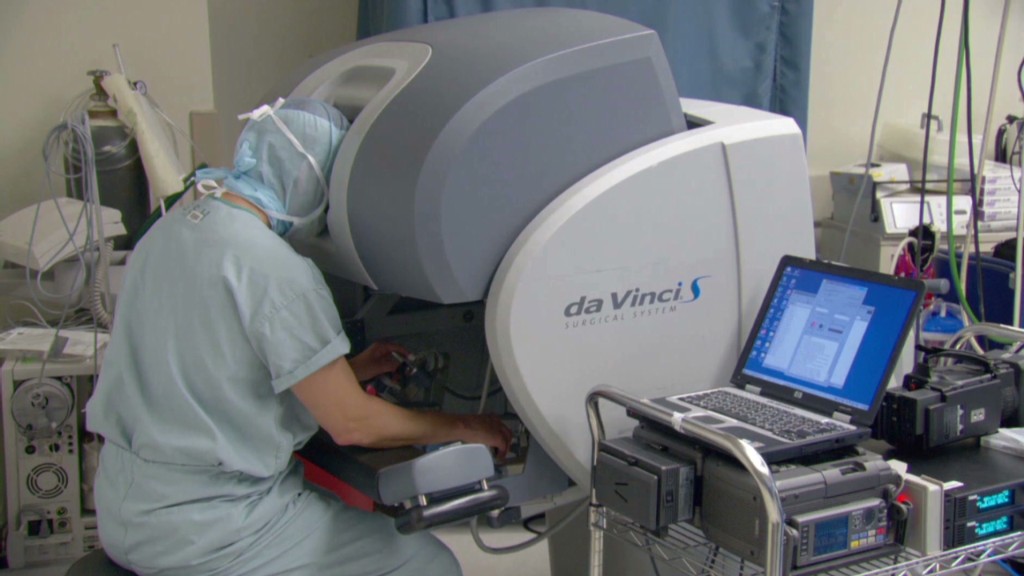 In IPO news, La Quinta (LQ) hotel chain began trading today under the symbol LQ. Shares ended up after swinging between gains and losses earlier in the day.
Chinese healthcare firm, iKang (KANG), another stock making its debut, spiked in its debut and ended the day about 9% higher. Investors are watching Chinese IPOs as marquee brands Weibo (aka "Chinese Twitter") and Alibaba are expected to list soon.
European markets closed higher Wednesday.
Most Asian markets also managed gains, led by Hong Kong's Hang Seng with a 1.1% rise. Japan's Nikkei continued its decline, falling 2.1%, as hopes fade of more central bank stimulus.