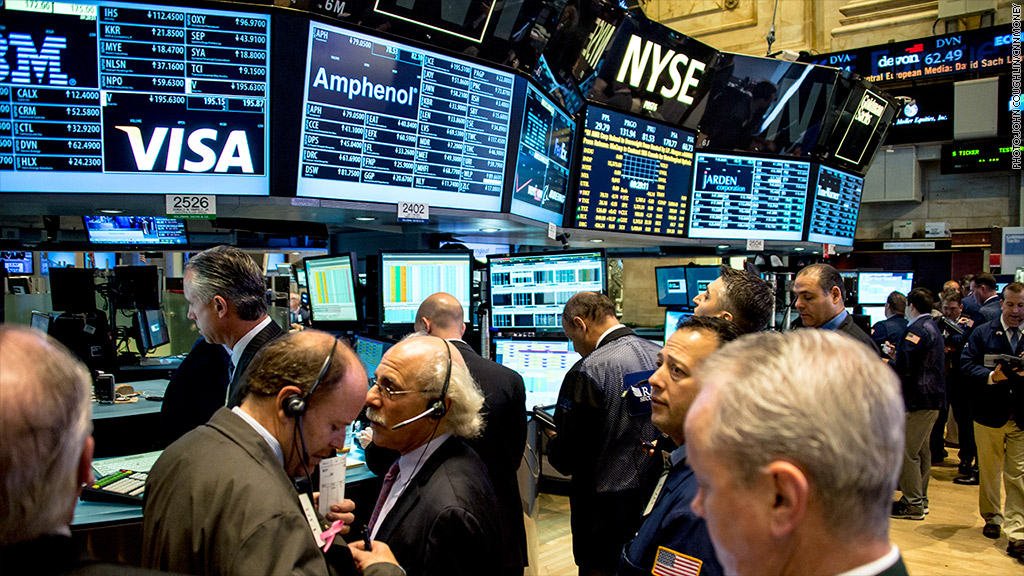 Another day, another record? Anything's possible.
Here are 4 things you need to know before the bell:
1. Markets lacking direction: The Dow Jones industrial average and S&P 500 have been on an impressive record-setting run, but there's a lack of clear market direction Tuesday.
U.S. stock futures were mixed ahead of the opening bell.
The Dow and S&P are indicating they could rise when trading begins, but a move higher is not guaranteed. The Nasdaq is looking relatively weak.
U.S. stocks ended mixed Monday. While the Dow and S&P hit new records, the Nasdaq limped to the finish line by closing slightly lower.
2. Potential market movers -- Hillshire Brands, Google, Apple, Dollar General: Shares surged before the bell for Hillshire Brands (HSH) after the food company's board of directors authorized takeover discussions with Pilgrim's Pride (PPC) and Tyson Foods (TSN), which are in a bidding war to buy Hillshire.
Shares in Google (GOOG) were weak ahead of the open after the Wall Street Journal reported that the tech giant plans to spend over $1 billion on a "fleet of satellites" designed to improve internet access in remote areas.
Apple (AAPL) slipped in premarket trading amid a lukewarm reception for its iOS 8 operating system.
Dollar General (DG) shares dropped after the retailer reported a modest quarterly gain in sales and profit that failed to meet expectations.
Related: Fear & Greed Index still idling in neutral
3. Economic action: At 10 a.m. ET the U.S. Census Bureau will release its latest data on monthly factory orders. Later in the day investors will get a sense of how the auto sector is performing as data on vehicle sales is released for May.
Further afield, central banks in Australia and India elected to maintain policy.
A final reading from HSBC on China's manufacturing activity for May lagged market expectations.
4. International movements: European markets declined in midday trading following reports of a lower-than-expected eurozone Consumer Price Index for May ahead of Thursday's meeting of the European Central Bank.
"Inflation, or indeed the lack thereof, is understood to be a key spur for official action," wrote Marc Chandler, currency strategist for Brown Brothers Harriman, in a market report. "It simply reinforces confidence that the ECB will cut rates on Thursday.

Asian markets were mixed.