You can thank two men for Thursday's zooming stock prices: Mario Draghi and David Tepper.
Stocks shattered all-time records after Draghi and the European Central Bank unleashed negative interest rates to fuel growth. And then the markets raced even higher after Tepper, the hedge fund heavyweight, revealed he's no longer nervous about the market.
The burst of buying leaves both the Dow Jones industrial average and S&P 500 at fresh all-time highs. Both indexes closed about 0.6% higher. The Dow is now less than 170 points away from the 17,000 threshold. The Nasdaq built on Wednesday's advance by soaring 1.26%, while the small-cap Russell 2000 surged almost 2%.
Here are five things you need to know about the global markets on Thursday:
1. More easy money!: U.S. capital markets tend to take their cues from Janet Yellen & Co. at the Federal Reserve, but recently they've been moved by Mario Draghi's efforts to breathe life into the European economy.
Hoping to encourage inflation and spur bank lending, the ECB cut interest rates, as expected, to a record low and set a negative deposit rate on Thursday.
The negative rate is meant to penalize banks that decide to park their cash at the central bank instead of lending it out to businesses and consumers. But it's not like Draghi has a credible playbook to follow to avoid unintended consequences -- the ECB is the first major central bank to move into negative territory.
Still, investors liked the moves as European markets shook off an earlier malaise to close sharply higher.
2. Tepper's words of wisdom: U.S. stocks achieved liftoff after CNBC reported that Tepper, the founder of Appaloosa Management, said his chief market concerns have been "alleviated" in part due to the ECB move.
Tepper spooked many investors last month by saying he's "nervous" about stock prices and preaching caution given concerns about U.S. and European growth and China's slowdown.
But Tepper, who hauled in $3.5 billion in pay last year, now believes all of those fears "one by one" have been eased.
Have you benefited from the bull market? Share your stories with us!
That was enough to send the Dow surging as high as 16,845.8, a new all-time intraday record. The S&P 500 climbed as high as 1,941.7.
"I see this continuing in the short term, and it could end in a climactic melt up before the inevitable pullback to reality," said Michael Block, chief market strategist at Rhino Trading.
Record breaking has become commonplace on Wall Street. Thursday marked the S&P 500's 17th record close this year alone. Still, it's worth noting the index is still trading below its all-time inflation-adjusted highs.
Related: These stock market 'records' aren't that great
3. GM in the spotlight: General Motors (GM) released the findings of its internal investigation into the ignition switch defect and massive recall today.
GM has issued recalls for 2.6 million cars over a technical problem linked to the deaths of at least 13 people. In total, GM has recalled 15.8 million vehicles worldwide this year.
GM CEO Mary Barra pledged to do the "right thing" for victims and said the auto maker fired 15 people for misconduct, incompetence or failure to act over the scandal. Barra said the report found a pattern of incompetence and neglect, but no conspiracy to cover up the defects.
Shares of the automaker rallied 3% of Wednesday, but closed down 0.7% on Thursday.
Related: Fear & Greed Index, still greedy
4. T-Mobile, Twitter & other stock movers: Should Twitter (TWTR) follow Apple's (AAPL) lead into music? Investors apparently believe so. Shares of Twitter climbed 3% after the Financial Times reported Twitter recently considered acquiring online music services Soundcloud, Spotify or even Pandora (P) in a bid to find new sources of growth.
Meanwhile, T-Mobile (TMUS) dropped over 2% amid reports the company and Sprint (S) are once again moving towards a potential marriage -- in the face of serious regulatory skepticism. Sprint shares experienced an even more negative reaction, dropping 4%.
While a deal could be blocked by antitrust or telecom regulators, the No. 3 and No. 4 wireless providers feel they need to team up to compete with industry leaders AT&T (T)and Verizon (VZ).
Shares of Ciena (CIEN) surged over 18% after the company unveiled a bullish outlook for the second half of 2014. Ciena's quarterly profits and sales also exceeded Wall Street's expectations.
Wall Street punished shares of Rite Aid, (RAD) driving the drug store retailer 7% lower on its gloomy outlook. Rite Aid cited higher-than-expected drug costs.
Joy Global (JOY) popped over 6.5% after the mining equipment maker logged profits that easily beat expectations despite the industry slowdown. Larger rival Caterpillar (CAT) enjoyed a spillover effect, climbing more than 2.5%.
J.M. Smucker (SJM)rallied over 1.4% after reporting a lower drop in profits and sales than analysts had feared. The maker of Folgers was hurt by lower coffee prices and earlier this week announced plans to raise the price of its coffee products by 9%.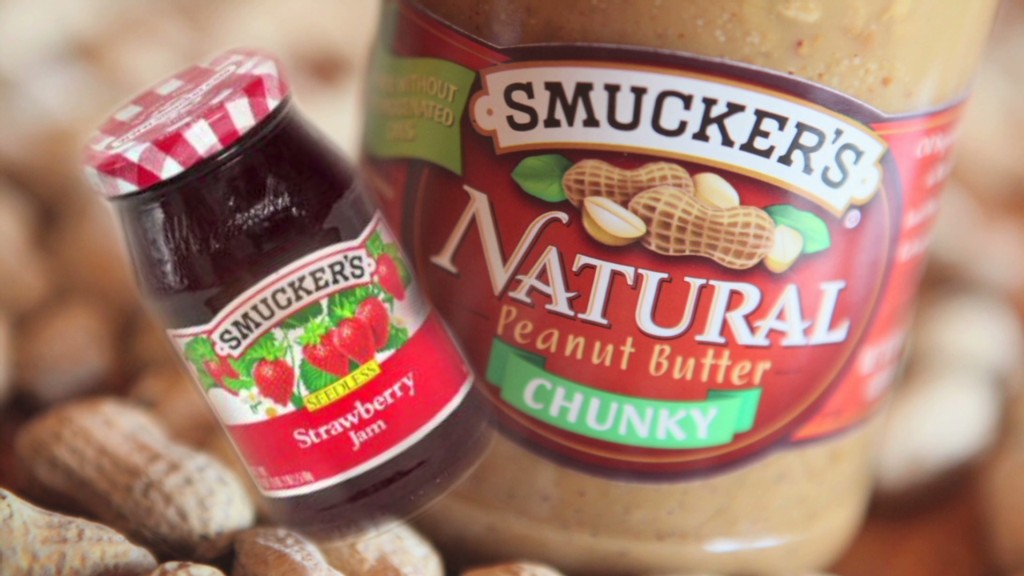 5. Earnings and economic data: The Labor Department said 312,000 Americans filed for unemployment benefits last week, up from 304,000 the week before.
But Wall Street is already looking ahead to Friday's all-important jobs report, which economists surveyed by CNNMoney predict will show the U.S. added 200,000 jobs in May. The unemployment rate is expected to tick up to 6.4%.