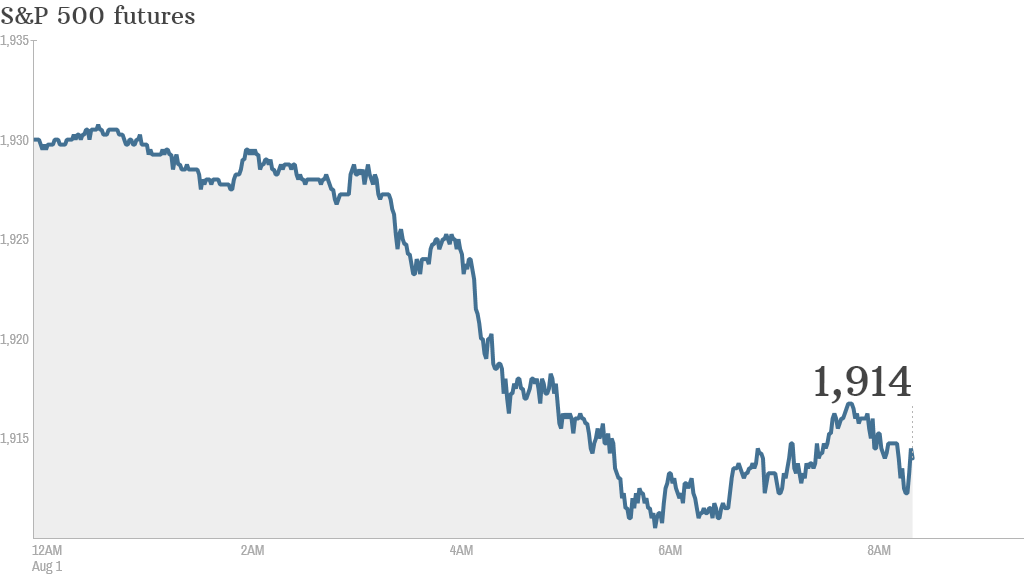 Stock futures slashed their losses Friday as the latest healthy jobs numbers fueled some early buying.
Wall Street is still struggling to post a rebound after the Dow plummeted 300 points on Thursday, its second-worst day of the year.
Here are the six things you need to know before the opening bell rings in New York:
1. Jobs, jobs, jobs: U.S. stock futures bounced off their lows after the U.S. said employers added 209,000 jobs in July. That was well shy of the 288,000 jobs that were created in June but not far from the 230,000 jobs economists polled by CNNMoney had been banking on.
The government said the unemployment rate ticked up to 6.2% from 6.1%. A year ago this metric stood at 7.3%.
July's employment growth marks the sixth straight monthly gain of at least 200,000.
The weaker-than-expected jobs report could ease fears on Wall Street that the Federal Reserve will hike interest rates early next year.
Related: Cold War-style tension hits Western companies in Russia
2. Market recap: U.S. stocks fell sharply Thursday. The Dow dropped by 317 points, wiping out its gains for the year. The S&P 500 and Nasdaq also each took a dive, down by about 2%.
That selloff left the S&P 500 1.5% in the red for July, snapping a five-month winning streak.
3. World markets sliding: European markets were tumbling, led by Germany's Dax, on concerns about the impact of escalating tensions with Russia on the region's fragile economy. The EU turned up the heat on Moscow Thursday by including Russia's biggest bank, Sberbank, on its list of sanctions targets.
Shares in Sberban (SBRCY)and VTB, the country's second biggest bank, sank by about 2% Friday.
Societe Generale (SCGLF) fell by 2.5% after the French bank's second quarter earnings showed business in Russia is suffering. It joins a chorus of Western companies facing problems in Russia.
4. Stock movers -- GoPro, LinkedIn, Iliad: Expect GoPro (GPRO) shares to take a dive when trading begins. The company's earnings failed to impress and shares are down by about 10% premarket.
Shares in LinkedIn (LNKD) were surging by about 7% premarket after the company posted better-than-expected quarterly results.
Iliad shares were declining by 7.5% in Europe after the French telecom firm made a surprise $15 billion takeover bid for T-Mobile USA (TMUS).
Shares in other major tech companies, including Apple (AAPL), Google (GOOGL), Facebook (FB) and Microsoft (MSFT), were all trading lower ahead of the open.
5. Big earnings: Major companies including Burger King (BKW), Clorox (CLX) and Chevron (CVX) are set to release earnings before the opening bell.
Procter & Gamble (PG) rallied about 2% after posting a solid earnings beat despite shrinking sales. Investors largely overlooked the consumer products giant's tepid outlook for the year.
Warren Buffett's Berkshire Hathaway (BRKA) is scheduled to post results after the close.
6. More data: Monthly ISM manufacturing data is on tap for 10 a.m. ET, while auto sales for July are expected to be released throughout the morning.