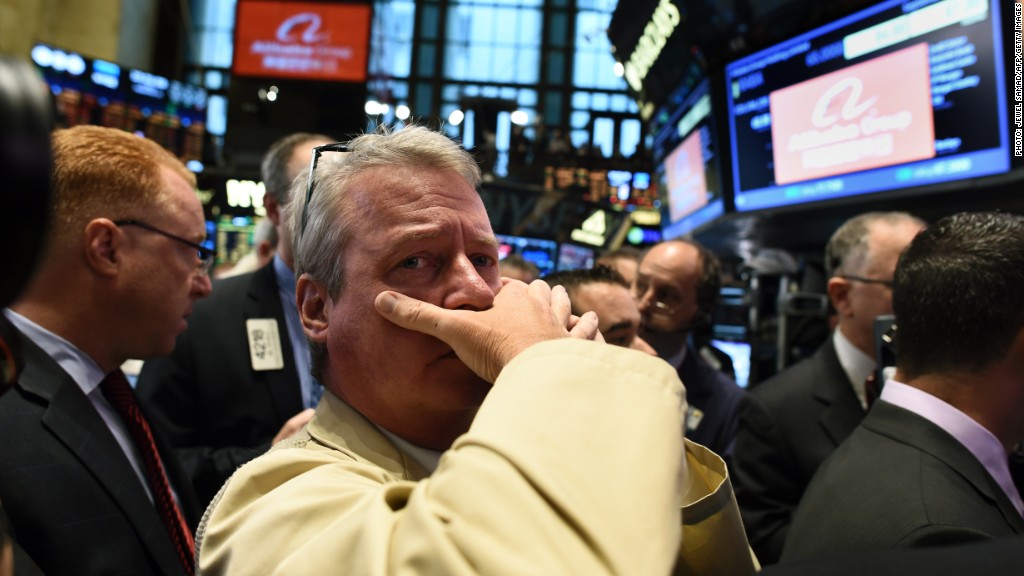 Investor enthusiasm seems to have waned now that the Alibaba IPO has come and gone.
Here are the five things you need to know before the opening bell rings in New York:
1. In the red: U.S. stock futures were slipping and most stock markets across Europe and Asia were in negative territory.
This comes after U.S. stocks hit fresh record highs last week.
Market sentiment was buoyed by Alibaba's initial public offering Friday and the Federal Reserve's indication Thursday that it probably won't raise interest rates anytime soon.
The S&P 500 index is up by nearly 9% this year and the Nasdaq has shot up by nearly 10%. The Dow Jones industrial average has advanced by 4.2%.
Related: What will make stocks go even higher?
2. #FloodWallStreet campaign: Hundreds of environmental activists plan to "flood" Wall Street on Monday to protest the role Big Business plays in climate change.
The #FloodWallStreet campaign is part of a series of demonstrations taking place this week as world leaders gather in New York for a climate change summit on Tuesday at the United Nations.
While no specific companies are being targeted, the movement is broadly aimed at "polluters and those profiting from the fossil fuel industry."
3. Potential market movers -- Sigma-Aldrich, Best Buy, FedEx, Texas Instruments, Yahoo: Expect Sigma-Aldrich (SIAL) shares to surge when trading begins in New York after Germany's Merck (MKGAF) agreed to buy the life sciences group for $17 billion in cash. The price represents a 37% premium to Friday's close.
It's also worth watching shares in Best Buy (BBY) at the open. The stock was rising by about 5% premarket. Analysts at Barclays have reiterated that investors should be "overweight" in the company.
On the other end of the spectrum, shares in FedEx (FDX), Texas Instruments (TXN) and Yahoo (YHOO) were all declining premarket.
4. European market movers: Shares in British grocery chain Tesco (TSCDY) plunged by about 8.5% in early London trading after the company said it overstated its latest profits by £250 million ($409 million). The company has brought in independent auditors from Deloitte to review the numbers.
In Germany, shares in Siemens (SIEGY) fell nearly 1% after the firm announced it had agreed to buy New York-listed oil equipment company Dresser-Rand (DRC) for $7.6 billion in cash.
5. Economic announcements: The latest monthly data on existing U.S. home sales will be released Monday at 10 a.m. ET.
This comes on the heels of a new report from the Mortgage Bankers Association showing that it's getting cheaper and easier for rich buyers to get jumbo mortgages.