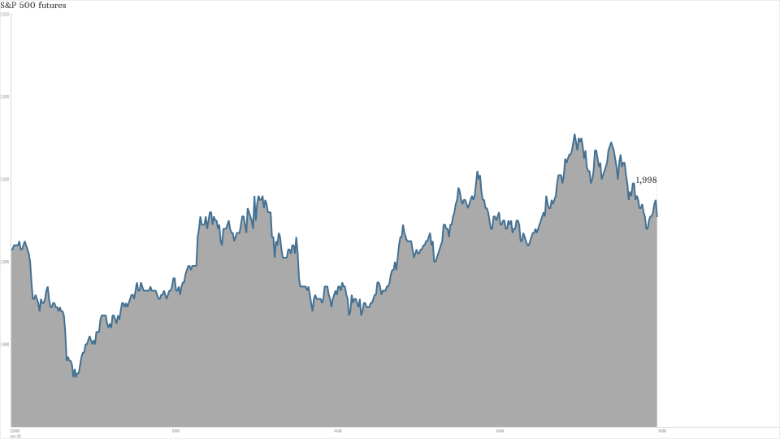 It's all about earnings right now.
Here are the five things you need to know before the opening bell rings in New York:
1. Earnings bonanza: Alibaba (BABA), Ford (F), Coach (COH) and Time Warner Cable (TWC) are among the companies reporting earnings before the opening bell.
Oil companies Valero (VLO), Royal Dutch Shell (RDSB) Phillips 66 (PSXP) and ConocoPhillips (COP) are also reporting ahead of the open.
Alibaba shares are falling by about 5% premarket after the e-commerce giant reported a surge in quarterly earnings, but missed Wall Street's high expectations.
Shares in Ford are edging up premarket after the automaker predicted a brighter year after a difficult end to 2014.
Royal Dutch Shell (RDSB) shares fell by about 5% in London after the company said it would cut spending on oil projects by $15 billion over the next three years.
Meanwhile, Google (GOOGL), Amazon (AMZN) and Visa (V) will report after the close.
U.S. stock futures are inching higher ahead of the open.
All the major indexes fell on Wednesday. The Dow Jones industrial average lost 196 points, while the S&P 500 slid 1.4%. The Nasdaq fell by nearly 1%.
2. Tech market movers -- Facebook, Qualcomm, Samsung: Facebook (FB) shares were edging down by 1% premarket after the social networking giant reported fourth quarter results on Wednesday.
Qualcomm (QCOM) shares were dropping by about 8% premarket after the company cut its sales and earnings outlook. The company blamed the lower outlook on increased competition in China, among other things.
Shares in Samsung (SSNLF) dipped by just over 1% in Asia after the company reported another set of disappointing results.
3. Investors lovin' McDonald's news: Investors are bidding up shares in McDonald's (MCD) ahead of the open after CEO Don Thompson announced his retirement. This comes a week after McDonald's reported awful financial results.
4. Greek markets steady: The main stock market index in Greece stabilized, trading up by about 2% after plunging Wednesday.
The index has fallen 12% since the start of the year as investors have grown increasingly worried about Greece's financial health following the election of a new government that wants to renegotiate the terms of its international bailout.
European markets were mixed in early trading. Asian markets mostly closed with losses.
5. Economic announcements: The U.S. government will report weekly jobless claims at 8:30 a.m. ET.
At 10 a.m., new U.S. data on pending home sales will be released from December.