The Dow has surged about 4% this week after four consecutive days of gains.
Wall Street applauded the big jobs report Friday morning, sending futures higher after the better-than-expected gain of 257,000 jobs in January.
Related: Read more about the jobs report
Here are the five things you need to know before the opening bell rings in New York:
1. It's all about the jobs: Hiring continues to be strong in the U.S. The unemployment rate ticked up in January to 5.7%, but for the right reasons -- more people are looking for work as they see others getting jobs.
A CNNMoney survey of economists predicts non-farm payrolls would grow by 229,000 and the unemployment rate will decline to 5.5% from 5.6%.
Markets are keeping an eye on wage growth figures since salaries aren't increasing as quickly as expected. In December, wages grew by 1.7% on the year. That picked up to 2.2% growth in January, a positive sign.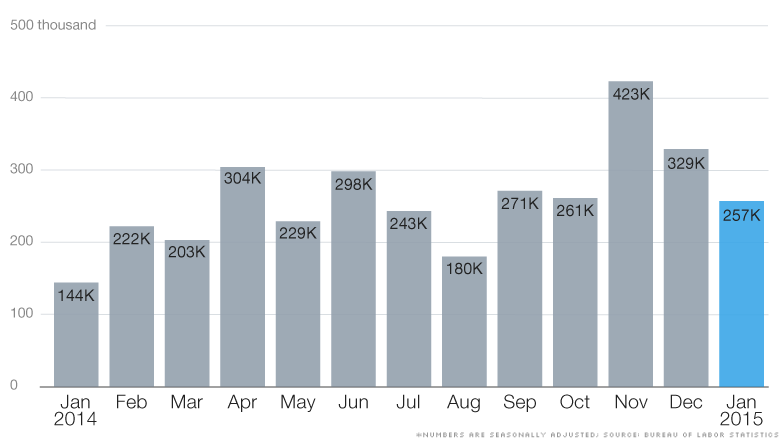 2. Market overview: U.S. stock futures are solidly higher. Major European markets are dipping in early trading.
Asian markets ended the week with mixed results. The Shanghai Composite index, which ran up by about 52% last year, dropped by nearly 2% Friday. The index has declined by about 5% since the start of 2015.
In commodities, crude futures are rising by about 3% to trade around $52 per barrel. This marks a big comeback since oil was trading below $44 in late January. Last year, oil averaged about $93 per barrel.
3. Stock market movers -- Statoil, Frontier, GoPro, LinkedIn, Twitter: Shares in Statoil (STO) are rising by about 3% premarket after the Norwegian oil giant maintained its dividend despite taking a hit from lower prices. The company -- like many other energy majors -- also said it would reduce investments by 10% this year and cut costs further.
Shares in Frontier (FTR) were up in extended trading after it said it was buying Verizon landlines in three states for $15 billion.
GoPro (GPRO) is diving by more than 10% premarket. The camera maker's earnings easily beat Wall Street expectations, but investors were reported to be disappointed that the company's chief operating officer is leaving the firm.
Meanwhile, LinkedIn (LNKD) and Twitter (TWTR) shares are rising premarket after reporting results Thursday.
4. Earnings: Moody's (MCO) is among the key companies reporting earnings before the opening bell.
5. Thursday market recap: The Dow Jones industrial average gained 212 points yesterday. The index got a boost from rising oil prices and solid earnings. Both the S&P 500 and Nasdaq rose by 1%.