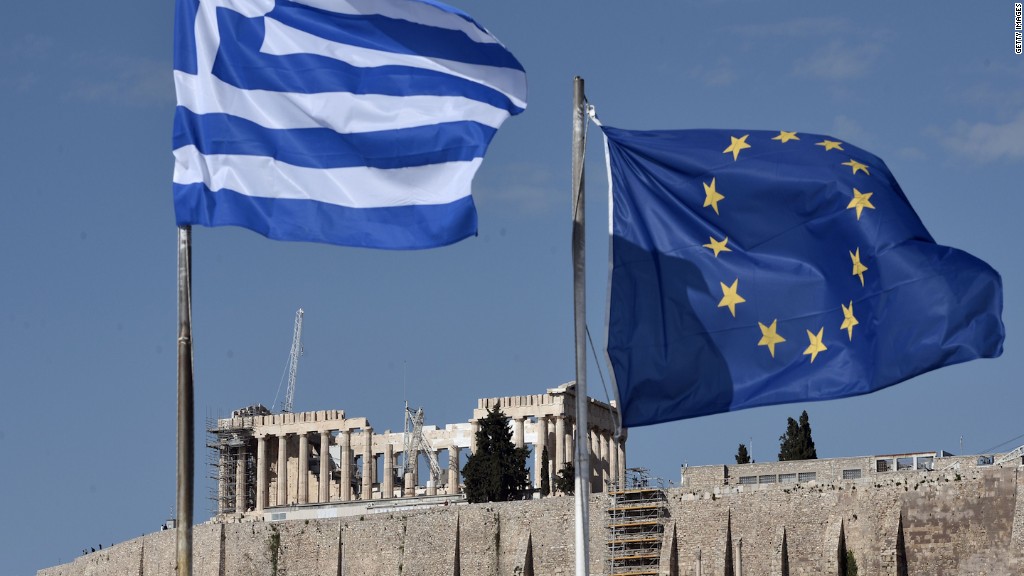 TGIF! Or today Greece is... finished?
Here are the four things you need to know before the opening bell rings in New York:
1. Greece is the word: Investors are watching as eurozone finance ministers hold emergency meetings to try to hash out a new debt deal for Greece.
Greece's current bailout program -- where it's loaned money by other eurozone states to help pay its bills -- expires on February 28.
Greece doesn't want to continue the bailout under its current strict terms, but if it can't reach a deal with European creditors it risks running out of money, defaulting on its debts and stumbling out of the eurozone very soon.
So far the signs aren't looking good. Talks have broken down twice already and Germany has rejected Greece's latest debt proposal.
But markets are less rattled this time about a possible Greek exit, or "Grexit," because financial mechanisms are now in place to maintain stability in the region.
U.S. stock futures are relatively steady and European markets are dipping only slightly.
"[A] Grexit now would, in our view, be less financially risky for the remaining eurozone members than it would have been during the last Grexit scare in 2012," stated Standard & Poor's in a report Thursday.
2. Apple plans for iAutos?: Watch trading in Apple (AAPL) on Friday after Bloomberg reported the company is looking to begin production of an electric vehicle as early as 2020.
This follows accusations that Apple has been poaching employees from a company that makes batteries for electric cars, fueling speculation the iPhone maker is seriously looking to enter the auto market.
Tesla (TSLA) -- a leader in the electric car market -- could be competing head-to-head with any potential Apple iAuto.
3. Potential market mover: Shares in Intuit (INTU) are rising by roughly 4% in extended trading after earnings beat expectations.
4. Weekly market recap: Over the course of the trading week, the Dow Jones industrial average and S&P 500 turned in a lackluster performance while the Nasdaq edged higher.
On Thursday, the Dow lost 44 points, the S&P 500 fell 0.1% and the Nasdaq rose 0.4%.