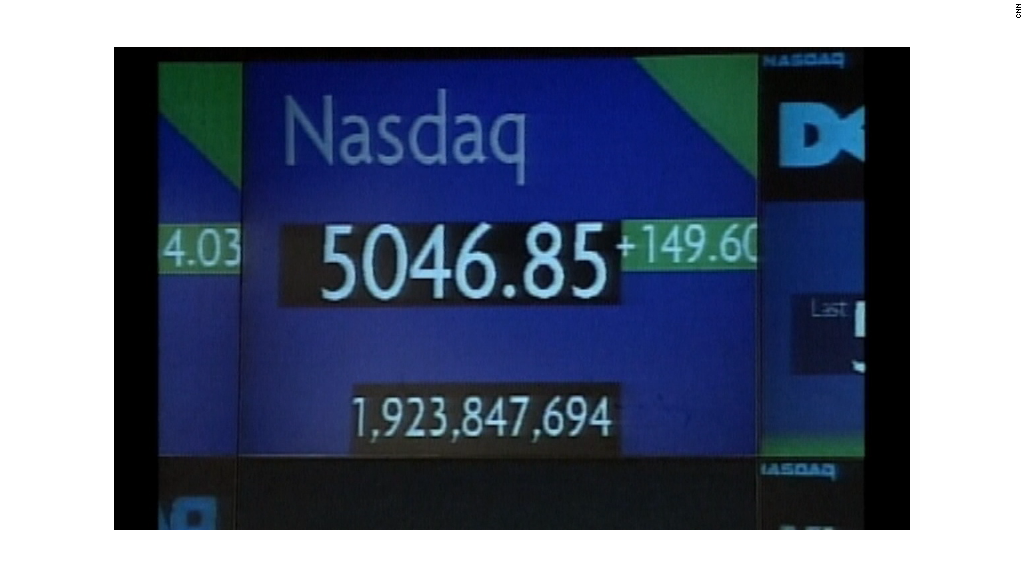 The major U.S. stock market indexes hit new records Monday, and the Nasdaq closed at a 15-year high. Time to take some profit?
Here are the four things you need to know before the opening bell rings in New York:
1. Slipping from all-time highs?: U.S. stock futures are slipping lower, indicating markets could see a modest retreat at the open.
A move lower could well be expected after the Dow Jones industrial average surged by 156 points to a record close of 18,288.63. The S&P 500 also rose to a record close at 2,117.39. And the Nasdaq grabbed headlines after ending the day above 5,000 points for only the third time in history.
2. International markets overview: European markets seemed to be tracking U.S. gains into Tuesday. All major indexes were edging higher.
Asian markets mostly closed with losses. The typically volatile Shanghai Composite was the biggest loser for the day. It fell by 2.2%.
3. Earnings: Best Buy (BBY), Dick's Sporting Goods (DKS), and Kate Spade (KATE) are reporting ahead of the open.
In London, shares in Barclays (BCS) and Glencore (GLNCY) are both declining by about 2% after the firms reported annual results.
4. Aussie dollar surges: The Australian currency got a big boost Tuesday after the country's central bank unexpectedly held its key rate at 2.25%.
A wide range of countries around the world have been cutting interest rates over the past few months, which has pushed their currencies lower.
China joined the fray and cut rates over the weekend as concerns about low inflation intensified.