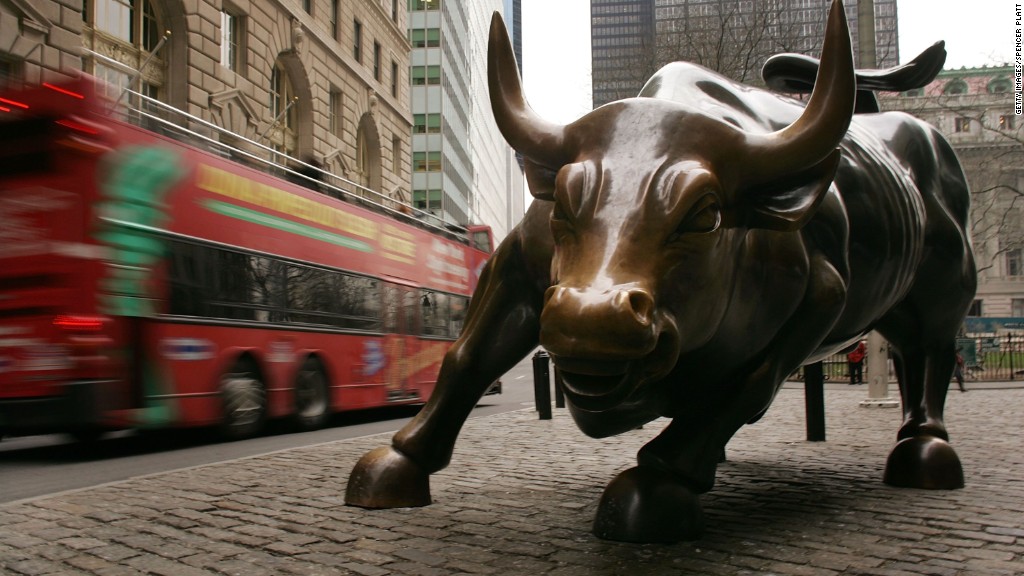 There's plenty going on right now.
Let's get straight to it.
Here are the five things you need to know before the opening bell rings in New York:
1. Blue Monday: Markets are having a case of the Monday Blues. U.S. stock futures are pointing down and most European markets are firmly in negative territory. But it's not all doom and gloom. Many stock markets are only taking a step back after trading near record highs.
Wall Street was an exciting place last week, with the Nasdaq nearing an all-time high.
On Friday, the Dow Jones industrial average rose by 169 points. The S&P 500 jumped by 0.9% and the Nasdaq moved up by 0.7%.
2. Tire takeover: Shares in Pirelli (PPAMF) are rising by about 2% in Europe after China National Chemical Corporation announced plans to pay nearly $8 billion to acquire the Italian tire maker.
Talk of a takeover had been swirling for a few days.
Related: Play CNNMoney's Market Madness game
3. Stock market losers -- Monsanto, Gilead: Shares in both Monsanto (MON) and Gilead Science (GILD) are declining by about 2% premarket.
Monsanto shares are dipping after a World Health Organization agency published a research paper saying the firm's weedkiller Roundup probably causes cancer. Monsanto countered the claims, saying its products are safe and meet regulatory standards. The company also said the report conflicts with findings from other WHO agencies.
Shares in Gilead Sciences are expected to open in negative territory after the company reportedly sent an email to healthcare workers warning that patients taking its hepatitis C drug could be at risk of serious heart problems if they are also taking another type of heart medication.
4. Germany vs. Greece: Greece's new prime minister Alexis Tsipras is meeting Germany's Chancellor Angela Merkel Monday to discuss Greece's financial crisis. The results of the talks could influence market movements across Europe.
Tsipras has warned Merkel that it will be "impossible" for Greece to pay its debts in the coming weeks without further financial assistance from Germany and its international partners. Europe wants Greece to deliver on promised reforms before releasing any more funds.
The meeting comes after a video emerged this month showing Greece's outspoken finance minister Yanis Varoufakis making a lewd gesture directed towards Germany. The video was taken in 2013, before Varoufakis was installed in his new job.
5. Economics: The National Realtors Association will report on existing home sales made in February at 10 a.m. ET.