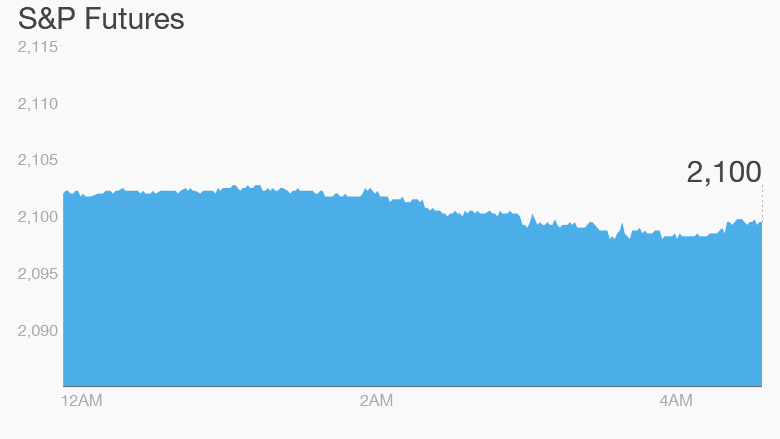 Earnings season is in full swing and so far markets are taking it in their stride.
U.S. stock futures were flat in early trading while international markets were mixed.
Here are five things you need to know before the opening bell rings in New York:
1. Earnings and market movers: It's a big day for the financial sector, with Citigroup (C) and Goldman Sachs (GS) reporting ahead of the open. American Express (AXP) will report after the close.
Etsy (ETSY) will start trading Thursday on the Nasdaq. It priced its initial public offering at $16 a share Wednesday, the high end of its expected range.
Watch out for Netflix (NFLX) shares today: the stock is rallying nearly 12% premarket following a surge in after-hours trading as the firm reported it added 4.9 million members during the first quarter.
2. Economic updates: The U.S. government will post weekly jobless claims at 8:30 a.m. ET. The Census Bureau will report monthly housing starts and building permits, also at 8:30 a.m. ET.
3. Oil moves: Crude is slipping back in electronic trading to just below $56 a barrel after hitting a 2015 high on Wednesday.
OPEC releases its monthly report March Thursday, on the heels of an update from the International Energy Agency which showed the cartel is fighting hard to keep its share of the world oil market despite last year's price slump.
Related: OPEC pumps up output in fight for market share
4. Leaders gather: The G20 finance ministers and central bank governors gather in Washington ahead of meetings of the World Bank and the IMF.
Greece is also in town. Finance Minister Yanis Varoufakis will attend the White House Greek Independence Day reception today ahead of crucial talks between creditors next week.
The cash-strapped country, which had its credit rating downgraded by S&P again on Wednesday, must present reform proposals to its international backers by the end of the month or risk default and exit from the euro. Germany is again talking tough: Finance Minister Wolfgang Schäuble said it was unlikely Europe would reach a deal with Athens next week, according to reports. And investor nerves are showing, with Greek bond yields rising strongly Thursday.
5. International markets overview: European markets were mainly weaker in early trading. But Unilever (UL) shares got a 4.4% boost in London after first quarter sales beat expectations.
Asian markets ended the session with gains. China's Shanghai Composite pared Wednesday's losses with a 2.7% jump. Stocks in China are on fire -- up nearly 80% since November -- stoking fears that a bubble is forming.
On Wednesday the Dow Jones industrial average gained 76 points, while the S&P 500 rose 0.5% and the Nasdaq closed 0.7% higher.