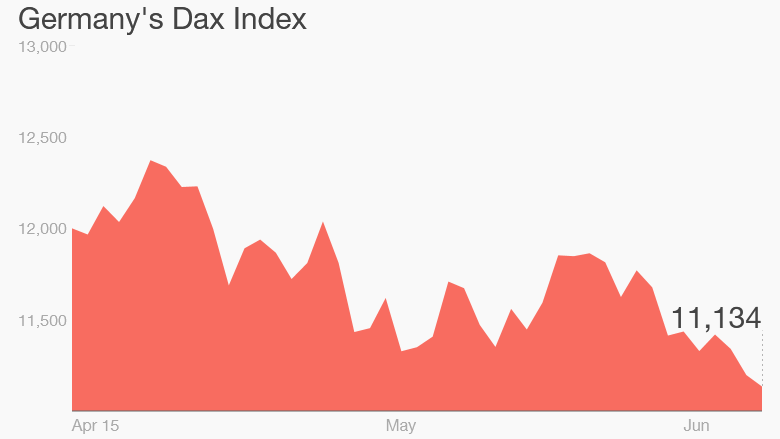 The Dax 30 was among the best performing indexes in the world earlier this year. Now it's come back down to earth.
The German index has dropped by 10% since hitting an all-time closing high on April 10. That 10% drop means it has technically entered correction territory.
The market has pulled back as positive trading sentiment has dissipated and the euro has staged a comeback.
Many had been predicting that a correction was overdue after the Dax rose by 26% between Jan. 1 to April 10.
The drop may also be based on continued concerns that Greece may default on its loans and be forced to exit the eurozone, which would have a range of damaging repercussions in Germany since it is a big lender to the nation.
Related: The 3 sticking points holding back a Greek deal
Meanwhile, other global stock markets are still posting stunning gains.
The China Shenzhen index has surged by 112% since the start of the year. The Shanghai Composite is up by 59% since the start of 2015, and the Hang Seng in Hong Kong is up 16% over the same period.
This performance outshines U.S. markets, where the Dow Jones industrial average is barely in positive territory this year and the S&P 500 is up just 1.7% in the same period.
However, the Nasdaq has managed to hold onto record-setting gains and currently boasts a 7% rise since the start of the year.