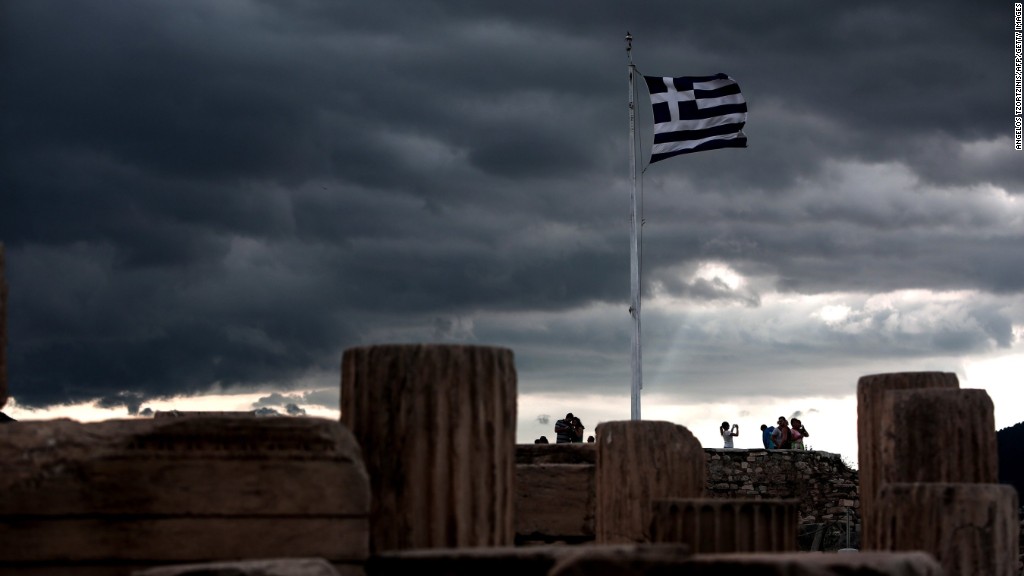 Global stock markets keep climbing Tuesday as investors hold out hope that Greece will be able to negotiate a new debt deal.
But it's a whole different story in China, where investors are getting whiplash.
Here are the five things you need to know before the opening bell rings in New York:
1. Hopes for a Greek deal: European markets are rising again, after notching some serious gains Monday on hopes that policymakers are inching closer to a deal that would avert a chaotic Greek exit from the eurozone.
"There is still some cautious optimism in the air," said Lauri Halikka, a fixed income strategist at SEB bank. "Market reactions still continue to point to a firmly rooted belief that lenders and Greece will manage to reach an agreement that will prevent a Greek default and Grexit."
Greece presented new proposals to its creditors Monday. More meetings are scheduled for Wednesday and Thursday.
Investors are also feeling optimistic after the release of new economic data for June showing that the manufacturing and services sectors in the eurozone are posting their best performance in four years.
U.S. stock futures are rising Tuesday, though the gains are modest.
Related: Deal or not, wild market swings expected after Greece decision
2. Choppy moves in China: Stock markets in China swung wildly Tuesday after enduring a sharp drop last week.
China's benchmark Shanghai Composite index shed nearly 5% during morning trading on Tuesday, before mounting a recovery and closing up 2.2%.
The Shenzhen Composite, which is heavy on tech stocks, followed roughly the same pattern.
3. Earnings: Blackberry (BBRY), Darden Restaurants (DRI) and Carnival (CCL) will report ahead of the open.
BlackBerry stock is down 16% since the start of the year. In its previous quarterly results, the company reported further revenues declines as subscriber numbers dwindled.
Meanwhile, analysts expect a favorable report from Oliver Garden owner Darden Restaurants after it reported solid earnings in the first quarter of 2015.
Related: At $8 billion, Fitbit worth more than GoPro
4. Economics: At 10 a.m. ET, the Census Bureau will post new home sales figures for the month of May. Sales jumped by nearly 7% in April.
This follows the National Association of Realtors releasing data Monday showing existing home sales rose by 5.1% in May, driven by a boost in the number of first-time home buyers.
5. Monday market recap: It was a positive day Monday in U.S. markets.
The Dow Jones industrial average and the S&P 500 each rose by 0.6%, while the Nasdaq grew by 0.7%.