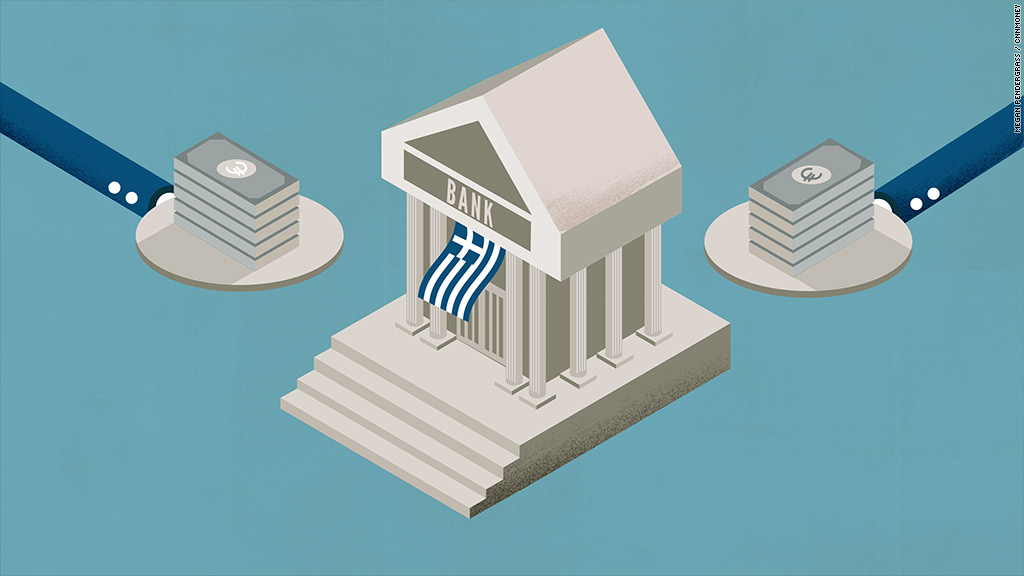 Brace for heavy losses Monday as the escalating Greek crisis sees investors run for cover.
European markets plunged and U.S. stock futures were moving lower as shock developments pushed Greece closer to default.
Here are the 5 things you need to know before the opening bell rings in New York:
1. Greek tragedy?: Greek banks will remain closed for a week and capital controls are in place as the country attempts to contain a deepening financial crisis.
The long-running debt saga hit a fresh low after Greece pulled its negotiators out of bailout talks late Friday. The government will put the rejected creditors' proposal to a referendum on July 5, in a high stakes vote that could see the country leave the euro. Ahead of the vote, Greece's financial system remains partially paralyzed - with banks closed and limits on withdrawals - after the European Central Bank said Sunday it wouldn't provide any new funding for Greek banks.
Related: Greece shuts banks in bid to prevent collapse
The country now appears almost certain to default on a critical debt payment due to the International Monetary Fund due Tuesday.
Government bond yields in Italy, Spain and Portugal spiked Monday, although they remain below where they were a year ago. Trading in Greek stocks and bonds was suspended in Athens.
2. China bear market: Investor nerves were also frayed in Asia as Chinese stocks resumed their recent slide. The Shanghai Composite swung between massive gains and losses before closing down 3.3%, despite a decision by the central bank to cut interest rates to a record low.
Related: China stocks free fall in bear market
3. Oil slides: Pay attention to the crude market Monday. Prices were matching losses across global stock markets -- falling 2.2% to just above $58 a barrel -- in electronic trading. Gold was ticking higher, as some investors sought refuge in the traditional safe-haven market.
4. Economic updates: It's a light day for economic news. The National Association of Realtors will report pending home sales for the month of May at 10 a.m. ET. The index aims to predict activity in the housing market, and April numbers showed new homes being bought at the highest rates since May 2006.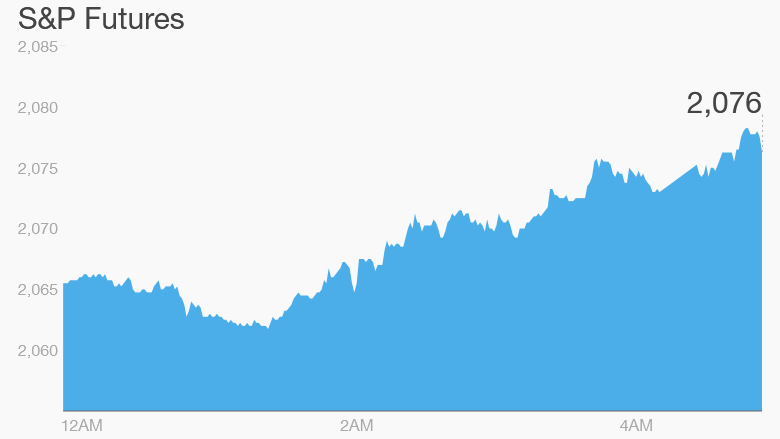 Related: Big Oil getting cozy as Iran talks near end
5. International markets: European markets slumped in early trading, with the banks hit hard. Germany's DAX was down 3.1% and France's CAC was off by 3.1%.
Asian markets also sank. Japan's benchmark Nikkei index dropped 2.9%, and Seoul's KOSPI Composite lost 1.4%.
Related: World markets hit as Greek crisis intensifies
On Friday, the Dow Jones industrial average was the only benchmark to see gains. It inched up 0.1%, while the S&P 500 held steady and the Nasdaq lost 0.1%.