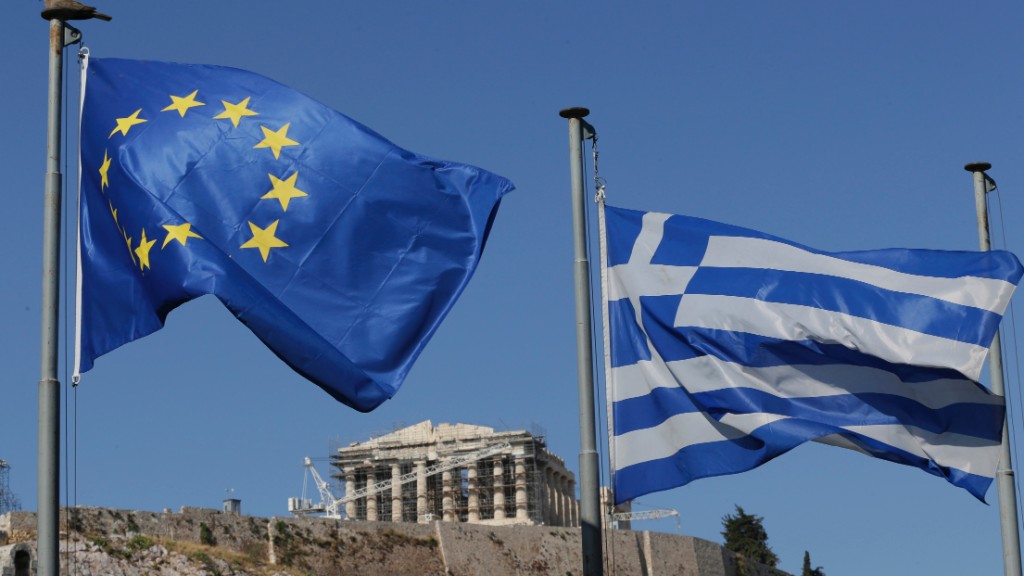 Greece, China and Iran are all in the spotlight Tuesday.
Here are the key things you need to know before the opening bell rings in New York:
1. Resuming Greek negotiations: European finance ministers and heads of state are meeting Tuesday to discuss how to help Greece out of its economic hole. Greece is asking its European creditors for further bailout money, but leaders are reluctant to give in to the nation's demands since they doubt the country's ability to repay any new debts.
Greece defaulted on a debt payment last week to the International Monetary Fund.
The nation has already received two huge international bailout packages since 2010 with a value of roughly 240 billion euros ($264 billion).
European markets are mixed in early trading as investors wait for the talks to begin.
U.S. stock futures are edging up.
Related: It's Europe's time to decide whether to save Greece or not
2. Volatile China: Key Chinese stock markets took another tumble Tuesday, with the Shanghai Composite dipping by 1.3% and the Shenzhen index down by 5.3%.
The Shanghai Composite has fallen roughly 30% from its recent high in mid-June, and the Shenzhen Composite has plunged by nearly 40% from its peak.
Chinese authorities announced measures over the weekend that were designed to prop up the markets, but it's too early to say whether they'll stop the bleeding.
State media is reporting that many Chinese companies are simply taking themselves out of the firing line by suspending trading in their shares.
Related: Foreign investors can't ignore China's crazy stock market
3. Iran talks influence oil: Investors are waiting for further developments out of Iran.
Negotiators from Iran, the United States, China, Germany, France, Britain and Russia are trying to reach a deal to lift sanctions against Iran in exchange for assurances that the country will maintain a peaceful nuclear program.
If they are able to reach a deal, Iran intends to quickly ramp up oil exports.
The prospect of a deal sent oil prices tumbling Monday. Now crude futures are moving back up by about 1% to trade just over $53 per barrel.
"It is important to emphasize that it will take some time for Iranian oil to hit the market, but certainly traders are willing to price that factor as the story develops further," said Naeem Aslam, chief market analyst at AvaTrade.
4. Earnings: The Container Store (TCS) will report its latest quarterly results after the markets close.
5. Monday market recap: The Dow Jones industrial average and the Nasdaq both dipped by 0.3% Monday, while the S&P 500 edged down by 0.4%.