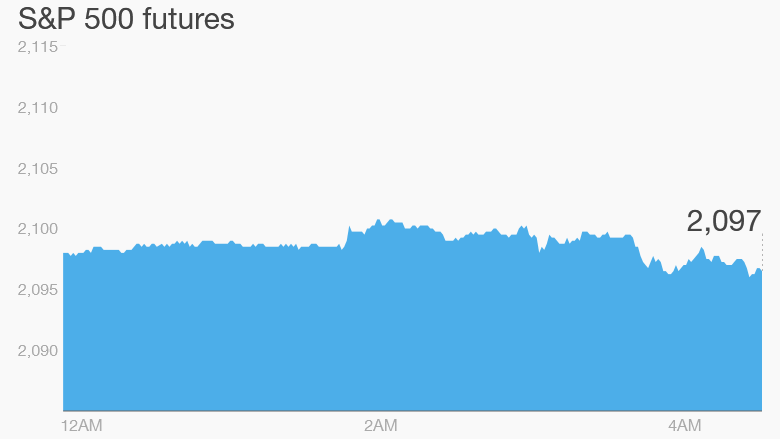 Global markets are looking steady Thursday. But watch out for a bunch of quarterly earnings that could shift investor sentiment.
Here are the four things you need to know before the opening bell rings in New York:
1. Endless earnings: Quarterly reports will keep coming in from companies such as Cigna (CI), T-Mobile (TMUS), Time Warner Cable (TWC) and Virgin America (VA). These firms are reporting before the opening bell.
Fiat Chrysler Automobiles (FCAM) is among the companies reporting after the close.
2. Stock market movers -- Whole Foods, Facebook: Whole Foods (WFM) stock is slumping by about 13% premarket after its quarterly earnings missed expectations.
Shares in Facebook (FB) are dipping by about 2% premarket after the company reported earnings on Wednesday.
There were high expectations ahead of the quarterly report and Facebook managed to beat earnings and growth expectations.
But investors seem to be feeling a little letdown after bidding up shares by 24% since the start of the year.
3. Market overview: U.S. stock futures are holding steady ahead of the open.
This follows a positive Wednesday when the Dow Jones industrial average and the S&P 500 each edged up by 0.7% and the Nasdaq added 0.4%.
European markets are mostly positive in early afternoon trading, while Asian markets ended with mixed results.
4. Economics: The U.S. Department of Labor will post new weekly jobless claims data at 8:30 a.m. ET.
New unemployment claims have climbed in recent weeks, but the week ending July 18 saw just 255,000 new claims. That's the lowest initial unemployment claims report since 1973.
Also at 8:30 a.m., the Bureau of Economic Analysis will release GDP data for the second quarter.