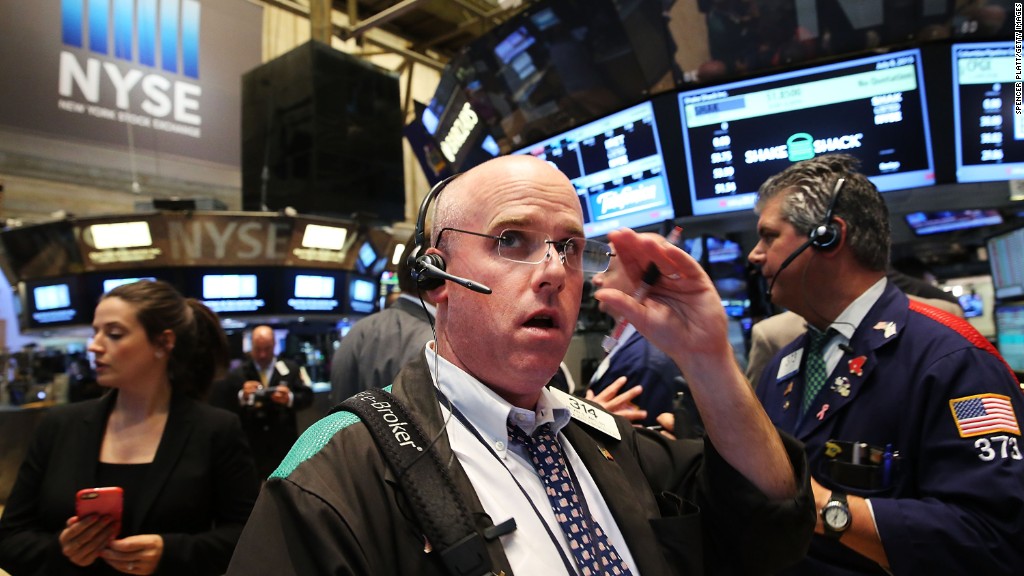 Welcome to Tuesday.
Here are the four things you need to know before the opening bell rings in New York:
1. More volatility in China and Greece: The two most volatile stock markets in the world right now -- China and Greece -- continue to grab attention.
Chinese stock markets shot up Tuesday, with the Shanghai Composite closing with a 3.7% gain and the Shenzhen market finishing with a 4.8% jump.
Chinese markets have been on a bumpy downward trend since hitting record highs in mid-June. Tuesday's move higher followed new restrictions on short sellers.
In Greece, the main stock market index fell by another 1% following a 16% plunge on Monday. Prior to reopening Monday, the Greek stock market had been closed for five weeks due to the nation's financial crisis.
Three of the country's biggest banks -- Piraeus (BPIRF), Eurobank and Alpha Bank (ALBKF) -- are all tanking by about 30% Tuesday, after a similar fall Monday. Shares in the National Bank of Greece (NBG) fared only slightly better, falling 23%.
2. Expecting earnings: Among the companies reporting quarterly earnings this morning are Aetna (AET), Coach (COH), CVS Health (CVS), Time (TIME) and Office Depot (ODP).
In Europe, shares in BMW (BAMXY) are slipping by about 1.5% after the automaker reported quarterly results.
Toyota (TM) shares could be on the move after the firm reported a record $5.2 billion profit. The company benefited from favorable foreign exchange rates and cost reductions.
After the close, investors will get to look through results from Dreamworks Animation (DWA), Etsy (ETSY), News Corp (NWS). and Walt Disney (DIS).
3. Global market moves: U.S. stock futures are sitting at roughly where they closed on Monday.
A few stocks are throwing their weight around premarket, including Allstate (ALL), Microchip Technology (MCHP) and Aflac (AFL). Shares in all three companies are declining as investors react to the firms' latest earnings, which were released late Monday afternoon.
European markets are mixed in early trading. The key Italian index is declining by just over 1%, but the other markets are little changed.
Asian stocks closed with mixed results.
Crude oil futures are recovering a bit Tuesday, up 2% to trade around $46 a barrel. Over the past month, oil prices plunged by about 20%.
4. Market recap: On Monday, the Dow Jones industrial average dropped 0.5%, while the S&P 500 and the Nasdaq each shed 0.3%.