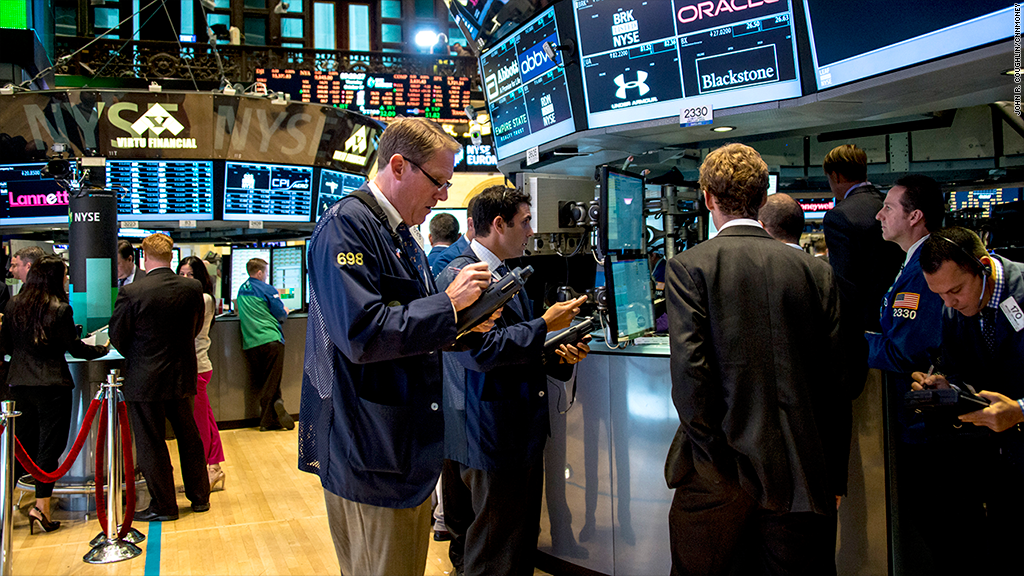 Ouch. It's all red on Friday.
Global markets are hitting fresh lows and U.S. stock futures are edging lower.
But it's the same old story: China turmoil, low oil prices, Fed uncertainty.
Here are the 6 things you need to know before the opening bell rings in New York:
1. China slides again: The Shanghai Composite plunged 4.3% Friday, ending the week down 11%.
China manufacturing data came out worse than expected, hitting its lowest level in more than six years. The slowdown in China's factory activity is adding to concerns about the strength of global economic growth.
Related: Why China scares investors
2. Stock market movers -- Ross, Intuit, Mondelez International: Discount retailer Ross (ROST) saw shares sink more than 9% after the company warned it has a "cautious" outlook for the remainder of the year.
Intuit (INTU) stock also dipped 3% in after-hours trading. Mondelez International (MDLZ) shed 2.3% after the closing bell.
3. Commodities, emerging market currencies plunging: A range of emerging market currencies edged down again on Friday as the slide in oil and other commodities continue. The Russian ruble, Turkish lira, Malaysian ringitt and others are taking a hit.
Oil is still hovering just above $40 per barrel, after plunging to a six-year low earlier this week.
Related: Why oil prices could sink below $15 a barrel
4. U.S. earnings and economics: John Deere (DE) and Foot Locker (FL) are among a small group of companies expected to report earnings before the market opens.
U.S. manufacturing data are expected later on Friday.
5. International markets overview: European markets are all down in early trading, but sentiment was helped by data showing the eurozone economy remains on track for solid growth this quarter.
The FTSE 100 dropped 0.5%, having slipped into correction territory Thursday. Germany's DAX was down 0.9%.
Asian markets ended the session down, with the Hang Seng sliding into a bear market. Hong Kong's benchmark index has lost 20% since its April peak.
Japan's Nikkei closed nearly 3% lower, while Korea's Kospi was 2% down.
Related: UK stocks have fallen 10% since April
6. Thursday market recap:
The Dow Jones industrial average shed 2.1%, its worst loss since February 2014. The Dow fell 358 points to close below 17,000, for the first time since last October.
The S&P 500 dropped 2%, turning negative for the year, and the Nasdaq suffered a 2.8% drop.