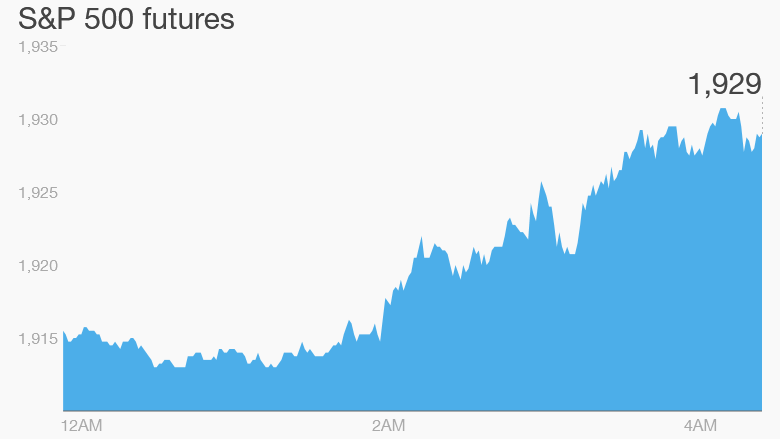 Buckle up! It's shaping up to be another busy day.
U.S. stock futures are edging higher, and European markets are recovering from heavy losses Tuesday.
Here are the six things you need to know before the opening bell rings in New York:
1. Volkswagen volatile: Shares in the German carmaker crashed over 8% in early trading in Frankfurt on Wednesday, but rebounded to trade about 3% higher by mid-morning. The company is gripped by a growing scandal over its manipulation of emission tests on diesel cars. Its shares have fallen 55% percent from their March peak, and CEO Martin Winterkorn is reported to be fighting to keep his job.
Volkswagen (VLKAF) closed 17% down Tuesday, after suffering a similar crash Monday. The issue has weighed on shares of other carmakers and suppliers.
"It's unusual for events in a single company to become a driver of global markets but that's what is happening now with Volkswagen," Kit Juckes, global strategist at Societe Generale, said.
2. China slows, Europe grows: There was more evidence of China's economic slowdown Wednesday. A measure of activity in the country's huge manufacturing sector hit it lowest level in more than six years.
During a rare policy speech in the U.S. on Tuesday, Chinese President Xi Jinping sought to reassure investors, saying that China's economy is operating "within the proper range." Beijing has maintained its 7% annual growth target for this year.
European data were more supportive -- an early indication of activity in September suggests the eurozone economy grew steadily in the third quarter.
3. Setback for big tech: Life for big U.S. tech firms in Europe could become even more uncomfortable after the senior legal adviser at the region's top court said an agreement between the U.S. and EU on data collection from sites such as Facebook (FB) was "invalid." The court is likely to confirm that view in its final verdict.
4. Stock market movers -- Edwards Lifesciences, Allergan, Visa: Several pharmaceutical companies are sliding in premarkets. Edwards Lifesciences Corp (EW) is 5% lower in premarket, with Allergan (AGN) shedding 2.7%, and Vertex Pharmaceuticals (VRTX) 1.8% down. The pharma and biotech sectors are under scrutiny after a backlash against high drug prices.
Visa (V) is also 1.8% down in premarket.
5. Earnings and economics: Aviat Networks (AVNW), Steelcase, (SCS) Worthington (WOR) are among the handful of companies reporting after the closing bell.
The weekly update of crude oil inventories is expected at 10:30 a.m. ET. The U.S.'s crude stockpile 80-year high for this time of year.
6. Markets overview and recap: European markets are up Wednesday morning. Germany's Dax has recovered slightly after suffering heavy losses on Monday and Tuesday due to the Volkswagen crash.
Asian markets ended the session mostly lower. China's Shanghai Composite closed 2.2% down on the disappointing manufacturing data, while Hong Kong's Hang Seng ended the session 2.3% down.
The Dow Jones industrial average fell 180 points on Tuesday, losing 1.1%. The S&P 500 sank 1.2% and the Nasdaq was down 1.5%.