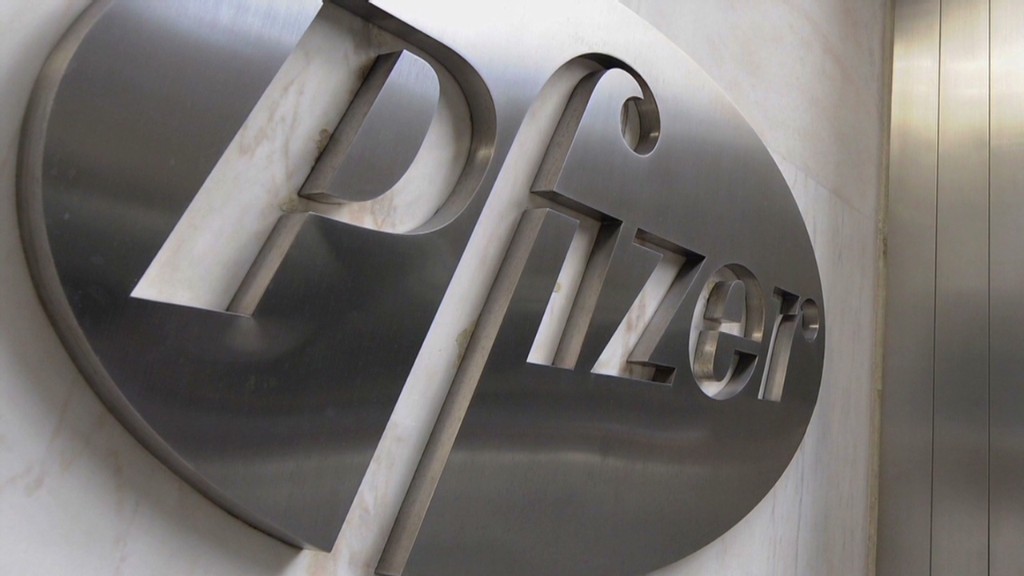 It's merger Monday!
Here are the six things you need to know before the opening bell rings in New York:
1. The pharma deal is done: Shares in the drug companies Allergan (AGN) and Pfizer (PFE) are both dipping by about 2% after they announced plans to come together in a deal worth around $160 billion.
If the deal goes through, it would be the second-largest takeover of all time, according to data from Dealogic.
Investors had been expecting an announcement from the two companies for the last few days.
Related: Will Santa help stocks rally?
2. Stronger U.S. dollar slams energy: The U.S. dollar is showing significant strength against all other major currencies after a member of the Federal Reserve said this weekend that there are good reasons to raise interest rates in December.
This put pressure on oil and natural gas prices, since both commodities are priced in dollars. Oil prices dropped by about 3% overnight but have since recovered some poise and are trading around $42 per barrel.
Related: Epic oil glut sparks super tanker 'traffic jams' at sea
3. Stocks watch: There's a mixed mood in the stock markets this morning. U.S. stock futures had been dipping down but are now sitting around Friday's closing levels.
European markets are mostly declining, while Asian markets ended with mixed results.
Brussels, the capital city of Belgium and the home to the European Union and NATO headquarters, remains on high alert for terrorism after authorities warned Friday night of a possible imminent threat to the city.
However, there's a bit of good economic news out of Europe. New November data from Markit shows business activity and employment has been growing at its fastest rate in over four years.
4. Earnings: Tyson Foods (TSN) and Gamestop (GME) are reporting quarterly results ahead of the opening bell.
After the close investors will hear from a handful of companies, including cereal maker Post (POST).
5. Economics: The National Association of Realtors will release its October existing home sales report at 10 a.m. ET. The report gives investors an update on the state of the U.S. real estate market.
6. Weekly market recap: Stocks experienced some stellar gains last week. The Dow Jones industrial average shot up by 3.4%, the S&P 500 gained 3.3% and the Nasdaq jumped by 3.6%.