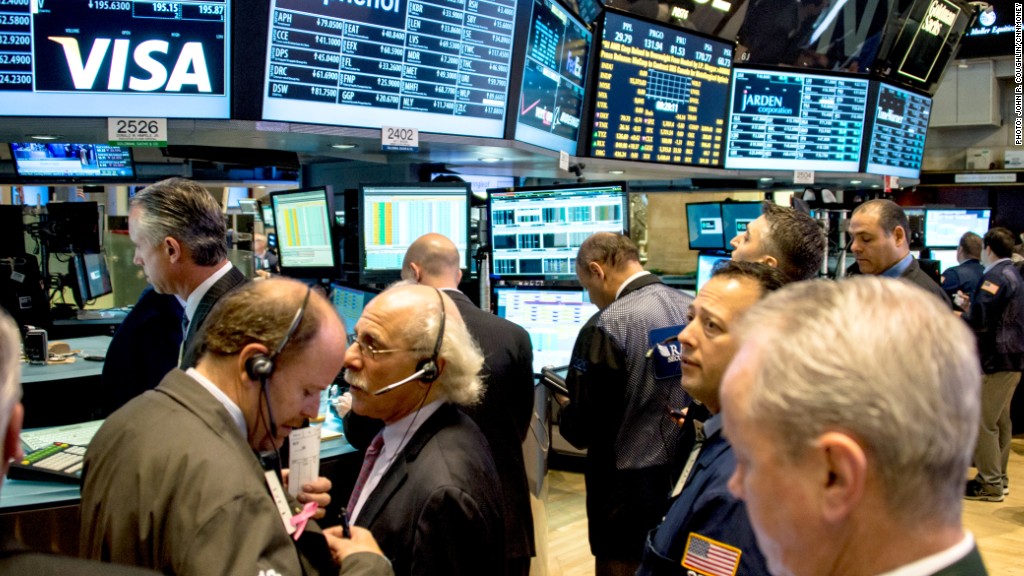 Markets around the world are dipping after a Russian warplane crashed in Syria early Tuesday.
Here are the six things you need to know before the opening bell rings in New York:
U.S. stock futures are lower.
1. More tensions in the Middle East: A Russian warplane crashed on the Syrian side of the Turkey-Syria border on Tuesday, amid heightened tensions in the region. Russia started airstrikes in Syria last month.
The Turkish lira dipped 0.8% against the dollar on the news, and markets around the world are also dipping.
"European equities remain under pressure into Tuesday, with Brussels still in lock down and breaking news that a jet has been shot down by the Turkish air force around the border with Syria...geopolitical drivers are still dominating sentiment," Augustin Eden, analyst at Accendo Markets, wrote in a note.
2. Stock market movers -- Xerox, airlines, travel companies: Xerox (XRX) shares saw a 7% boost during extended trading after a new public filing revealed that activist investor Carl Icahn is upping his stake in the company.
Travel companies are under pressure, after the U.S. issued a worldwide travel alert for Americans amid concerns that terror groups and individuals may be planning more attacks after the Paris massacres.
Shares in Air France-KLM (AFLYY), Cathay Pacific (CPCAF), Qantas (QABSD), Lufthansa (DLAKF) and other airlines are dipping. Cruise lines Royal Caribbean Cruises (RCL)and Carnival Corporation (CCL) are both trending about 1.4% lower in premarket trading.
Volkswagen (VLKAF) is up 2.5% in early trade on Tuesday, on reports that the German automaker found a fix for its emission-cheating software.
3. U.S. dollar on fire: The dollar rally continues, as investors increasingly expect the Fed to raise interest rates next month. At the same time, the European Central Bank is likely to start pulling in the opposite direction, cutting rates or extending its money printing program.
A stronger dollar is also putting pressure on commodities. Gold, silver, and platinum are all significantly down this month, hovering around multi-year lows.
Related: Oil crash sparks OPEC revolt against Saudis
4. Earnings & economics: Retailers Dollar Tree (DLTR), DSW (DSW), Burlington Stores (BURL) and Tiffany & Co (TIF) will report quarterly results this morning, along with Cracker Barrel (CBRL), Campbell Soup (CPB), and Hormel Foods (HRL) -- owner of brands like Spam, Skippy, and Jennie-O.
This afternoon, Hewlett Packard Enterprise (HPE) and its newly-formed sister company, HP (HPQ), will report their final combined earnings. The two companies split earlier. Also coming after the bell are reports from Guess (GES) and TiVo (TIVO).
A second estimate for U.S. GDP in the third quarter will post at 8:30 am ET.
At 10 a.m., the Consumer Conference Board will update the Consumer Confidence Index with November's number. The index dipped in October after reaching an four-month high in September.
Business sentiment in Germany has risen to a 17-month high, according to a survey by the Ifo institute.
"The rise in expectations is a particularly encouraging sign that neither previous evidence of a slowdown in China nor the Volkswagen scandal have dented confidence," Jennifer McKeown, senior European economist at Capital Economics, wrote in a note.
5. International markets overview: European markets are down in early trading, while Asian markets were mixed at Tuesday close.
6. Monday market recap: The Dow Jones industrial average shed 0.2%, while the S&P 500 and the Nasdaq each closed 0.1% lower.