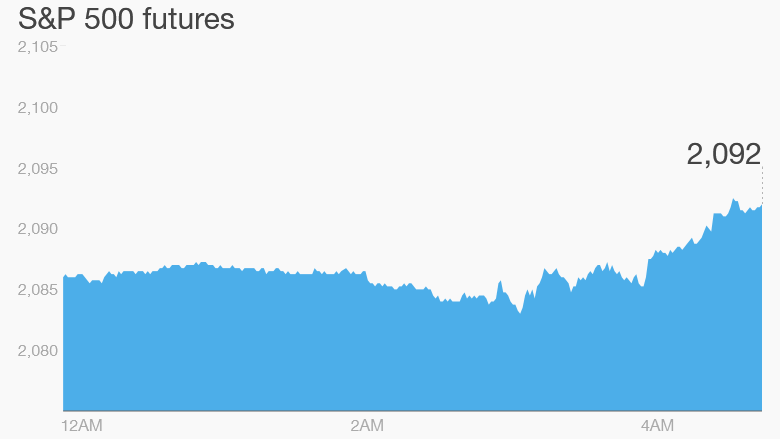 Markets are bouncing back Wednesday as worries about tension in the Middle East fade.
Oil is falling, and European markets are recovering from losses Tuesday triggered by Turkey's downing of a Russian warplane that was attacking targets in Syria.
U.S. stock futures are slightly higher.
Here are the five things you need to know before the opening bell rings in New York:
1. Stock market movers -- HP, Xerox, Royal Caribbean: HP (HPE) shares are sinking nearly 7% premarket after missed earnings expectations. The newly split company reported its last combined results Tuesday, posting revenue 9% lower than in the same period last year.
Xerox (XRX) is nearly 1% up premarket, following a wild ride on Tuesday, caused by the news that activist investor Carl Icahn is upping his stake in the company.
Cruise lines Royal Caribbean Cruises (RCL) is rising 1% in premarket trading.
2. Earnings: A handful of companies are reporting their fourth quarter earnings on Wednesday.
Agricultural equipment maker Deere & Co. (DE) is expected to post lower sales than last year by almost $2 billion, as the industry closes in on its worst sales year since 2009. Investors will be looking to its 2016 forecast, a bellwether for the sector.
A John Deere factory in Tianjin in China was closed for several days after an explosion in August that killed a total of 173 people.
Donaldson Company (DCI) and Jiayuan.com (DATE) will also report before the open.
3. Economics: The latest report on durable goods orders in the manufacturing sector is due at 8:30 am ET from the Census Bureau.
Also at 8:30 am, October's personal spending and income report comes from the Bureau of Economic Analysis, and the Department of Labor will post weekly jobless claims figures.
New home sales data for October will come from the Census Bureau at 10 am, just before a weekly crude inventories update at 10:30 am.
In the U.K, Chancellor George Osborne will deliver his autumn statement, and outline how the government plans to balance its books over the next five years.
He is expected to announce welfare cuts, but more spending on housing. The government has already announced plans to increase defense spending in the wake of recent terrorist attacks.
4. International markets overview: European markets are bouncing back after losses on Tuesday. Asian markets ended the session mostly lower.
5. Tuesday market recap: The Dow Jones industrial average and the S&P 500 each added 0.1%, and the Nasdaq was unchanged.