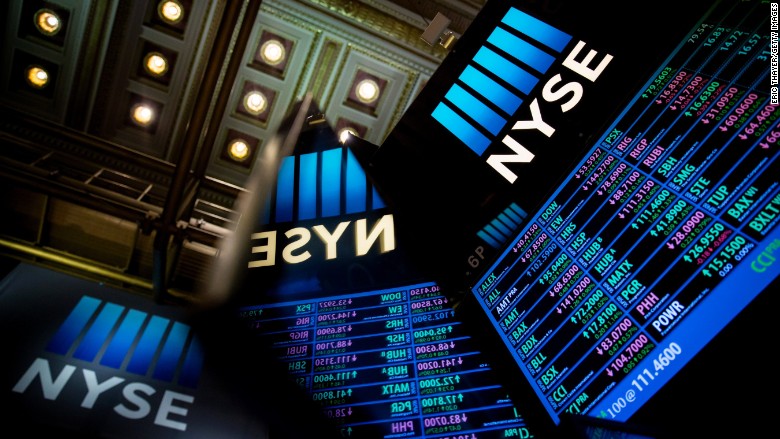 It's shaping up to be a bright start to the week for stock markets but a gloomier day for oil prices and Chipotle.
Here are the four things you need to know before the opening bell rings in New York:
1. Stocks keep rising: U.S. stock futures continue to push higher following a stunning surge on Friday.
The Dow Jones industrial average, S&P 500 and Nasdaq all jumped by just over 2% following a solid U.S. jobs report. And it looks like the positive momentum will continue this morning.
Across the pond, European markets are all rising in early trading, with some key indexes notching gains above 1%.
Asian markets ended with mixed results.
2. Oil below $40: Crude oil futures are falling by more than 1% to trade around $39.50 per barrel as traders expect no near-term fix to the oil glut in the market.
The Organization of the Petroleum Exporting Countries (OPEC) reviewed their collective production levels on Friday, but couldn't agree new targets.
Some members of OPEC, and other high cost producers, have been suffering from the slump in prices since mid 2014 caused by oversupply in the market.
The lack of agreement effectively leaves output steady at 30 million barrels a day, though actual daily production is estimated at 31.5 million barrels.
Saudi Arabia -- OPEC's most powerful member -- has been insisting for months that the cartel keep pumping large amounts of oil in what appears to be an effort to squeeze U.S. producers out of the market. Saudi Arabia can afford to sell cheaper oil because it's inexpensive to produce, while other nations like the U.S., Canada and Brazil have very high production costs.
3. Stock market movers -- Chipotle and Electrolux: Shares in Chipotle (CMG) are getting dumped premarket after the restaurant chain reported that its E. coli outbreak will damage sales in the fourth quarter.
Shares are down about 8% after the company noted in an SEC filing that sales have closely tracked developments in the E. coli outbreak -- falling when stores closed, but rebounding when they reopen.
Chipotle shares had been on a fantastic, breathless rally for years but have recently crashed back down to earth, falling about 25% in just two months.
Over in Europe, shares in Electrolux (ELUXY) are crashing by 12% after General Electric (GE) killed a deal to sell its appliance business to the Swedish company. The $3.3 billion deal had been challenged for months by the U.S. Department of Justice.
4. Earnings: It's a light day for quarterly earnings.
Mattress Firm (MFRM) and Vail Resorts (MTN) are reporting ahead of the open while Casey's General Stores (CASY) and United Natural Foods (UNFI) are reporting after the close.