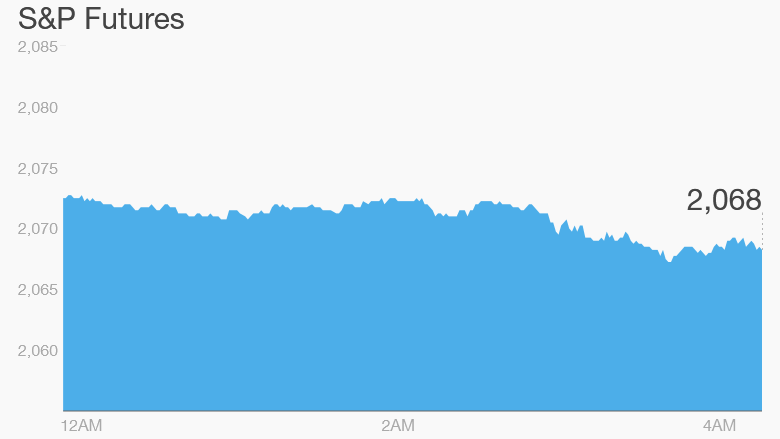 Welcome the last Wednesday of the trading year.
Here are the three things you need to know before the opening bell rings in New York:
U.S. stock futures are trending lower after markets ended Tuesday up over 1%.
Oil prices are down 2% and hovering around $37 a barrel after a decent jump Tuesday. Traders continue to chew over Saudi Arabia's 2016 austerity budget and its likely impact on oil production and prices.
The chief of the International Monetary Fund said rising U.S. interest rates and the slowdown in China are creating uncertainty in the global economy. Writing in German newspaper Handelsblatt, Christine Lagarde said global growth will be disappointing in 2016.
1. Stock market movers -- Julius Baer, Chesapeake Energy, Noble Group and Ocado:
Swiss bank Julius Baer (JBARF) announced a preliminary settlement with the U.S. Attorney over tax evasion allegations and will set aside a total of $547 million to cover the cost. Its shares rose 2%.
After a 12.5% climb during trading hours on Tuesday, Chesapeake Energy (CHK) shares rose more than 3% in premarket trading as a long awaited cold snap in the Northeast helped the natural gas market. The stock is still down 77% for the year.
Commodities trader Noble Group (NOBGF) saw its shares fall 9% in Asia trading after a Moody's downgrade.
Online grocery delivery darling Ocado (OCDGF) has fallen another 7% in London trading. Its been suffering since Amazon (AMZN) said it will expand its grocery delivery service Pantry in the U.K.
2. Economics: Watch out for pending home sales for November at 10:00 a.m. ET.
The U.S. federal government will post its weekly update to U.S. crude oil inventories data at 10:30 a.m.
3. Markets overview: European markets are all down about 0.5% in early trading, while Asian markets ended mixed. The Dow Jones industrial average and the S&P 500 each grew by 1.1%, and the Nasdaq was up 1.3%.