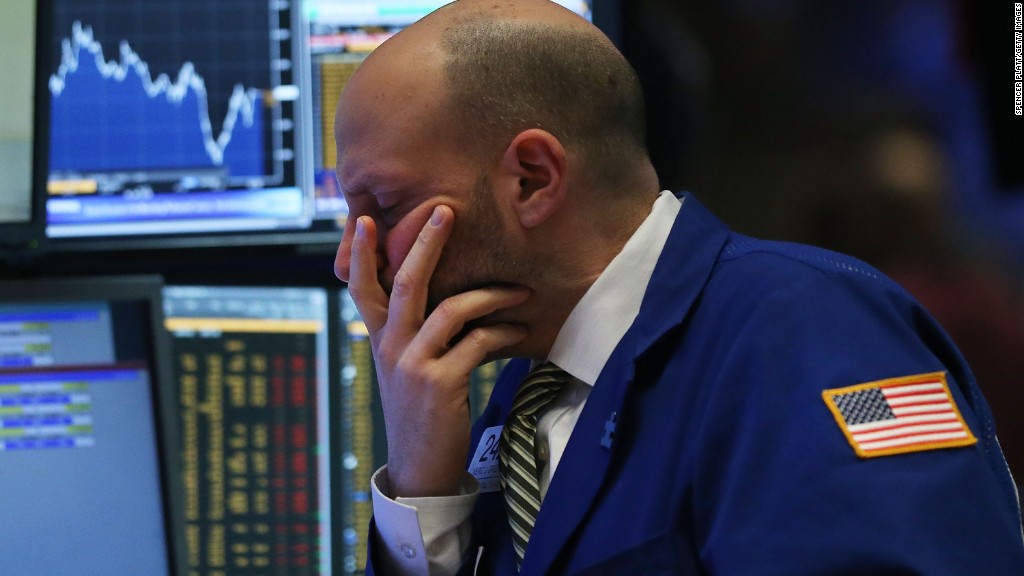 The start of a new week brought no relief for Chinese stocks and oil prices but global markets are showing signs of resilience.
European stocks are edging higher Monday, as are U.S. futures, after a miserable start to the year.
Here are the five things you need to know before the opening bell rings in New York:
1. China slides further: The main stock markets in China plunged again. The Shanghai Composite closed down 5.3%, and the Shenzhen Composite ended 6.6% lower.
The grim day of trading followed steep declines in Chinese stocks last week amid worries over the country's weakening currency and slowing economy.
Weekend data provided more evidence of softer demand. Consumer prices rose by just 1.4% in 2015, their slowest pace in six years and well below the government's 3% target, state news agency Xinhua reported.
2. Stock market movers -- Illumina, Apple: Shares in the DNA sequencing company llumina Inc. (ILMN) are up 3% in premarket trading, after it announced a $100 million spin-off.
The new company, called Grail, will aim to develop a simple blood test to identify cancers in patients with no symptoms. Illumina secured an array of high profile investors, including Bill Gates and Jeff Bezos.
Apple (AAPL) is edging up 0.7% premarket after a report that its music subscription service has reached 10 million subscribers. The stock plunged below $100 a share last week, for the first time since October 2014.
3. Earnings: Aluminum maker Alcoa (AA) is reporting its fourth quarter results after the close on Monday. The company has been struggling with low commodity prices. Alcoa announced last week it was closing its Warric Operation in Indiana, the largest facility of its kind in the world.
4. International markets overview: European markets are edging higher in early trading. The FTSE100 is up 0.2%, while Germany's DAX is up 1.1%.
Asian markets ended the session lower. Hong Kong's Hang Seng closed 2.8% lower, while Korea's Kospi was down 1.3%.
Oil is plunging 1.5% Monday, to just above $32.50 per barrel and near a 12-year low hit last week.
Historic week: Dow plunges 1,079 points
5. Last week market recap: The Dow Jones industrial average lost 1,079 points last week week, or over 6%. It was the Dow's worst start to a year on record, according to Dow Jones.