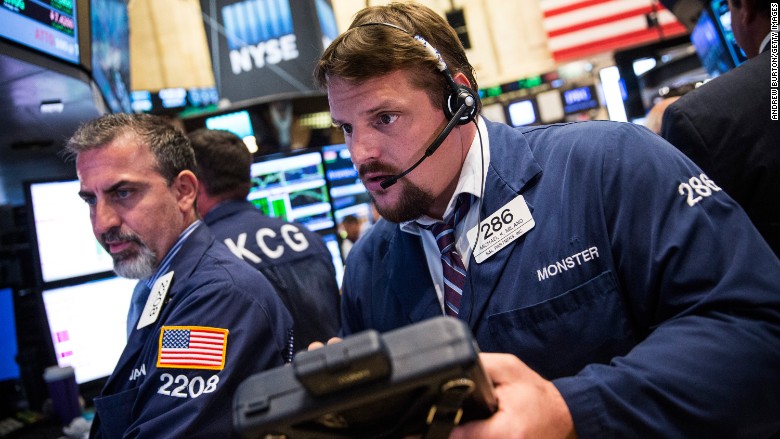 China is buying U.S. companies Tuesday, and its markets are calm. But investors will be keeping a close eye on oil prices, and news of a deadly blast in Turkey.
Crude futures are falling again, down around 1%, after a 6% fall Monday. RBS analysts say $16 oil is possible and advises its clients to... well, sell everything. "We think investors should be afraid," the note cheerily warns.
Still, U.S. stock futures are up more than 0.5% and markets are higher in Europe.
Here are the five things you need to know before the opening bell rings in New York:
1. New blast rocks Turkey: An explosion rocked a square in the heart of Istanbul's tourist district on Tuesday, killing at least 10 people and wounding 15 others, the Istanbul governor's office said. The blast comes at a time when Turkey is dealing with multiple threats to its security.
In October, two explosions hit a lunchtime peace rally in the capital Ankara. Ninety-nine people were killed and more than 240 injured.
2. Stock market movers -- Dalian Wanda, Alcoa, Tesco: Hong Kong listed Dalian Wanda announced that it's acquiring the Hollywood studio Legendary Entertainment, whose recent box office hits include "Jurassic World" and "Interstellar." Wanda already owns the AMC chain of movie theaters.
Shares in Alcoa (AA) dipped more than 2% during extended trading. It issued an earnings update Monday which showed it missed fourth quarter revenue forecasts thanks to lower metal prices.
Tesco (TESO), one of the world's biggest retailers, jumped 5.5% in London after a rival reported better than expected Christmas sales and an upbeat assessment by analysts at Barclays. Tesco reports Christmas sales Thursday.
3. Earnings: CSX (CSX), a railroad and transportation company, will report its quarterly results after the close.
4. International markets overview: European markets are green across the board with Paris and Frankfurt jumping more than 2%, while Asian markets ended mixed, with the Nikkei closing down 2.7% as oil and mining shares took another hammering. China's main markets in Shanghai and Shenzhen both ended with modest gains.
5. Monday market recap: The Dow Jones industrial average gained 0.3%, while the S&P 500 inched up 0.1%. The Nasdaq was down 0.1%.