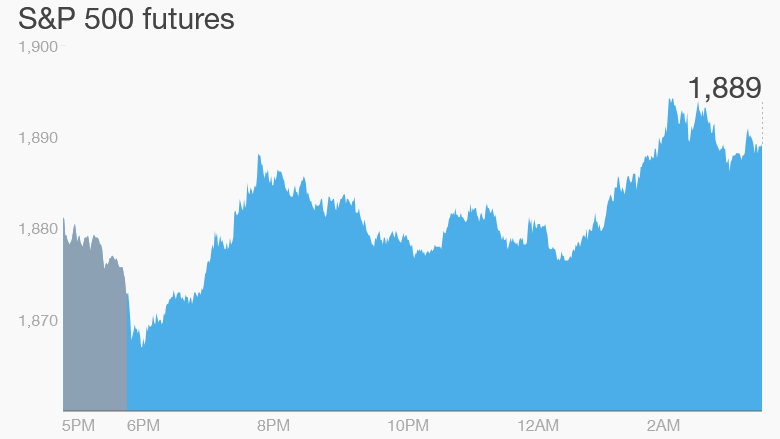 Company earnings are having an outsized influence on Wall Street right now.
Here are the four things you need to know before the opening bell rings in New York:
1. Market movers -- Facebook, eBay: Shareholders are celebrating Facebook's (FB) latest results and bidding up its shares by 12% in premarket trading.
The company handily beat expectations on several key metrics, including growth of new users, sales and profit.
During the last three months of 2015, Facebook brought in $5.8 billion and made $1.6 billion in profit -- a whopping 123% increase from a year earlier.
Meanwhile, shares in e-commerce company eBay (EBAY) are plunging 12% premarket as investors were disappointed by the firm's fourth quarter results. Sales over the last quarter were flat compared to the same period last year.
2. More earnings are coming: Another wave of companies are reporting results Thursday.
Alibaba (BABA), Caterpillar (CAT), Ford (F), Harley-Davidson (HOG), Hershey (HSY), Jetblue (JBLU), Time Warner Cable (TWC) and Under Armour (UA) are among the key companies reporting in the morning ahead of the bell.
Then, after the close Wall Street will hear from Amazon (AMZN), Microsoft (MSFT), Electronic Arts (EA) and Visa (V).
3. Global stock market overview: U.S. stock futures are moving up, indicating markets will recover from a Fed-induced Wednesday afternoon slump.
The Dow Jones industrial average dropped by 1.4%, the S&P 500 slipped 1.1% and the Nasdaq fell 2.2% after the U.S. Federal Reserve released a statement acknowledging that the U.S. economy lost momentum at the end of 2015.
Despite its worries, the Fed stopped short of saying that the volatility in January will alter its plans to raise rates at least four times for the rest of 2016.
Looking overseas, European markets are mixed in early trading.
Chinese markets were firmly in negative territory on Thursday, but the rest of Asian markets closed with mixed results.
4. U.K. growth slowing: Official U.K. data shows the British economy grew by 2.2% last year compared to 2014. In the fourth quarter, the economy grew 1.9% compared to the same period in the past year, reflecting a slight slowdown in activity.
"Growth continues to be driven by the U.K.'s dominant services sector, while the production and construction sectors shrank slightly in the fourth quarter," said Joe Grice, chief economist at the U.K. Office for National Statistics.