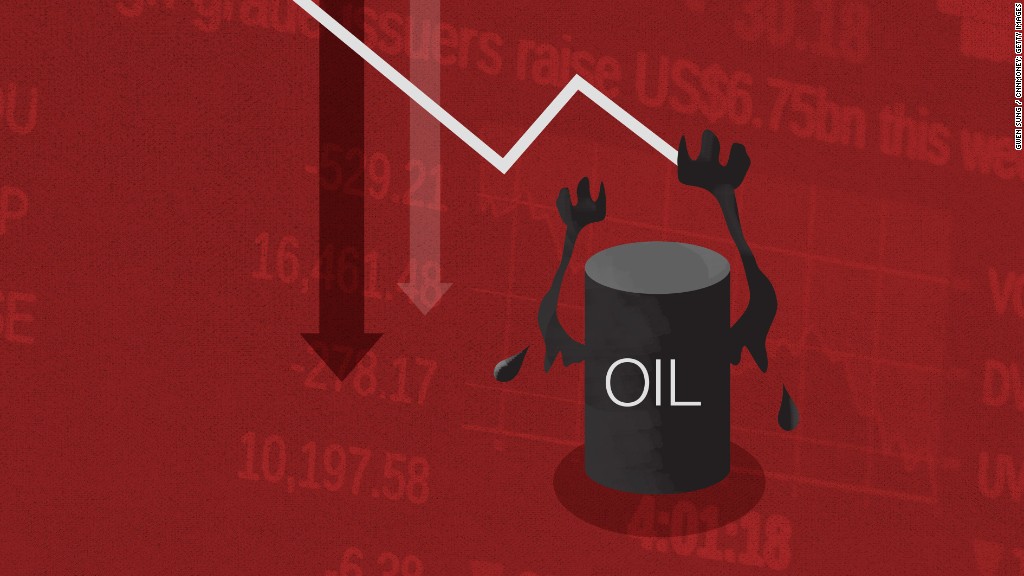 Fear continues to reign on Wall Street.
The stock market's terrible start to 2016 got even worse on Monday, with the Dow shedding 178 points and the S&P 500 losing 1.4%.
The Nasdaq tumbled 1.8% and got closer to sinking into its first bear market since the one sparked by the financial crisis. The index is now down 14.5% this year.
"It's just a stampede of selling," said Art Hogan, chief market strategist at Wunderlich Securities.
The good news is that the markets did make a big comeback from the worst levels of the day. At one point the Dow was down 401 points and the Nasdaq was off 3.4%.
"There's too much fear and too little greed right now," said David Kelly, chief global strategist at JPMorgan Funds.
Wall Street was once again spooked by the crash in oil prices. Oil fell another 3% and dropped back below $30 a barrel.
Cheap oil is great for consumers but its dramatic downfall continues to alarm investors who fear it signals that something isn't quite right about the health of the broader economy.
Energy stocks continue to tank, with Transocean (RIG) dropping 7% and Baker Hughes (BHI) down nearly 5%. But those losses pale in comparison with Chesapeake Energy (CHK), the energy giant that plummeted as much as 51% amid bankruptcy fears. Chesapeake denied it's currently planning to file for bankruptcy, but its stock still closed down 33% on the day.
Related: Chesapeake Energy denies bankruptcy rumors
The markets are also expressing alarm about European banks. Stock markets in Europe continue to slump badly, with Germany's DAX and France's CAC 40 dropping over 3% apiece.
Bespoke Investment Group noted rising "market fears over the solvency -- profitability, liquidity and stability -- of the European banking system." The firm pointed to a huge rise in the cost to insure European bank debt.
It's the "kind of parabolic price action that feels like a crisis, even if there's no concrete evidence that one is afoot," Bespoke wrote.
Related: Can U.S. stocks still return 5% in 2016?
Few stocks in the Nasdaq have anything to do with oil prices or European banks -- yet the index continues to plunge. Former tech darlings Tesla (TSLA) and Amazon (AMZN) dropped again on Monday, continuing their 2016 plunge that symbolizes investors' waning appetite for risk.
The Nasdaq is now down more than 18% from its all-time intraday high, putting it near the precipice of a bear market on that basis. A bear market indicates a decline of 20% from previous highs.
"Tech stocks were the ATM machines. That's where everyone made the most profits. But the bigger they are, the harder they fall," said Michael Block, chief market strategist at Rhino Trading.
One of the only bright spots this year is gold, which tends to rise during times of fear. Gold prices have soared 12% this year, including a 3% surge on Monday to $1,198 an ounce. It was gold's best day since December 2014.
Related: Cash is way more popular than stocks these days
CNNMoney's Fear & Greed Index, which measures sentiment based on several market indicators, is back in "extreme fear" from "fear" last week.
Here's another sign of fear: Bond prices are surging as investors flee to the relative safety of government debt. The 10-year Treasury yield, which moves opposite the price, slipped to a one-year low of 1.75%.