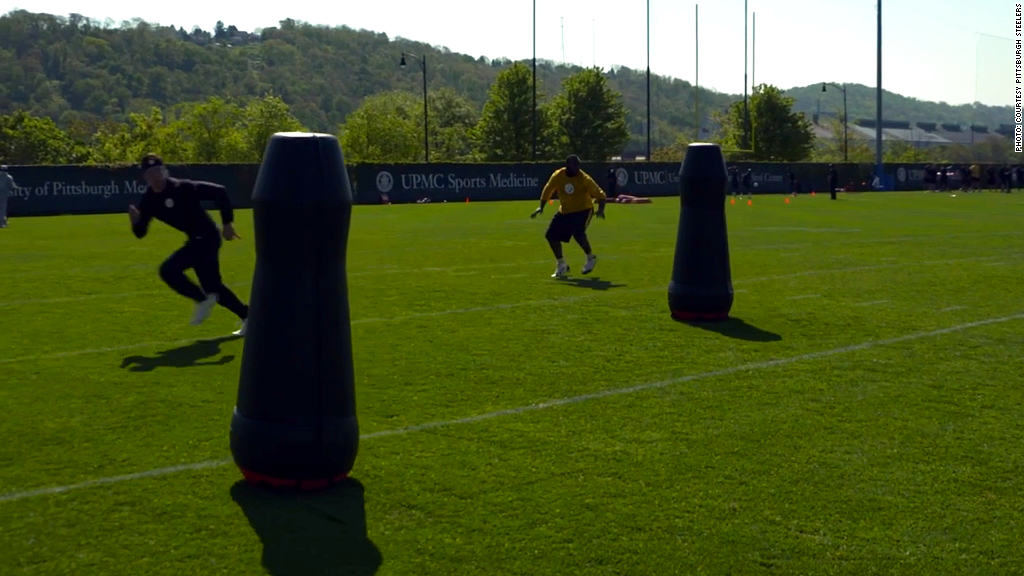 The newest MVP of the Pittsburgh Steelers is ... a robot.
The Mobile Virtual Player prevents football players from having to tackle each other during practice -- and thus reduces injuries.
The Steelers have been using the MVP for about a week now during workouts.
The MVP is designed for use in drills and is meant to mimic the sensation of tackling a person. In an ideal scenario, teams will have multiple MVPs to simulate playing an actual game -- the MVP can also be used to create different coverage situations.
Steelers linebacker Arthur Moats, 28, has played football since he was four years old. He's never had a diagnosed concussion, and he'd like to keep it that way.
He told CNNMoney that the dummy has taken his job -- but he's not complaining.
"I personally love it because I don't have to run around and be that dummy," Moats said. "It saves us from having to take the hit."
Moats also said the MVP allows players to go all out without having to worry about hitting a teammate or forming bad habits.
"You don't have to pull up," he said. "You actually get to finish on the bag versus having to finish on the quarterback, which you never want to do."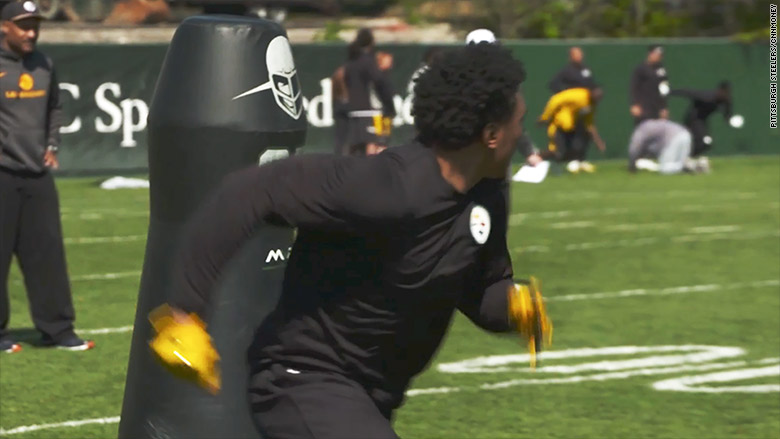 Coach Mike Tomlin also sung the MVP's praises.
"In today's NFL, with player safety the focus that it is, I think it's going to provide opportunities to improve in that area without the hand-to-hand or man-to-man combat associated with that teaching," Tomlin said on Steelers.com.
Related: New York Times hits back at the NFL
The MVP weighs about 150 pounds and can move at a top speed of about 18 miles per hour -- it can "run" 40 yards in five seconds.
It's battery operated and can last for the length of a regular practice -- 2 to 2.5 hours -- if used for repetitive drills. If run continuously at its top speed, it can last about 32 minutes on a single charge.
Learning how to operate the MVP takes about 30 minutes.
Related: Time for America to give rugby a try?
The MVP is the brainchild of Buddy Teevens, the head football coach at Dartmouth, and was created by three Dartmouth engineers.
About five years ago, Teevens banned tackling during practice after seeing several of his players injured.
Teevens told CNNMoney that his staff wasn't initially receptive to the idea, but players' tackling improved by 50% because they were able to practice tackling more. Players still tackle, but they use foam dummies -- they'll "never tackle a guy on their own team."
As awareness about repetitive sub-concussive hits and concussions has grown, several NFL teams have instituted similar policies. All of the schools in the Ivy League have completely banned tackling during practice.
In June 2015, Teevens approached the engineers with the hope of creating a tool that would "simulate the motion and technique of a live tackle" but "without the impact."
By August, the team had developed a working prototype of the MVP, which was first tested by Dartmouth's team during training camp.
Teevens said he's most excited about the implications for high school and youth football.
"It will allow young players to learn the skills without injury," Teevens said. "It's a wonderful game. We just hope we can create something that will allow people to continue to play it safely."
Related: This 14-year-old turned down a $30M buyout offer
Elliot Kastner, one of the engineers who also played for Teevens, said the MVP is still in beta form. The team behind the MVP is still tinkering with the prototype and working with neurologists to insure the product is effective at reducing injuries.
There will be a limited release of the MVP in the fall of 2016, and the full product line will debut in January 2017.
A price hasn't been set yet, but the MVP has been demonstrated at about a dozen other schools, including Harvard and Michigan State. It's also been tested with the U.S. National Rugby team.
Kastner said there might be room for customization down the road -- for instance, schools could put a rival's colors on the robots. For now, though, Kastner said the emphasis is on making football safer -- even for rival teams.