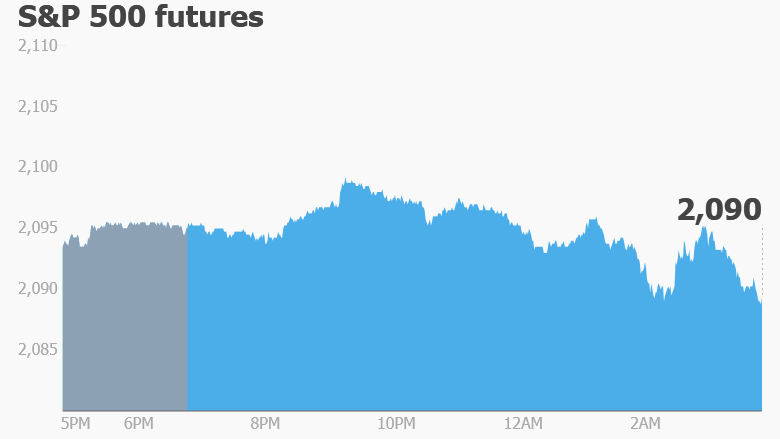 Welcome to June.
Here are the five things you need to know before the opening bell rings in New York:
1. Chinese manufacturing: Two important reports on China's manufacturing sector painted a mixed picture about trends in the world's second largest economy.
The government's official purchasing managers index shows the manufacturing sector was expanding ever so slightly in May, which was ahead of expectations. But Caixin's survey -- which focuses on small and medium-sized manufacturers in China -- showed a contraction in activity over the same period.
2. Stock market overview: A negative mood has spread across global stock markets.
The Chinese manufacturing figures and a U.S. warning about travel to Europe has dented confidence.
"A travel alert for Europe issued by the U.S. State Department citing the potential for terrorist attacks at major events and tourist sites [has] further reinforced defensive behavior," noted Mike O'Rourke, chief market strategist at JonesTrading.
U.S. stock futures are slipping a tad. European markets are mostly lower in early trading. Asian markets ended the day with mixed results.
This comes after the Dow Jones industrial average and S&P 500 posted minor losses on Tuesday, though the Nasdaq edged up by 0.3%.
3. Stocks to watch -- Alibaba, Staples, Under Armour: Alibaba's (BABA) largest shareholder -- Softbank (SFTBY) -- said it is dumping nearly $8 billion worth of shares in the Chinese tech giant.
Softbank was an early investor but now wants to cash in some of its 32% stake to boost its own financial position.
Staples (SPLS) is in focus as the company announced that CEO Ron Sargent is stepping down later this month. This comes weeks after Office Depot (ODP) and Staples called off plans to merge due to concerns about antitrust issues.
Shares in Under Armour (UA) are slipping premarket after the athletics apparel company announced it would lose millions from its business relationship with bankrupt sporting goods retailer Sports Authority.
Shares in competitor Nike (NKE) are also sliding premarket.
Related: Under Armour's Steph Curry vs. Nike's LeBron James
4. Earnings and economic updates: Michael Kors (KORS), Lands' End (LE) and Cracker Barrel (CBRL) are the main companies reporting quarterly results ahead of the open.
On the economic side, Wall Street will get a fresh read on the state of the U.S. manufacturing industry at 10 a.m. ET. The ISM manufacturing index is expected to show activity slowed a bit in May and flirted with contraction.
The U.S. Census Bureau will release its construction spending report at the same time. And the latest Federal Reserve Beige Book will be released at 2 p.m., giving detailed information about the state of the U.S. economy.
In Japan, Prime Minister Shinzo Abe announced the country would delay a planned 10% sales tax hike to avoid damaging the fragile economy. The sales tax rise -- a key plank of his reform program -- will be pushed back from 2017 to late 2019.
5. Big day for GDP updates: Brazil and Australia's economies are in the spotlight Wednesday as both nations report their latest GDP figures.
It's expected the Brazilian data will show the economy shrank by 6% in the first quarter, which would be a fresh low for the struggling country.
Australia's latest results show the economy grew by 1.1% in the first quarter, with much of the increase coming from the export sector.