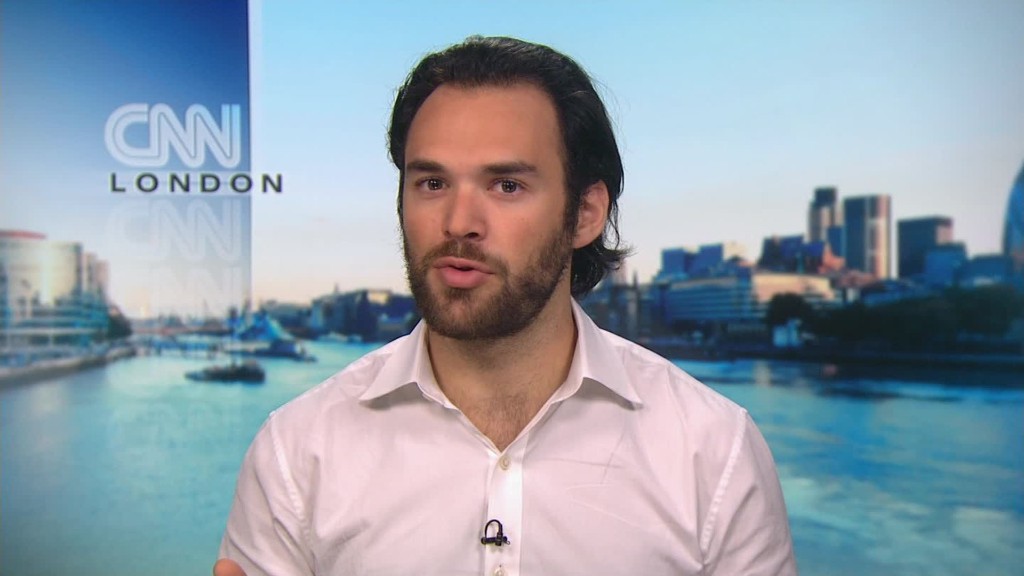 Was Brexit just a really bad dream?
Markets are stabilizing after the roller coaster of the last few days, but analysts say it's too soon to celebrate.
Investors appear to be betting that central banks will flood the economy with more cash, or that the U.K. may never trigger Article 50 that would formally start the process of pulling out of the European Union.
"Extremely dangerous assumptions these are and the downside risk is massive," said Naeem Aslam, chief market analyst at Think Forex.
U.S. stock futures are mixed.
Here are the five things you need to know before the opening bell rings in New York:
1. Brexit day five: The blue chip FTSE 100 is back to pre-referendum levels, but the FTSE 250 is still way down. The wider index is more exposed to the British economy and gives a better sense of how investors view the U.K.
The pound is firmer against the dollar at around $1.34, but still about 10% off the high of $1.50 on referendum day.
Related: 3 hard truths for U.K. in EU divorce talks
Meanwhile, consumer confidence has slumped in the U.K. since the referendum, according to a poll by YouGov/Cebr. "Four days of uncertainty have wiped out the gains made over the last three years," YouGov said in a statement.
The political situation remains chaotic. One of the leaders of the Vote Leave campaign, Michael Gove, has announced his bid to become the next prime minister. But another leading Brexit campaigner, former London mayor Boris Johnson, said he won't stand -- despite being the hot favorite just a few days back.
Theresa May, a senior government minister who campaigned for Britain to remain in the EU, is also running.
On the economic front, all eyes are on Mark Carney. The Bank of England governor is due to speak at 11 a.m. ET.
2. Stock market movers -- Bank of America, Italian banks: Bank of America (BACPRD) is gaining premarket, up 2%.
But Italian banks are in more trouble. Shares in UniCredit (UNCFF) and Intesa Sanpaolo (IITSF) were suspended in Milan after falling 5.4% and 4.98% respectively.
Banca Monte dei Paschi di Siena (BMDPF) is down 5.33% and Banco Popolare shed 2.42%.
Italian bank crisis: Brexit collateral damage?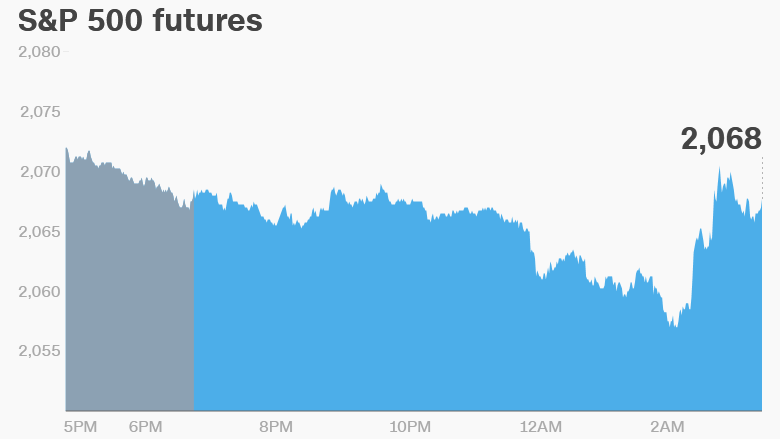 3. Earnings and economics: Ahead of the opening bell, investors will get quarterly updates from companies including Slim Jim maker ConAgra (CAG), Corona brewer Constellation Brands (STZ), Olive Garden parent Darden Restaurants (DRI) and McCormick (MKC).
Micron (MU) will report after the close.
Germany, Europe's biggest economy, posted record low unemployment, after the number of jobless people fell by more than expected in June.
4. International markets overview: European markets are mixed in early trading. The FTSE 100 and FTSE 250 are both down 0.3%, but Germany's DAX and French CAC are gaining around 0.3%.
Asian markets ended the session slightly higher. The Nikkei was up 0.1% and the yen remains close to all time highs. Hong Kong's Hang Seng ended 1.75% higher.
Oil prices are dipping back below $50 per barrel. U.S. oil futures gained on Wednesday after a report showed U.S. crude oil inventories plunged last week by more than 4 million barrels -- the sixth straight week of declines.
5. Thursday market recap: The Dow Jones industrial average gained 1.6%, while the S&P 500 added 1.7% and the Nasdaq climbed 1.9%.