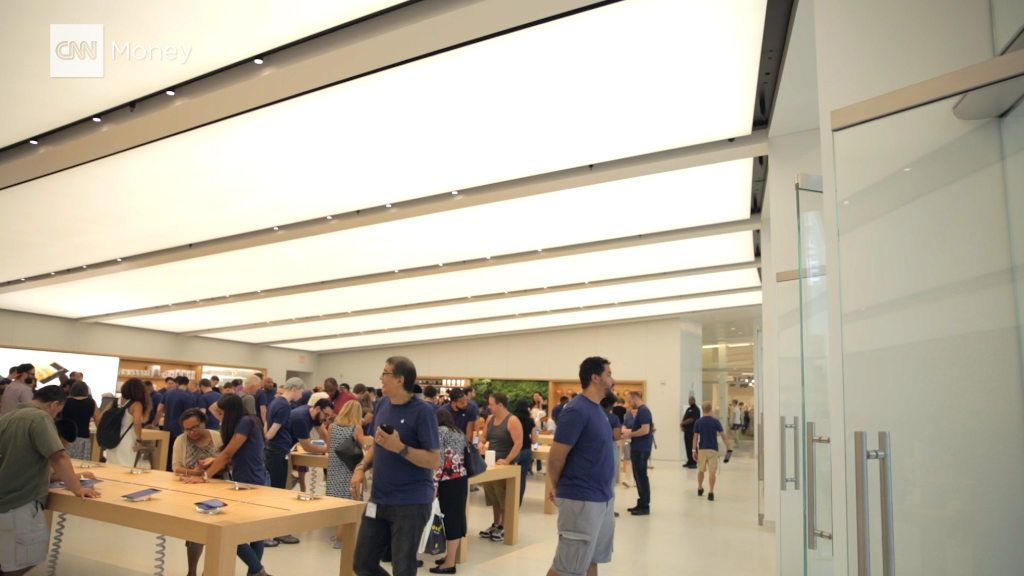 It's been smooth summer sailing in the markets this month.
But things could get choppy today.
Here are the six things you need to know before the opening bell rings in New York:
1. Biting into Apple: The European Commission is demanding that Ireland recover up to 13 billion euros ($14.6 billion) in unpaid taxes from Apple.
The EU agency has been probing the tax arrangements of Apple (AAPL), Amazon (AMZN) and Starbucks (SBUX) in European countries over concerns the firms were getting special deals from governments hoping to attract companies.
"The Commission's investigation concluded that Ireland granted illegal tax benefits to Apple, which enabled it to pay substantially less tax than other businesses over many years," competition commissioner Margrethe Vestager said in a statement Tuesday.
Ireland's finance minister said the government will appeal the ruling.
Shares in Apple are dipping by about 3% premarket.
Related: Apple's next iPhone will likely be unveiled Sept. 7
2. Bitter sweet: Hershey (HSY) stock is plunging in extended trading after Cadbury owner Mondelez (MDLZ) said it was abandoning attempts to acquire the iconic American chocolate maker.
In June, Hershey rejected a $107-a-share takeover offer from Mondelez. The offer represented a 10% premium to Hershey's closing price at the time.
The two companies continued talking, but Mondelez said merger talks are now over.
3. Aviation observations: There's a lot happening in the airline industry right now.
Shares in American Airlines (AAL) were looking soft in extended trading after the firm said its president, Scott Kirby, was switching companies to work at United Continental (UAL).
United said Kirby will take over "operations, marketing, sales, alliances, network planning and revenue management" at the airline.
In a letter to employees, United CEO Oscar Munoz said this "will allow me to sharpen my own focus as CEO on the core mission of driving United's overall strategy, business innovation and financial performance."
Southwest Airlines (LUV) is also in the spotlight after it reached a tentative compensation deal with 8,000 unionized pilots following four years of talks.
The Southwest Airlines Pilots' Association said Monday that the union reached an "agreement in principle" with the airline that would give raises to about 8,000 pilots.
4. Ones to watch -- ITT, ARM, retailers: Shares in the for-profit educational provider ITT Educational Services (ESI) could take another big fall Tuesday after it announced it had stopped enrolling all new students.
This comes just days after the U.S. Department of Education announced it was banning the institution from enrolling new students that use federal financial aid. It's also stepping up oversight of the company because of concerns about "organizational integrity, financial viability and [its] ability to serve students."
Shares in the company have lost more than 80% of their value in the past week.
ARM Holdings (ARMH) shareholders are voting Tuesday on SoftBank's (SFTBY) major takeover deal.
Softbank has offered £24.3 billion ($32 billion) in cash for the British tech firm, making it the biggest foreign takeover by a Japanese company.
A number of U.S. retailers are reporting earnings ahead of the bell. Get ready for market reaction to results from Abercrombie & Fitch (ANF), Christopher & Banks (CBK) and DSW (DSW).
5. Economics: The main U.S. economic reports out today will focus on housing and consumers.
The S&P Case-Shiller Home Price Index for June comes out at 9 a.m. ET, giving insight into the state of the U.S. real estate market.
Then the Conference Board will release consumer confidence information for August at 10 a.m. Similar data released in Europe showed consumer confidence dipped in the eurozone in August.
And in the U.K., new data from the Bank of England shows mortgage approvals sank in July following the country's vote to leave the European Union. Mortgage approvals for home purchases were down 11% last month compared to the average of the previous six months.
6. Global markets overview: U.S. stock futures are holding steady, though the Nasdaq is getting weighed down by the premarket Apple news.
European markets are mostly positive in early trading, though mining companies are weighing on the main U.K. markets. Asian stocks are generally fairing well.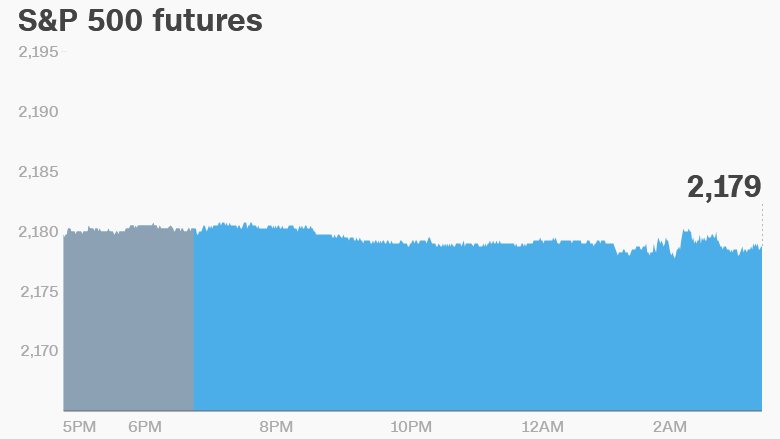 On Monday, The Dow Jones industrial average gained 0.6%, while the S&P 500 added 0.5% and the Nasdaq inched 0.3% higher.